I love discovering amazing beauty within my own backyard. The Great Lakes are fascinating and a dream come true for swimmers. Yes, we can all swim in the Great Lakes. It's even possible to swim in all five Great Lakes in less than 24 hours!
In celebration of World Swim Day on October 26th, 2019, 5 swimmers (Sharon Purdy, Edwin Greenfield, Leszek Skibinski, Richie Eslawa, and myself) left Mississauga on a mission to swim 10 minutes in each of the 5 Great Lakes. We left at 8:40am with a plan to be back in Mississauga the next day before 8:40am.
This one-of-a-kind, 24-hour Great Lakes challenge turned out to be more fun than any of us could've imagined.
The idea of swimming in all 5 Great Lakes in 24 hours was not new. Brave swimmers have completed this challenge before us. But never before has anyone dared to take on this challenge in the fall, when water is colder and the days are shorter. This is a cold water adventure that was made for us.
We are cold water swimmers
The five of us met in summer 2018 in Lake Ontario at LOST (Lake Ontario Swim team. As the end of the summer approached, we decided to continue meeting each Saturday morning for open water swims together. Often we'd meet in Mississauga or Oakville, although we'd also join fellow swimmers and paddlers around the Western shores of Lake Ontario and we even swam a few time in Lake Simcoe.
It's amazing to be apart of a community where more people are discovering the simple joys of being in their home waters.
During the winter, we kept dipping ourselves in colder and colder water. We pushed our limits and discovered all the benefits of cold water swimming; especially the joy that our endorphin rushes gave us.
I remember one day we went to a coffee shop after an exhilarating winter swim. As we drank our coffee, we were happily chatting together and being so loud that the coffee shop owner came over and told us to quiet down. Endorphins are not discreet, but I like to think they helped to grow our beautiful connection together.
Our upcoming 24 hour adventure would be an example of what friendship and a mutual passion for the open water can achieve.
The plan
This 24-hour challenge has been done before. In September 2016, friends of ours from GLOW Swimming in Oakville (Madhu Nagaraja, Loren King, Mauro Campanelli, Lynn Rodgers, Geoff, Hilda and Bud), completed five swims in all five Great Lakes to raise awareness about water. We decided to follow a similar route and mostly swam in the same beach locations.
We rented a car that was large enough to fit all six of us and had enough room for us to sleep a bit along the way. The car was packed with our swimming gear - bathing suits, booties, gloves, towels, warm changing robes, and swim buoys with lights for the night swims. We also brought a thermometer to measure the water temperature in each lake.
The 6th member of our crew, Jonathan, offered to be our photographer and designated additional driver. He came equipped with a camera and a useful rechargeable hand warmer.
On the morning of the challenge, we all met in Mississauga at 8:40am and Richie drove via the Trans Canada Highway all the way North to Sault Ste. Marie. The route through cottage country and further along the North Channel along the north shore of Lake Huron is gorgeous. With so many places to swim, we gathered ideas for future adventures together.
The officer we met while crossing the International Bridge in Sault Ste. Marie tried not to laugh when we explained that we were heading to Lake Superior to start our 5 Great Lakes swimming adventure. He asked us if we were aware of how cold the lake can get. He likely thought we were crazy when we replied with an amused, "Yes!"
Crossing the International Bridge went smoothly and we arrived on the shore of Lake Superior shortly after 4:30pm, ready for our first swim.
Lake Superior
Brimley State Park - Brimley, Michigan, United States
Time: 4:30pm | Air: 10°C | Water: 8°C | Length of Swim: 10 mins
Our first stop was at Brimley State Park, not very far away from the Canada - U.S. border. The beach we had chosen is located in Brimley State Park and I was a bit worried about being able to access the beach. I wondered, "Will the park still be open at this time of the year?" Luckily, we had no trouble at all accessing our first choice for a swimming spot in Brimley State Park.
The beach was beautiful We expected Lake Superior to be cold, but at 8°C it wasn't something us cold water swimmers we were afraid of. We were impatient to dip into the Great Lake that none of us had swam in before - excited by the adventure and ready to get moving after spending those long hours in the car.
The water was clear, beautiful, and felt fresh. After 10 minutes, it was time to get out, get dressed again, and get back to the car to resume our journey.
Jonathan acted as the perfect support. When we returned to the car, he had already turned the heat on, ensuring the vehicle was kept warm for us and our heated seats were ready. Being able to quickly reach a warm space is key for cold water swimmers, especially with 4 more swims ahead of us.
Jonathan also took the wheel for the rest of our trip, allowing us to rest and get prepared for the swims to come. Can you imagine driving at night with 5 crazy people who constantly turn the heater to the max?
Lake Michigan
Public Beach Access - E Wilderness Park Drive - Mackinaw City, Michigan, United States
Time: 6:15pm | Air: 8°C | Water: 9°C | Length of Swim: 10 mins
The Public Beach Access off E Wilderness Park Drive was a beautiful, sandy beach with easy parking that was close to the water. Parking the car as close to the water as possible is very important when the air temperature is low. Our arrival time was just before sunset. The fading light and colours of the sky were magical.
Our group is always ready for fun. We genuinely like being in the water together and we often have amusing ideas. On this 24-hour adventure each of us chose a lake and wore a costume that represented either our connection to the lake or the lake's personality.
Sharon dressed up as Elsa from Frozen in Lake Superior, the coldest lake. Richie dressed up as a kind of Neptune - the god of freshwater according to Roman religion - to conquer Erie. Leszec wore a Lake Ontario t-shirt and a goldfish hat. On the shores of Lake Huron, I reflected on how early French explorers referred to the lake by the name Karegnondi, a Wyandot word spoken by the Huron people. Translated, Karegnondi means "Lake", "Lake of the Hurons" or "Freshwater Sea". Lastly, Edwin choose Lake Michigan, the only lake that is entirely located in The United States. Edwin had lived in the United States, and naturally, he decided to dress up as Captain America.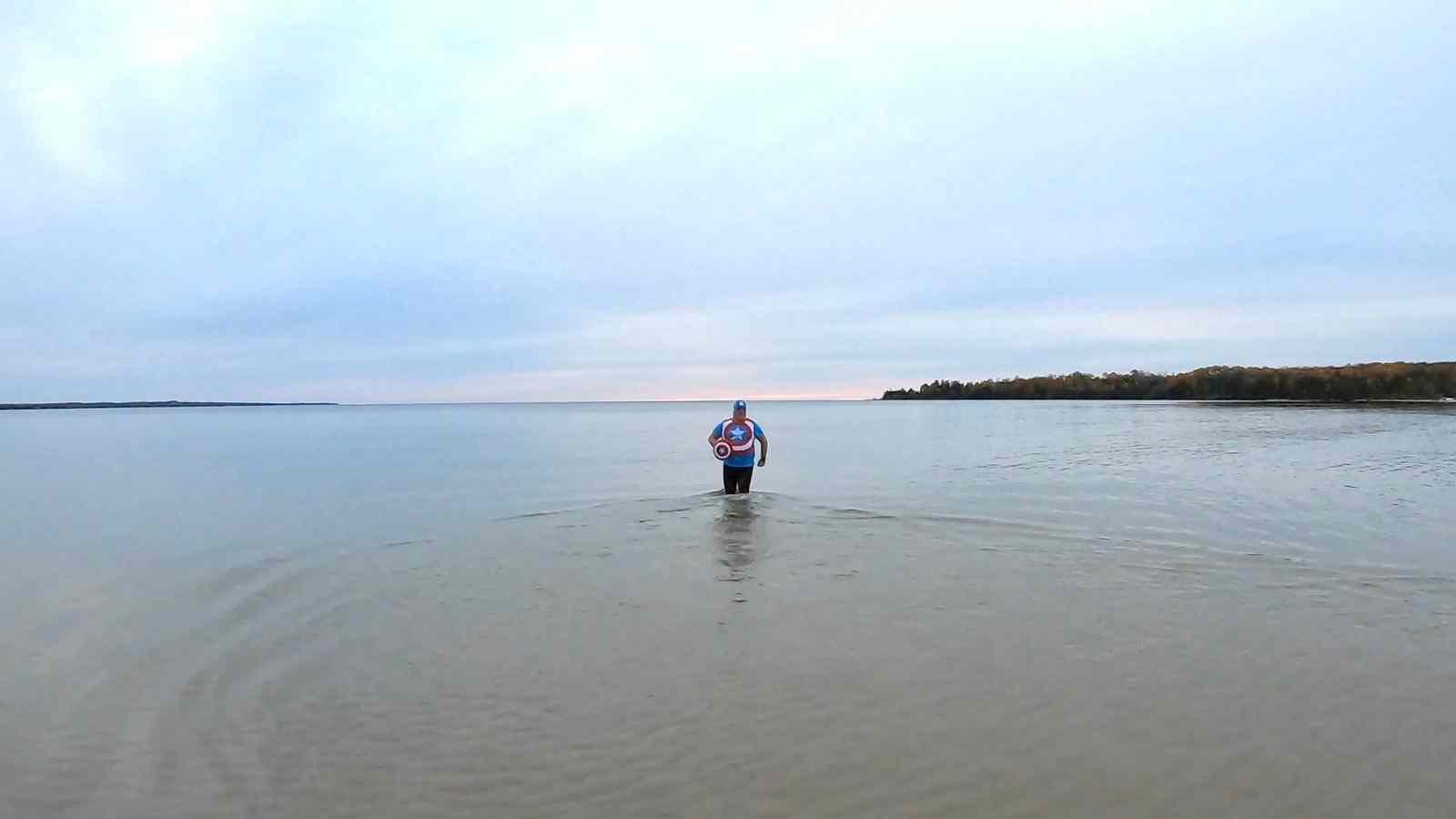 A few people arrived at the beach minutes after us to admire the incredible sunset. One of them exclaimed, "I want to hang out with the cool people!" and joined us in only his underwear for our 10-minute swim. We asked him if he has swam in cold water before, because it can be dangerous. Our new friend did have some previous experience and enjoyed the 9°C water with us.
I love the fact that we were all sharing this moment, in this beautiful lake. What a great example of diversity - each of the six people in the lake had a different country of origin - Canada, USA, Italy, Poland, Philippines, and France.
Each moment we spent in nature was fully appreciated. Lake Michigan offered us one of the most impressive sunsets we've ever seen.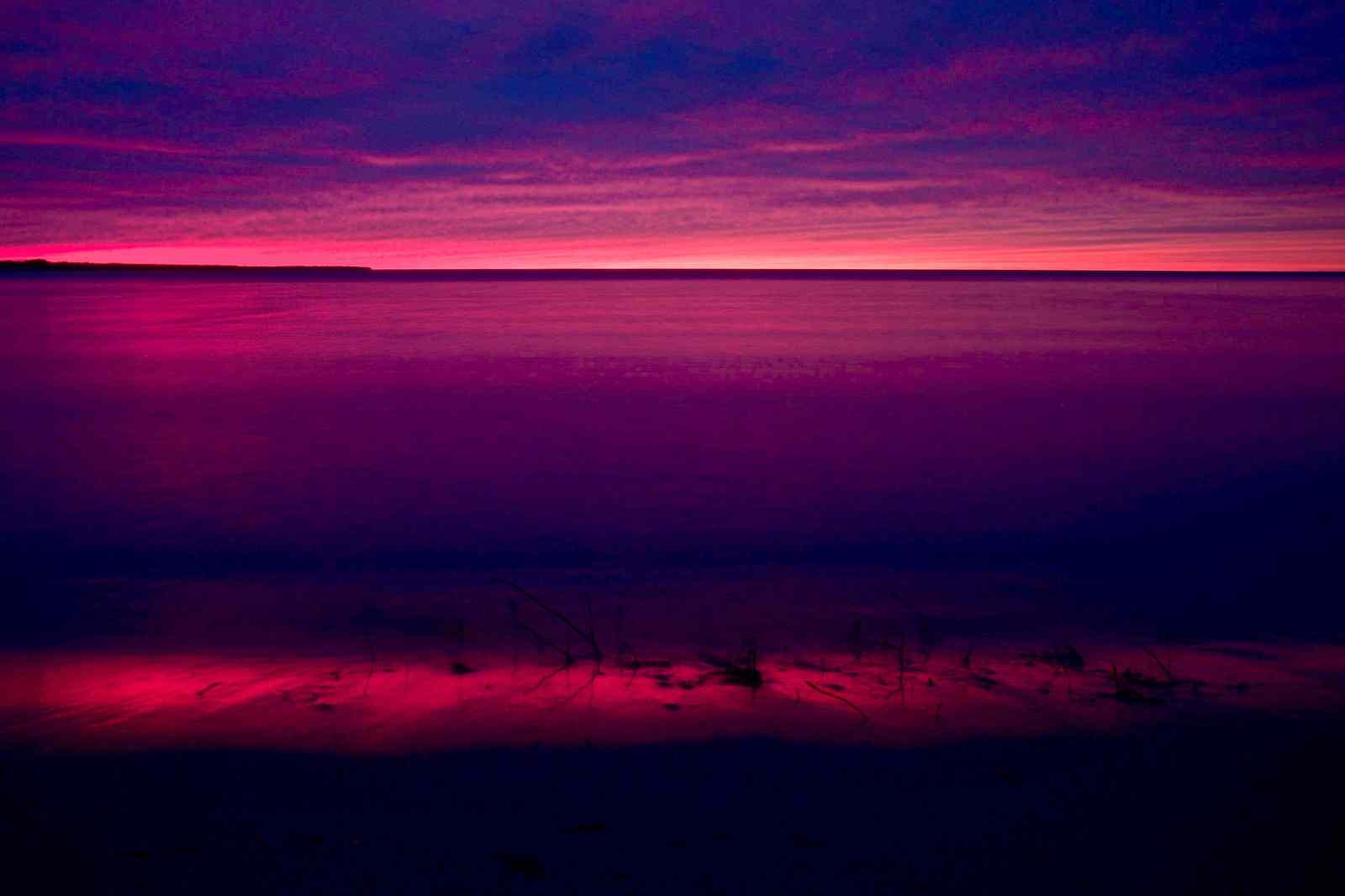 After our two first swims, we were cold. Putting on wet bathing suits and cold booties on a windy beach is certainly not the most pleasant experience. But our swim in Lake Michigan wasn't the hardest compared to our other swims that night. We had enough time to stop for dinner on our way back to Canada and treated ourselves to a nice, warm meal. After a cold water swim, eating or drinking something warm is priceless.
Lake Huron
Canatara Beach - Sarnia, Ontario, Canada
Time: 1:48am | Air: 12°C | Water: 12°C | Length of Swim: 10 mins
Crossing the border back to Canada late at night was easy. Shortly before 2am, we were on the shore of Lake Huron in Sarnia, ready for our third swim.
Lake Huron wasn't our first-ever night swim. We had all experienced swimming in the dark before, but usually in a location we're familiar with. In the dark, wind, and rain, we discovered what it was like to swim at Canatara Beach for the first-time.
The climatic conditions were not helpful that night but it would take more than the bad weather to spoil our good mood. The water temperature was 12°C. As experienced cold water swimmers, we didn't consider that temperature to be too cold. On this swim, we were tired and with the inclement weather, our 10 minute swim felt more challenging than the others.
I personally love Lake Huron for its stunning colours. I now have a new coloured memory of this lake; the bright tinted lights of our swim buoys in the dark waters.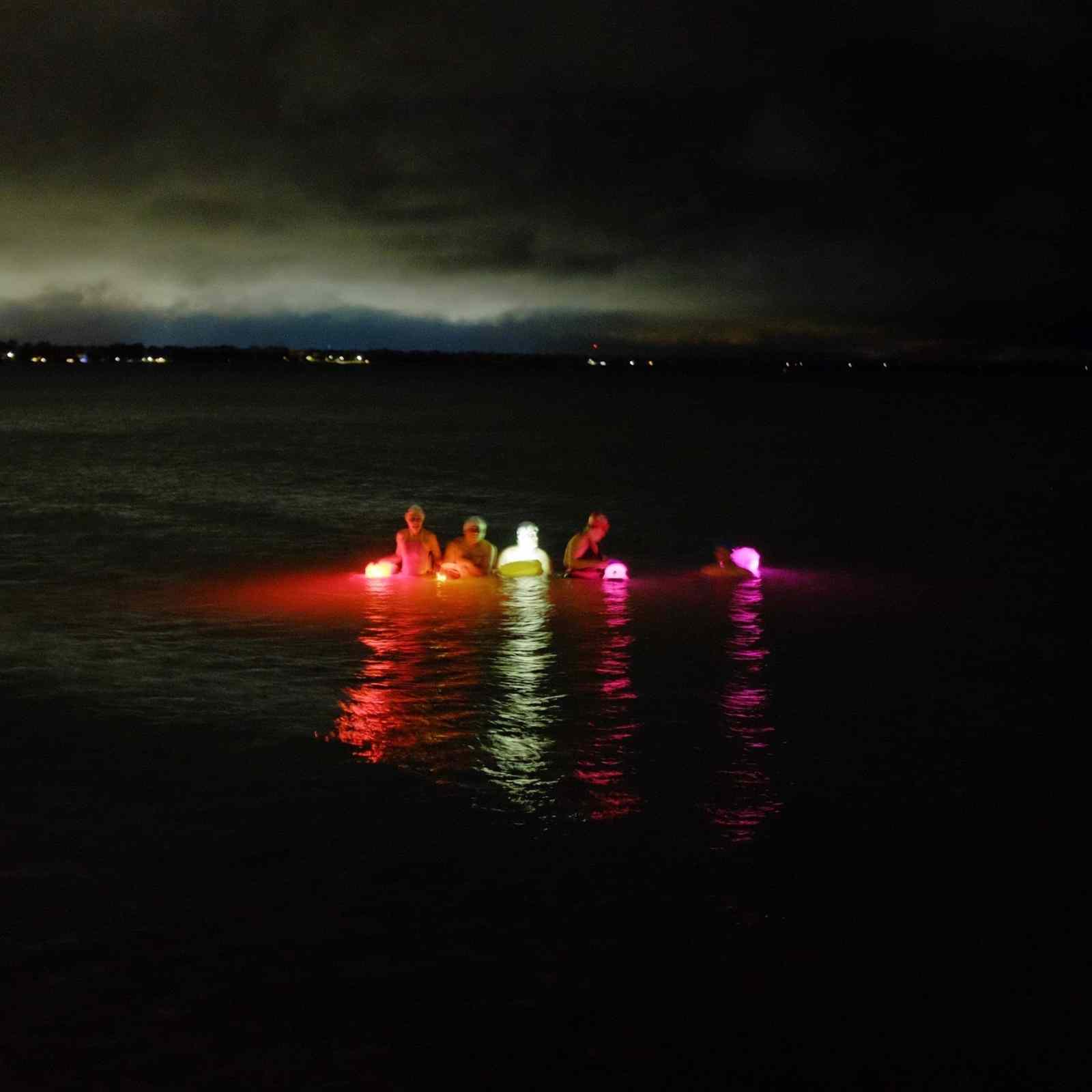 Lake Erie
Port Stanley Beach - Port Stanley, Ontario, Canada
Time: 4:53am | Air: 13°C | Water: 13°C | Length of Swim: 10 mins
The forecast for Lake Erie's water temperature at Port Stanley was a warm 15°C. We all imagined being able to do a longer swim at this lake. For us, having a fun adventure was the most important thing, rather than the amount of time we stayed in the water or the distance we swam.
What we love about open water swimming is the conditions are always different. We constantly need to adapt. All of us had swam in Lake Erie before and we knew that the lake could be surprising sometimes. This summer we expected to swim in warm water. Lake Erie is the most shallow of the five lakes and generally has very pleasant water temperatures during summer. This summer, the water temperature was unusually cold.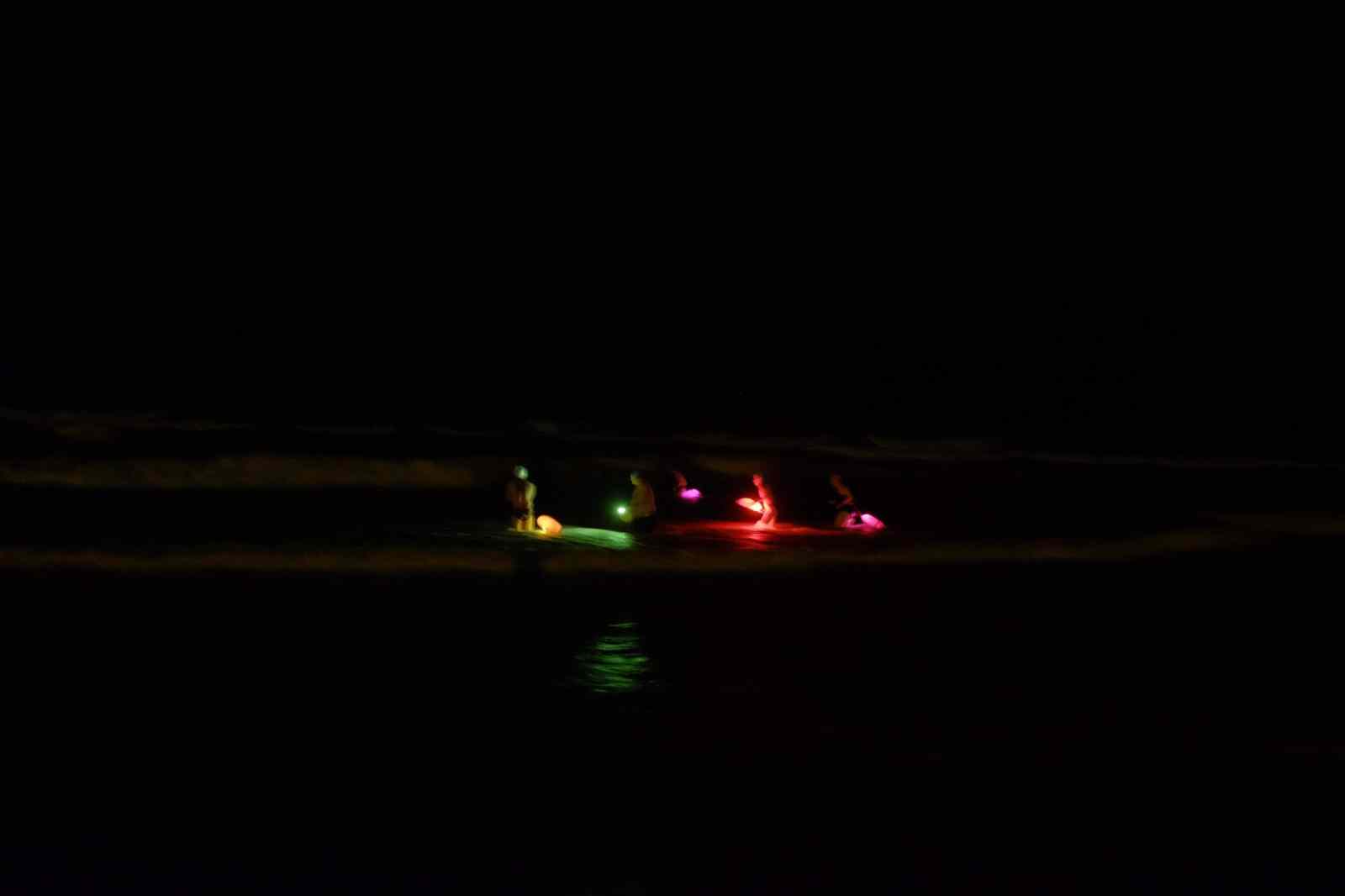 This time, in addition to the darkness, rain, wind and water that was 13°C, Erie welcomed us with big waves. The Great Lakes are amazing, they really look like the ocean at times. In our group, we enjoy the waves and have fun swimming in them. But that day, it wasn't the ideal conditions for a long swim.
We played in the water for 10 minutes before getting out. The lively swim awakened us and we felt so refreshed. We left Lake Erie full of energy and excitement, ready to drive back to our usual playground: Lake Ontario.
Lake Ontario
Jack Darling Memorial Park - Mississauga, Ontario, Canada
Time: 7:20am | Air: 11°C | Water: 10°C | Length of Swim: 10 mins
At 7:20am on Sunday morning, less than 24 hours after our departure, we were back home in Jack Darling Memorial Park for our last swim. The weather on Lake Ontario wasn't much better than Lake Erie, but we've swam at this beach many times before. The morning sky was getting lighter and the sun was about to rise.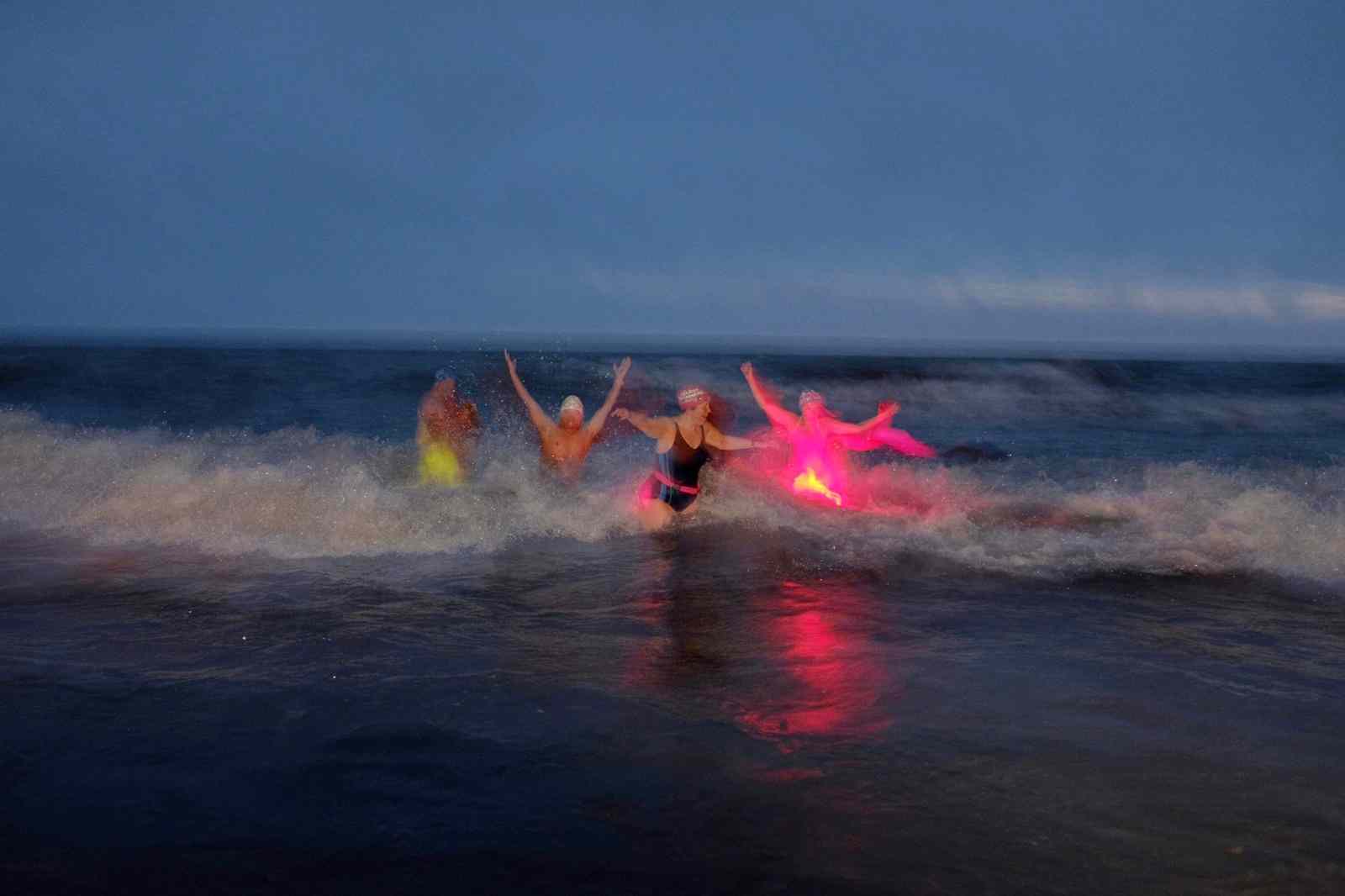 Tired and happy at the same time, it felt like a messier swim. Our awesome support, Jonathan, took one last picture of us and then jumped into the water for a quick dip. What a great way to finish this crazy adventure!
This journey wasn't only about completing the challenge together, but about celebrating our friendship and diversity. Yes, we are still friends after almost 24 hours spent together in a hot car and in cold water. We are grateful to have access to such beautiful bodies of water. The Great Lakes in any season are truly amazing.
---