Welcome to Toronto's wonderous waterfront!
You've probably been to the Toronto Harbour before. You've seen boats, paddlers, ducks, and more. But if you look even closer, you'll find a whole world of history, culture, and ecology just waiting to be discovered.
The Toronto Harbour you see in front of you today looks vastly different than it did centuries—or even decades—ago.
You are standing on Michi Saagiig Nishnaabeg land, specifically the Mississaugas of the Credit First Nation. Since the beginning of known history, First Nations like the Mississaugas and the Haudenosaunee have been stewards of this land and water.
When Europeans arrived at the shores of Lake Ontario, they brought major changes. Lake Ontario's original shoreline once reached what we now call Front Street. But from the 1800s to the 1950s, fill was dumped in the lake to extend the land to where you are standing.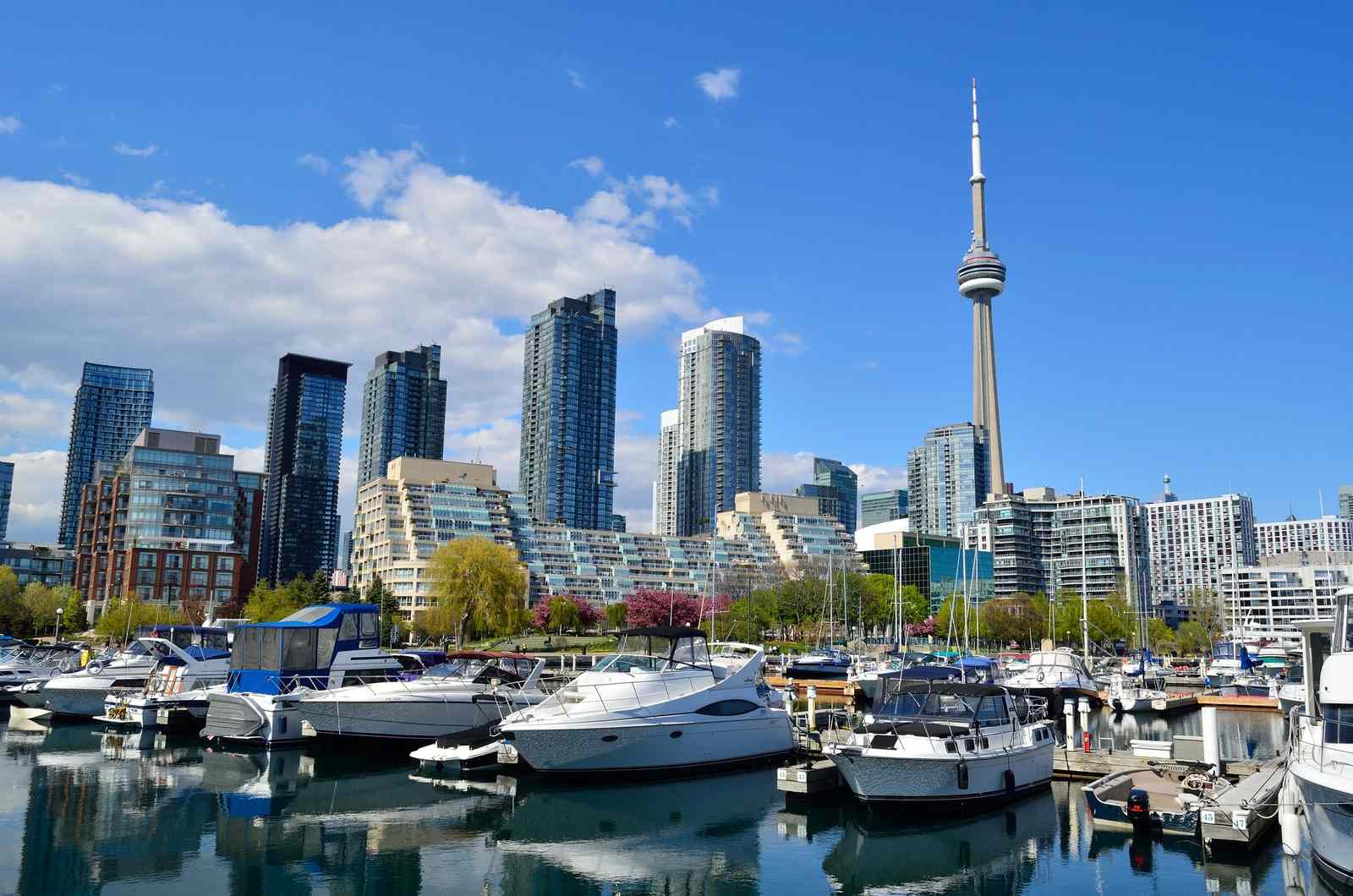 You can still see hints of the older shorelines. For example, the south entrance of the St. Lawrence Market is where fishermen used to dock their boats.
During the industrial age, the harbourfront was used for manufacturing and shipping. As trains became common, the government filled in the Don River Valley and more shoreline to make space for rail lines. Then cars became popular, and more land was created for expressways.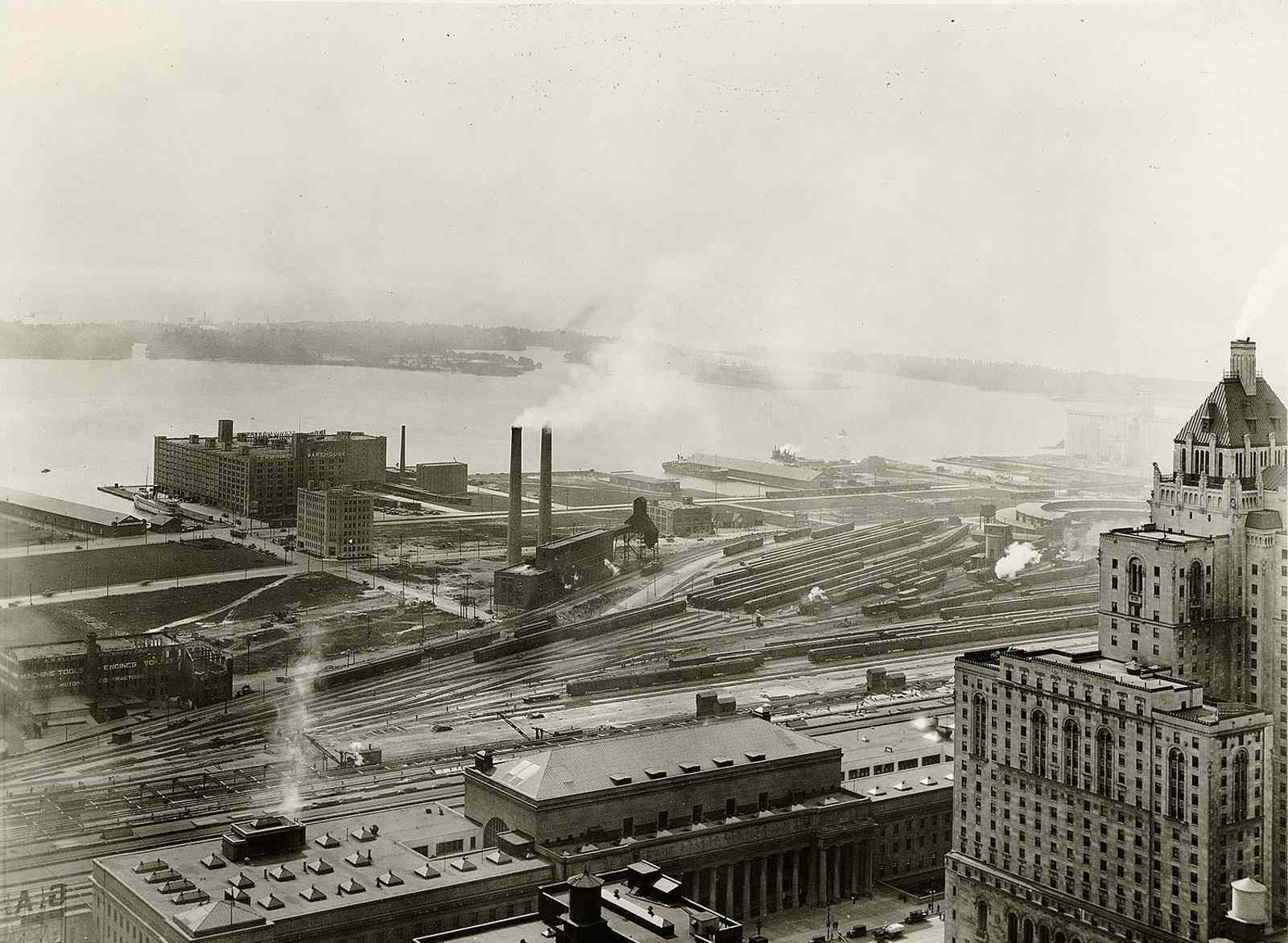 The version of the harbourfront you're looking at now started to take shape in the 1970s and really picked up speed within the last decade or so. Today, Toronto's Harbourfront is a place of entertainment and tourism.
Join us on a walk along Toronto's waterfront with 8 exciting stops.
1
Yonge Street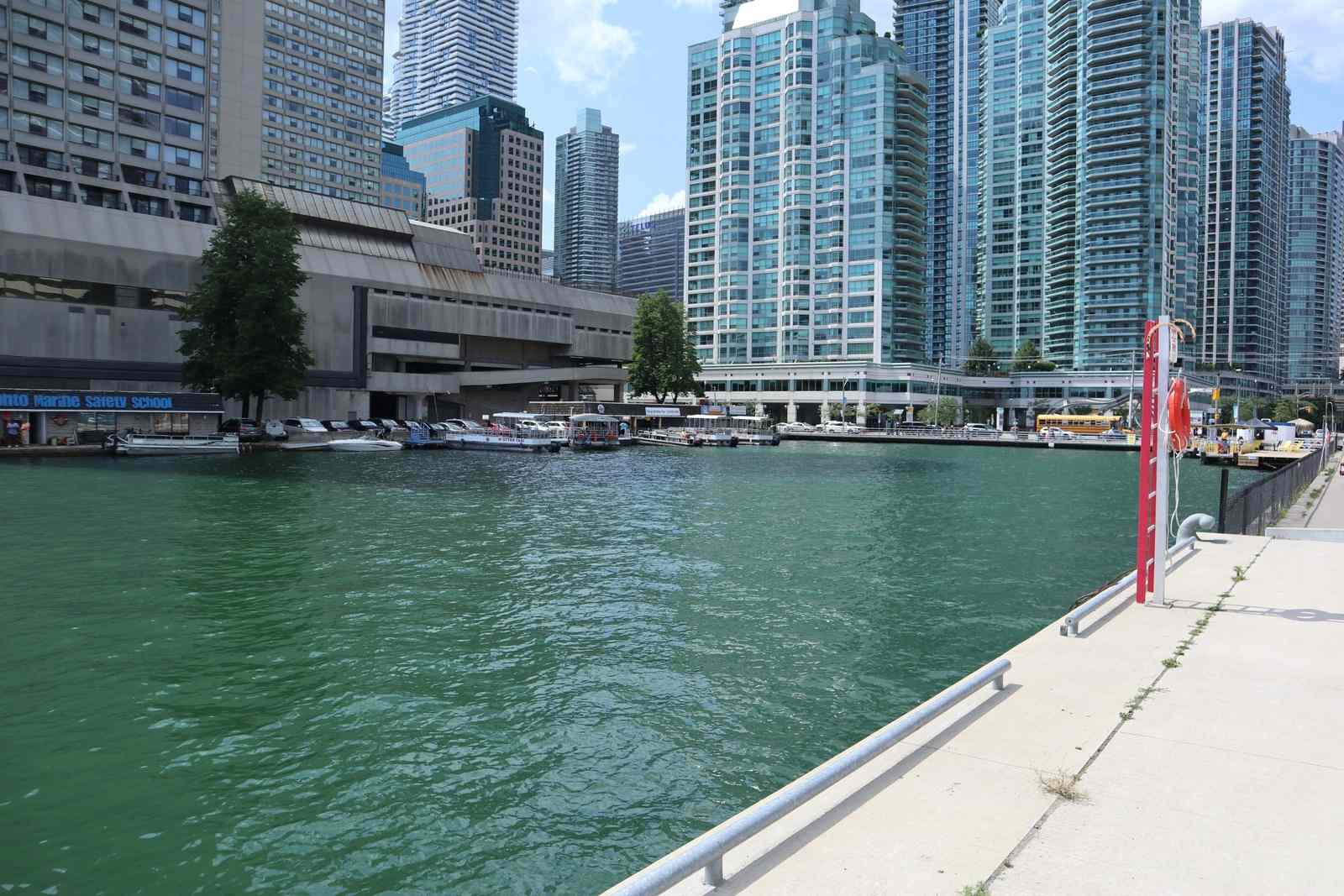 First stop: Young street. Yonge Street Slip is right beside the Jack Layton Ferry Terminal. It's also home to most of Toronto's water taxis. Think of it as your personal gateway to the Toronto Islands!
The fifteen Toronto Islands were formed when the Don River pushed silt and sand into Lake Ontario. The Toronto Islands are replenished by the soft sand that washes off the Scarborough Bluffs.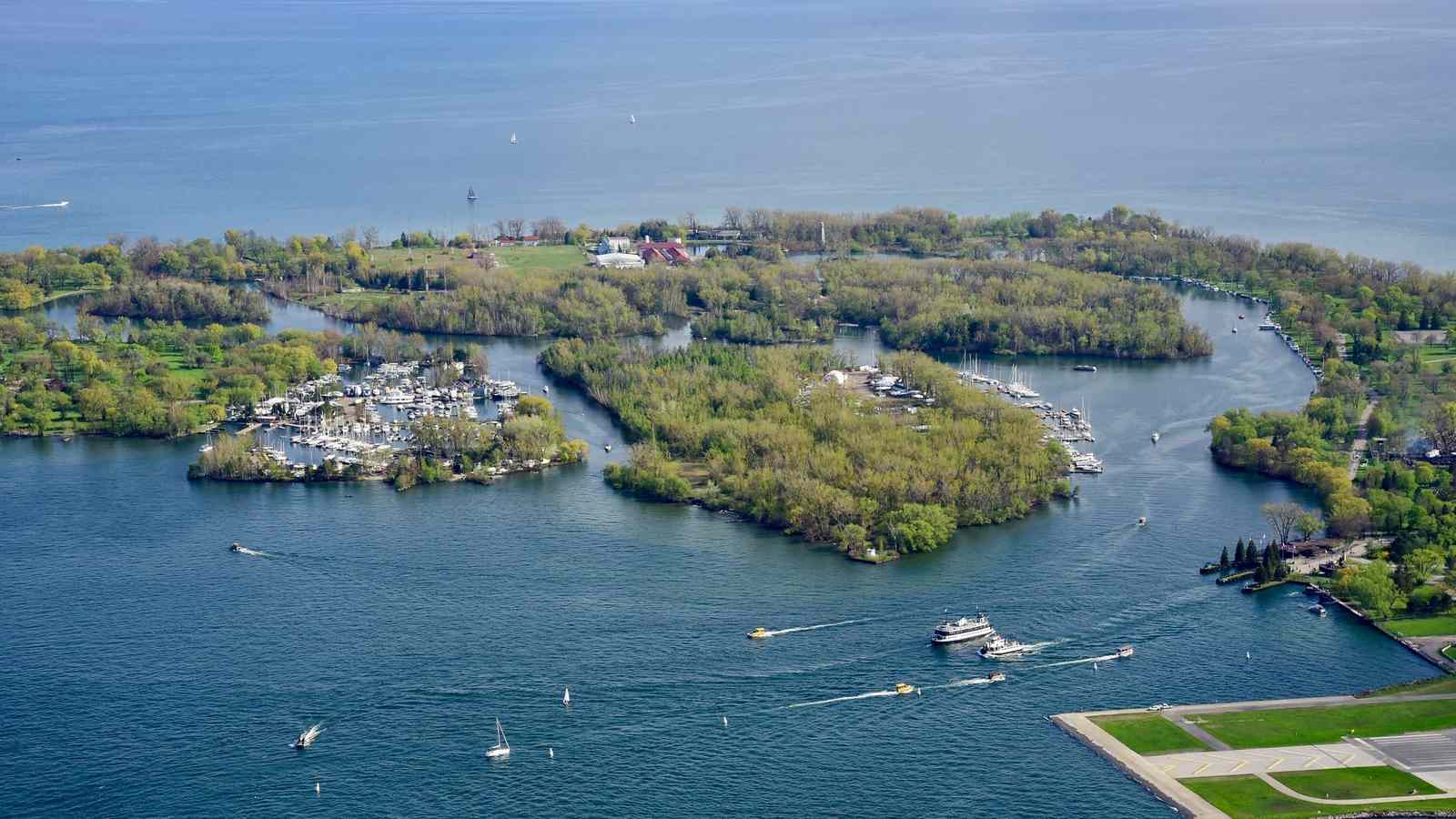 Millenia before the Centreville Amusement Park and petting zoo, the Toronto Islands were used by the Anishinaabeg peoples for numerous ceremonial purposes, including childbirth and burials. To this day, the islands are considered sacred due to their healing and restorative qualities.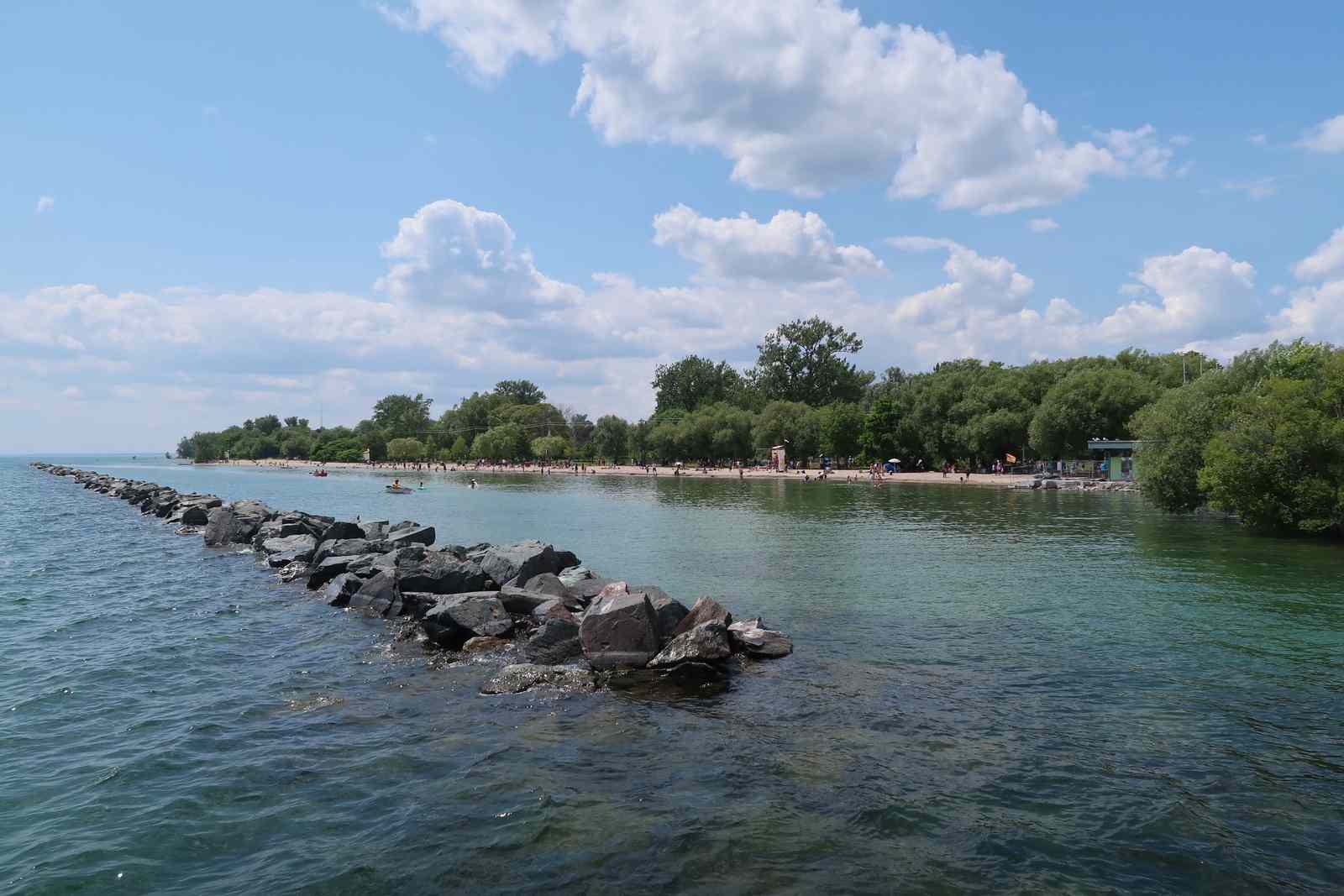 Most people don't know that the Toronto Islands used to be connected to the shoreline of Lake Ontario. In 1858, a big storm carved a gap between the mainland Toronto and the sandy beaches of the island.
2
York Slip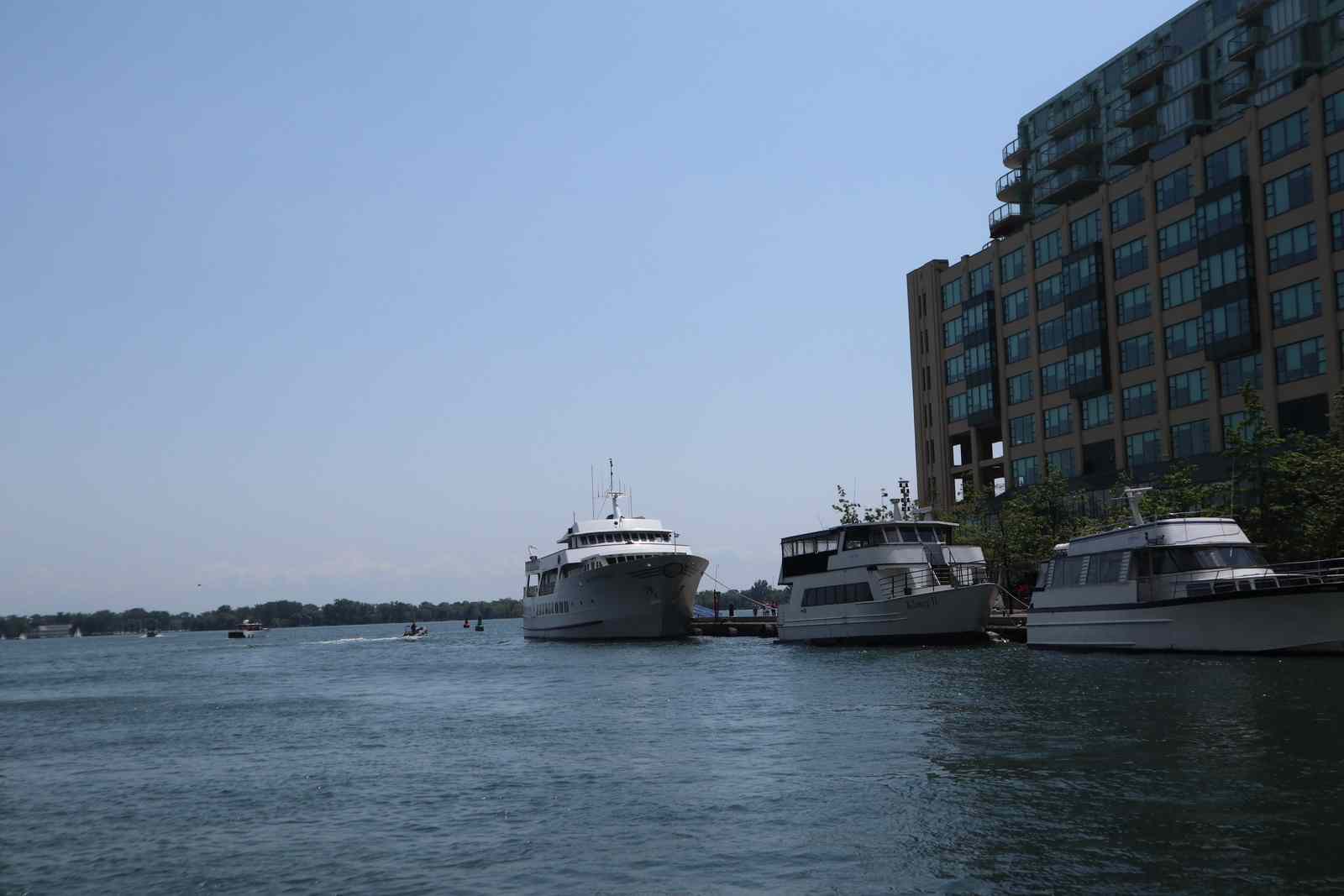 Next up, the York Slip. For hundreds of years, the York Slip has been the heart of Toronto's waterfront. Historically, it has been an important place for industry and entertainment. Built in 1907, the Second Cup building is the oldest structure on Toronto's Central Waterfront.
York Quay is sometimes known as "Pier 6", which was the name of the site in the 1920s. At this time, the pier was used for shipping. The Toronto Terminal Warehouse was the largest single-unit warehouse in all of North America.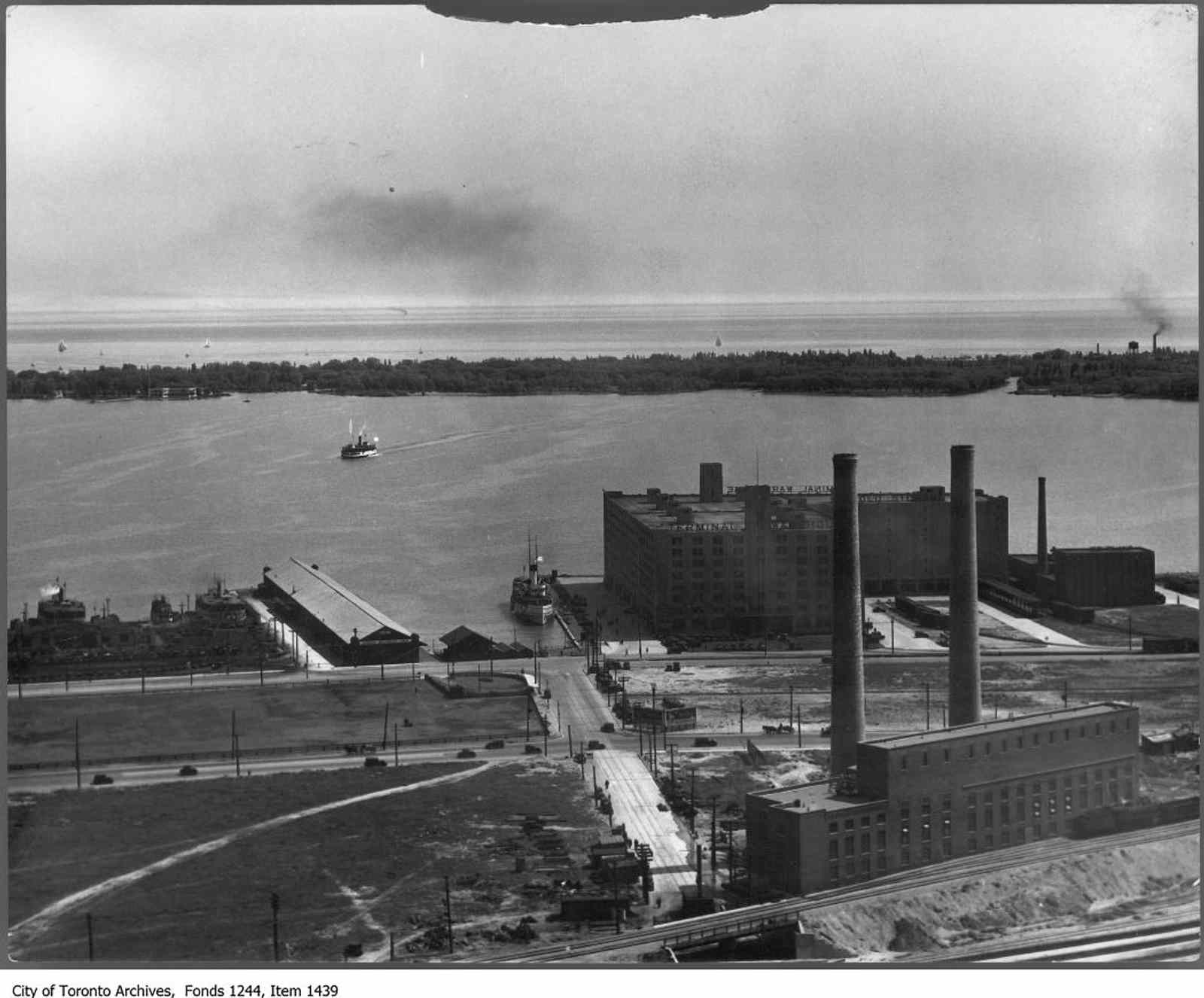 In the 1930s, The Canadian National Railway started using the York Slip for its passenger steamers, Dalhousie and Northumberland.
The first modern towers at the York Slip were built in the 1970s. They remain the largest towers on the waterfront today. Shortly after the towers were built, the public demanded that more waterfront lands be protected for public space, which you can see west of York Street at the Spadina Quay Wetlands (more on that later!).
3
Marina Four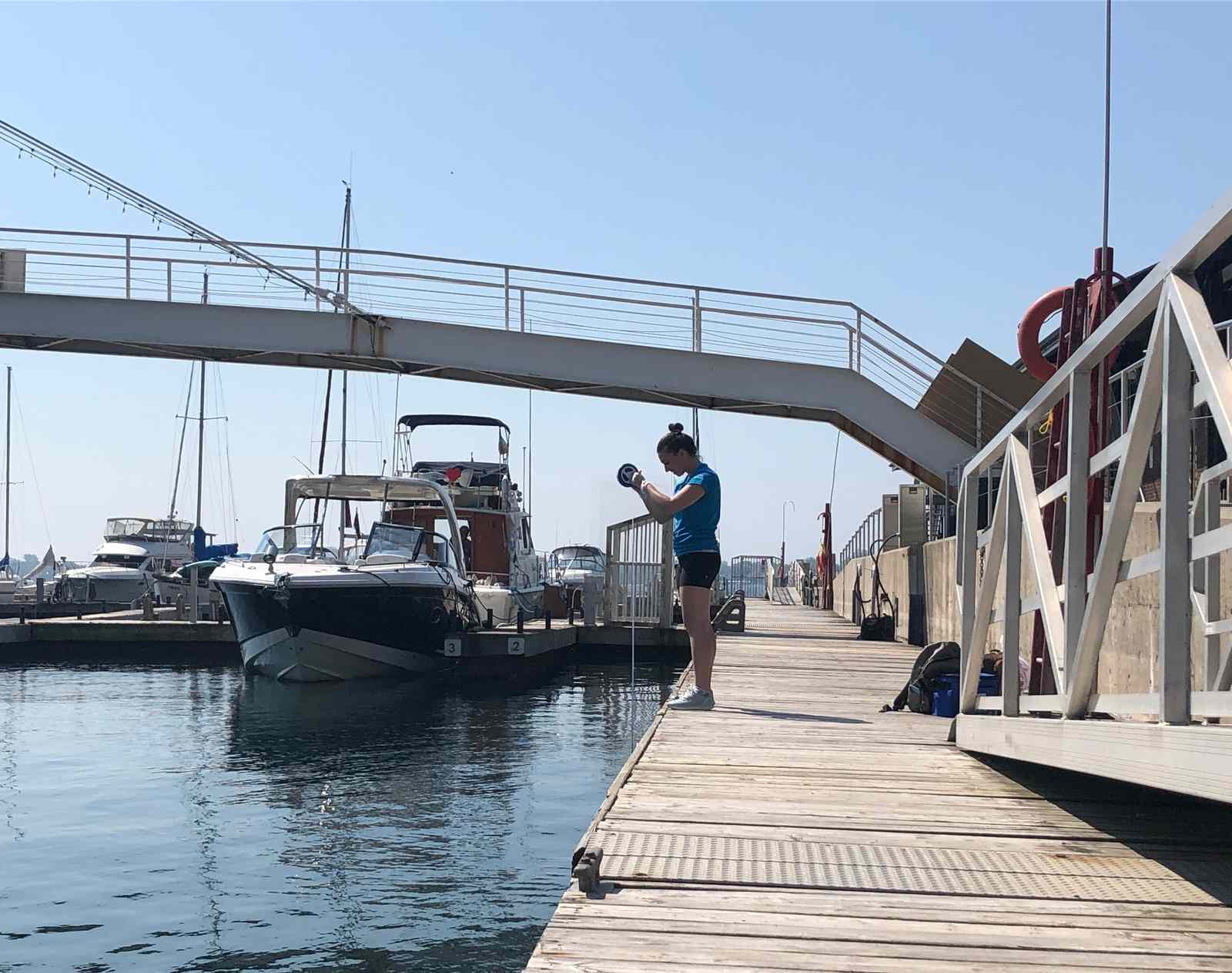 Welcome to Marina Four, a well-protected, 100-slip marina located right in the heart of the Harbourfront Centre between Rees St. and Lower Simcoe St. under the Amsterdam pedestrian bridge. It is adjacent to Harbourfront Centre's outdoor Concert Stage. Marina Four gets its name from "Pier 4", which was the name of the site in the 1920s.
Marina Four is beloved by countless boaters on Lake Ontario. In fact, some Toronto residents actually live on the boats docked here.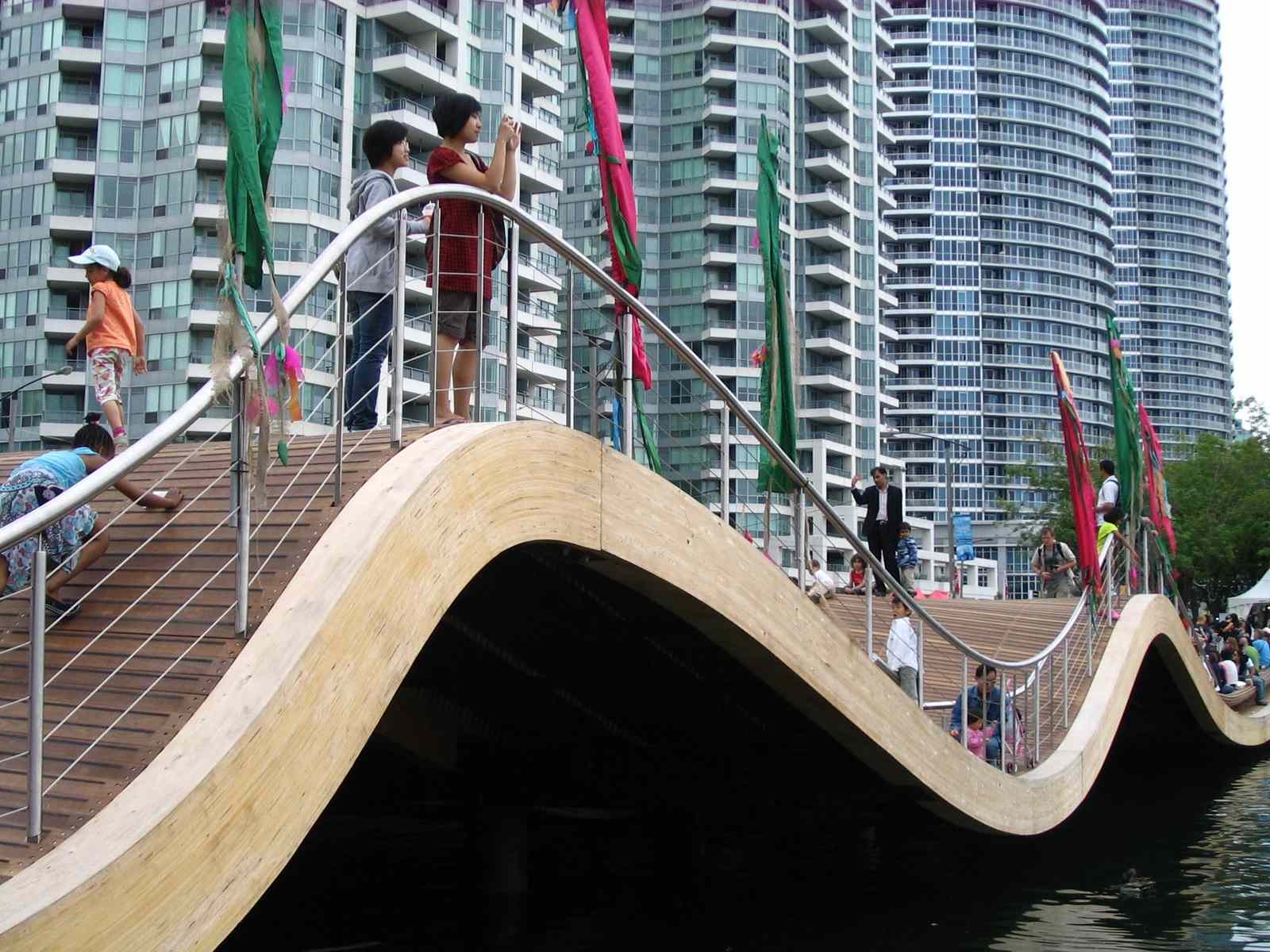 Peer under the Simcoe Wavedeck. Do you see any Barn Swallows (or their mud nests) underneath? If you're really lucky, you might spot a Black-crowned Night-Heron here in the evening or on a cloudy day.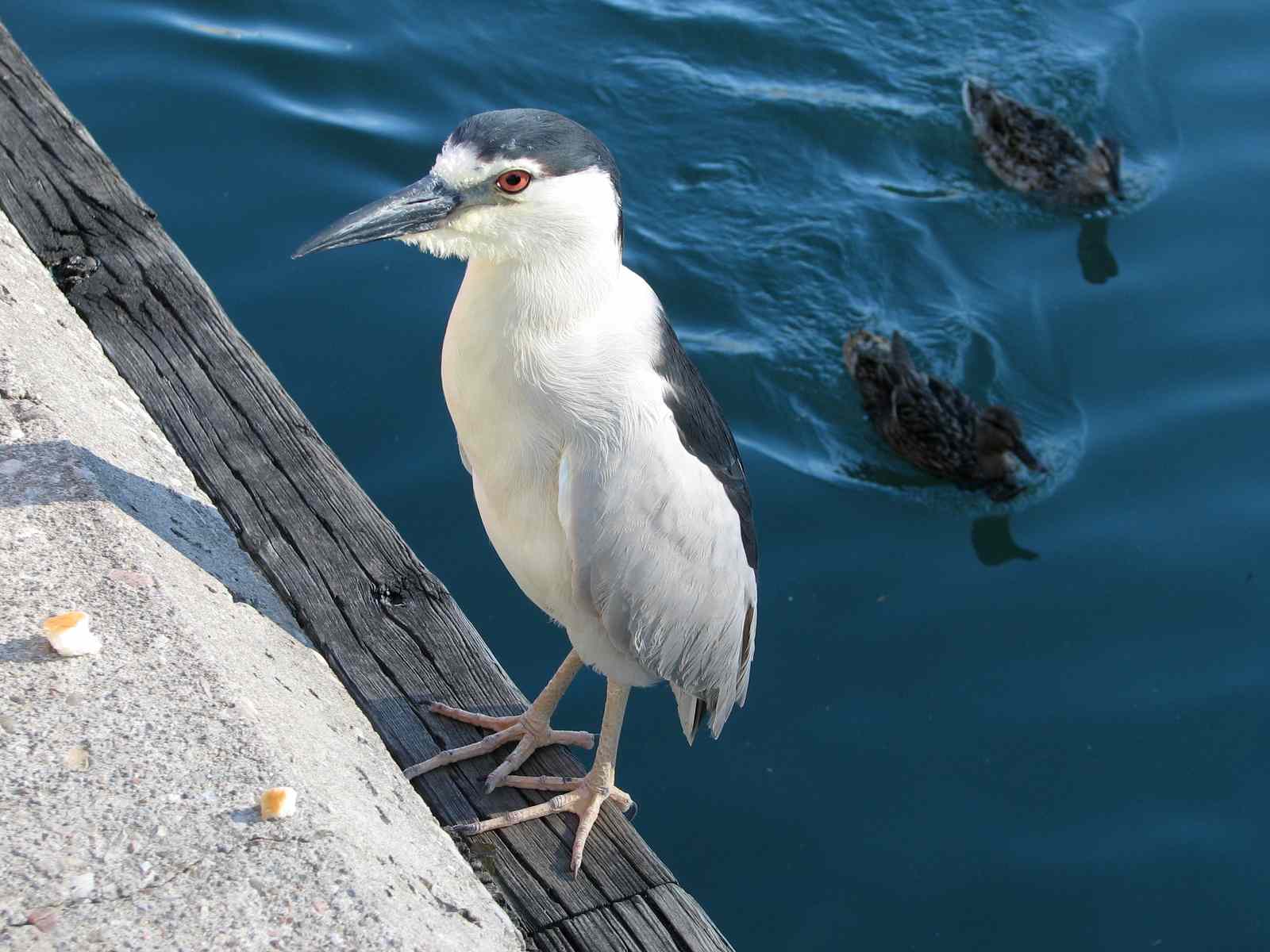 4
Rees Street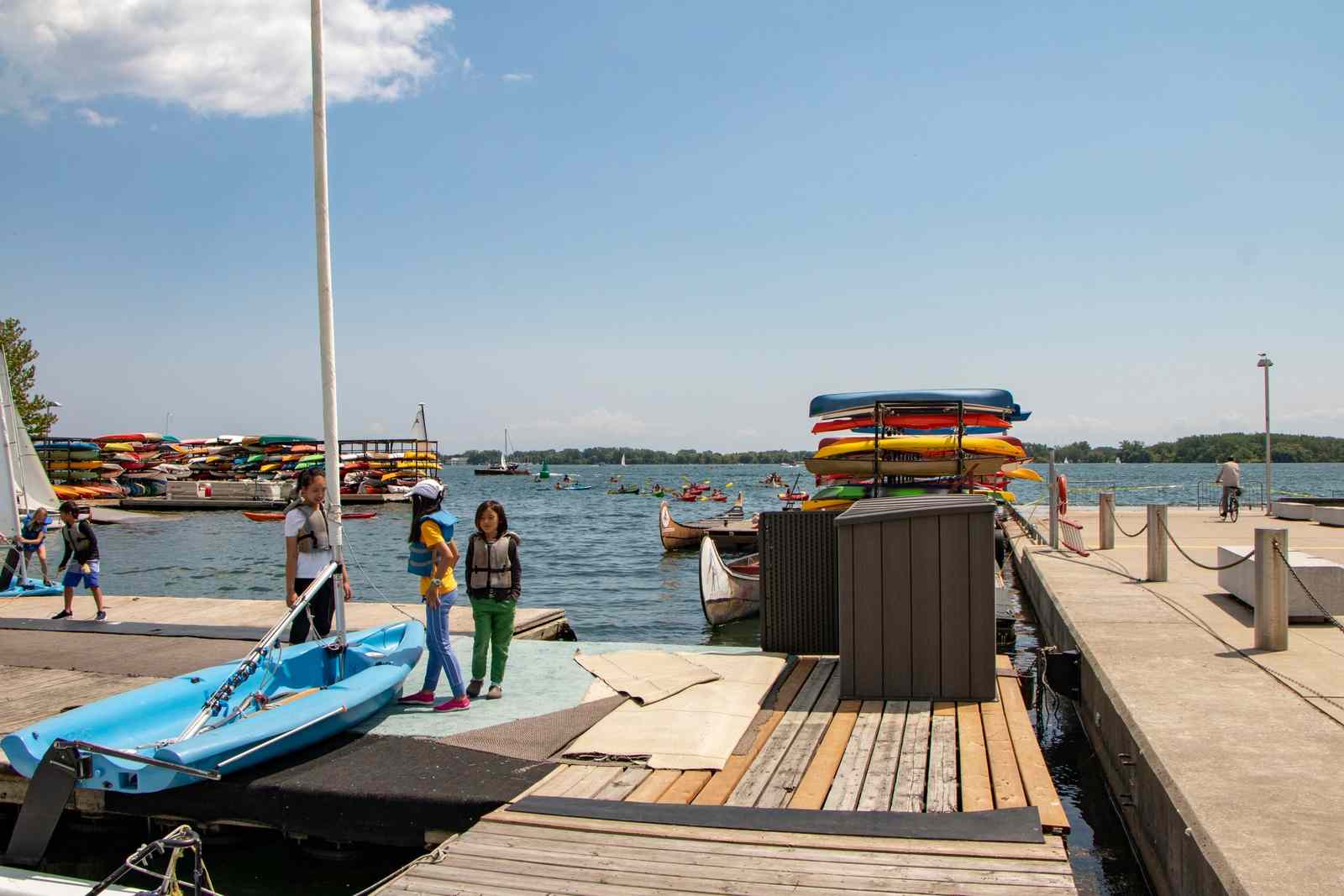 Let's take a walk to Rees Street Slip. This slip is named after Dr. William Rees, who built Rees' Wharf in the early 1840s (where the Convention Centre now stands).
Rees's Wharf was where many newcomers first set foot in Canada. It was one of the most commonly used ports for ships bringing immigrants from abroad, particularly for Irish people fleeing the Great Famine. A memorial to those people now stands at Bathurst Quay.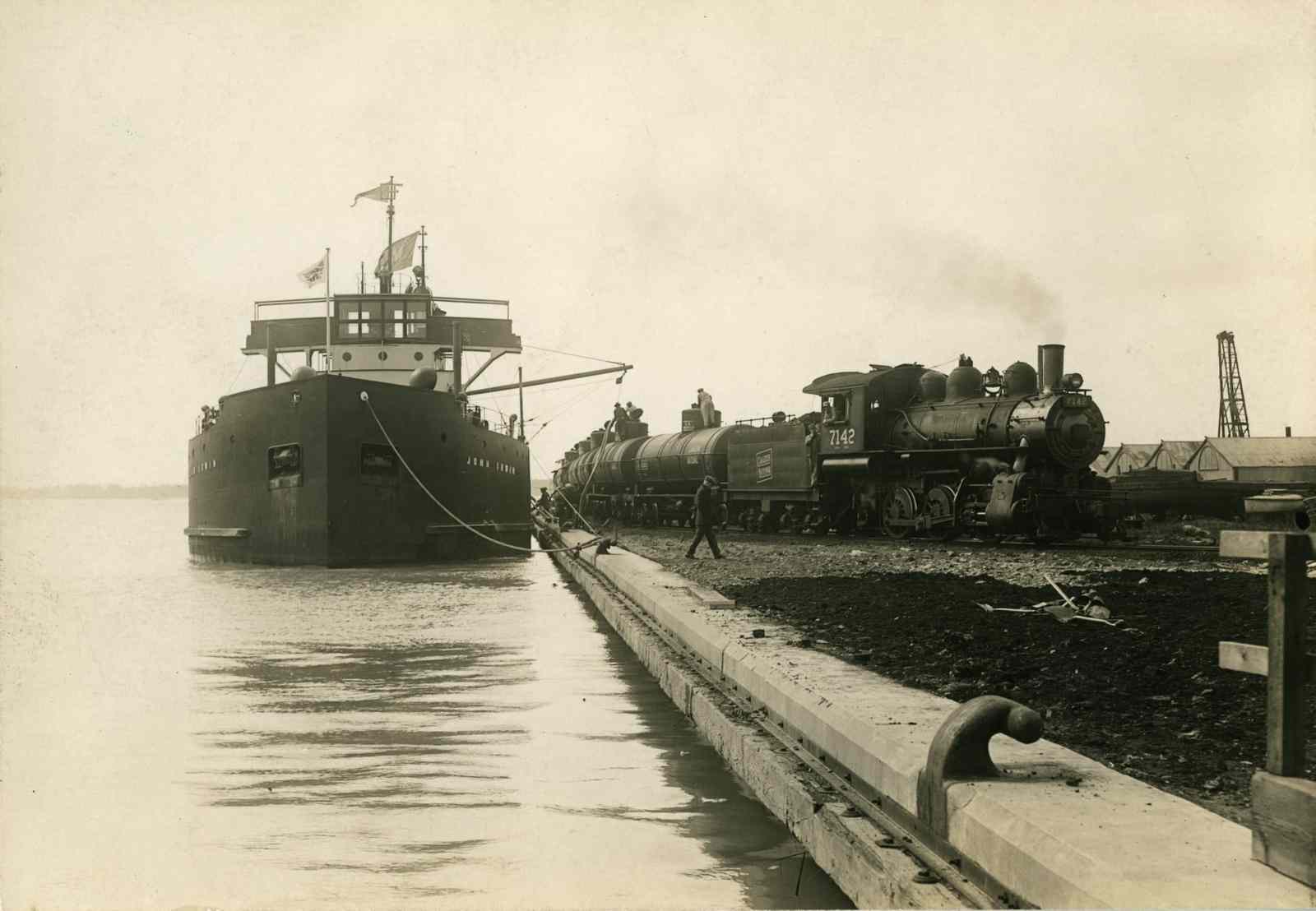 Today, Rees Street Slip is the recreational hub of the Inner Harbour. Harbourfront Canoe and Kayak Centre has been here for 30 years, making this the harbour's busiest place for water enthusiasts. At the Harbourfront Centre, you can take canoeing, kayaking, sailing, and powerboating lessons or rent a boat to explore Lake Ontario.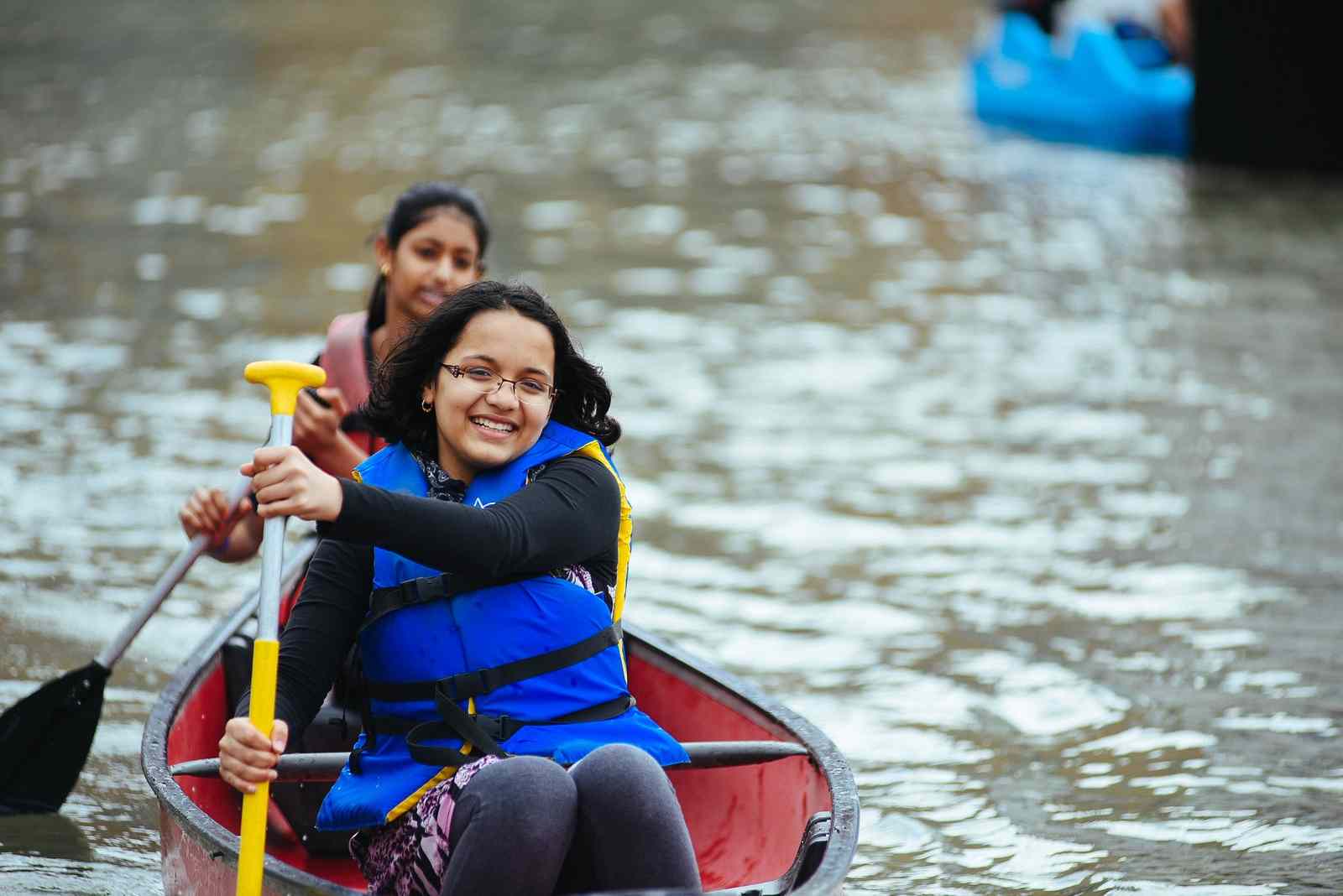 5
HTO Park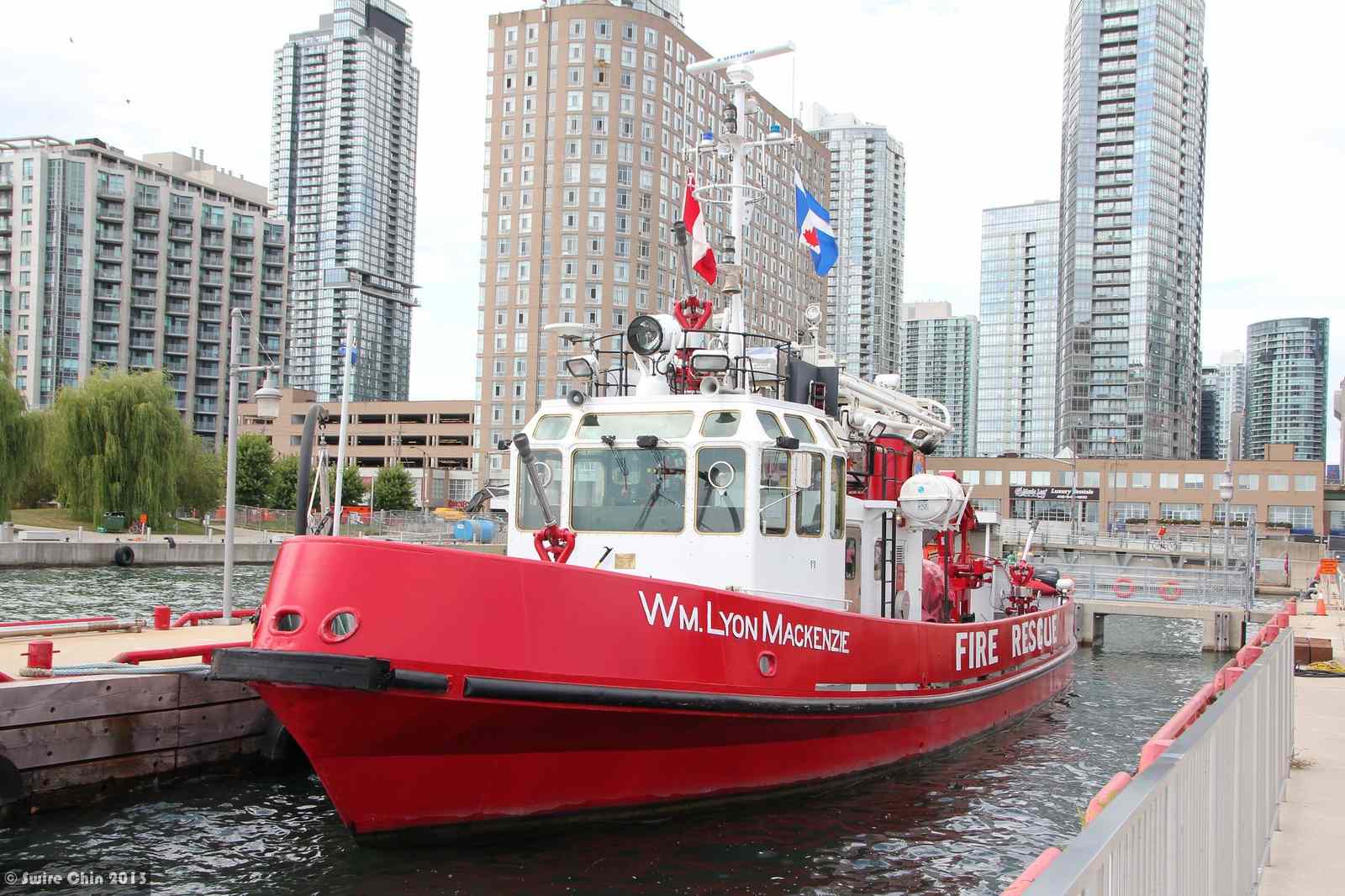 Now, we'll stop at HTO Park. Take a look around you. Notice the grassy hills, sandy beach, yellow umbrellas, and Muskoka chairs invitingly waiting for you in the shade. If you're longing for a beach day in the big city, HTO Park, also known as "Toronto's Urban Beach" is the place for you.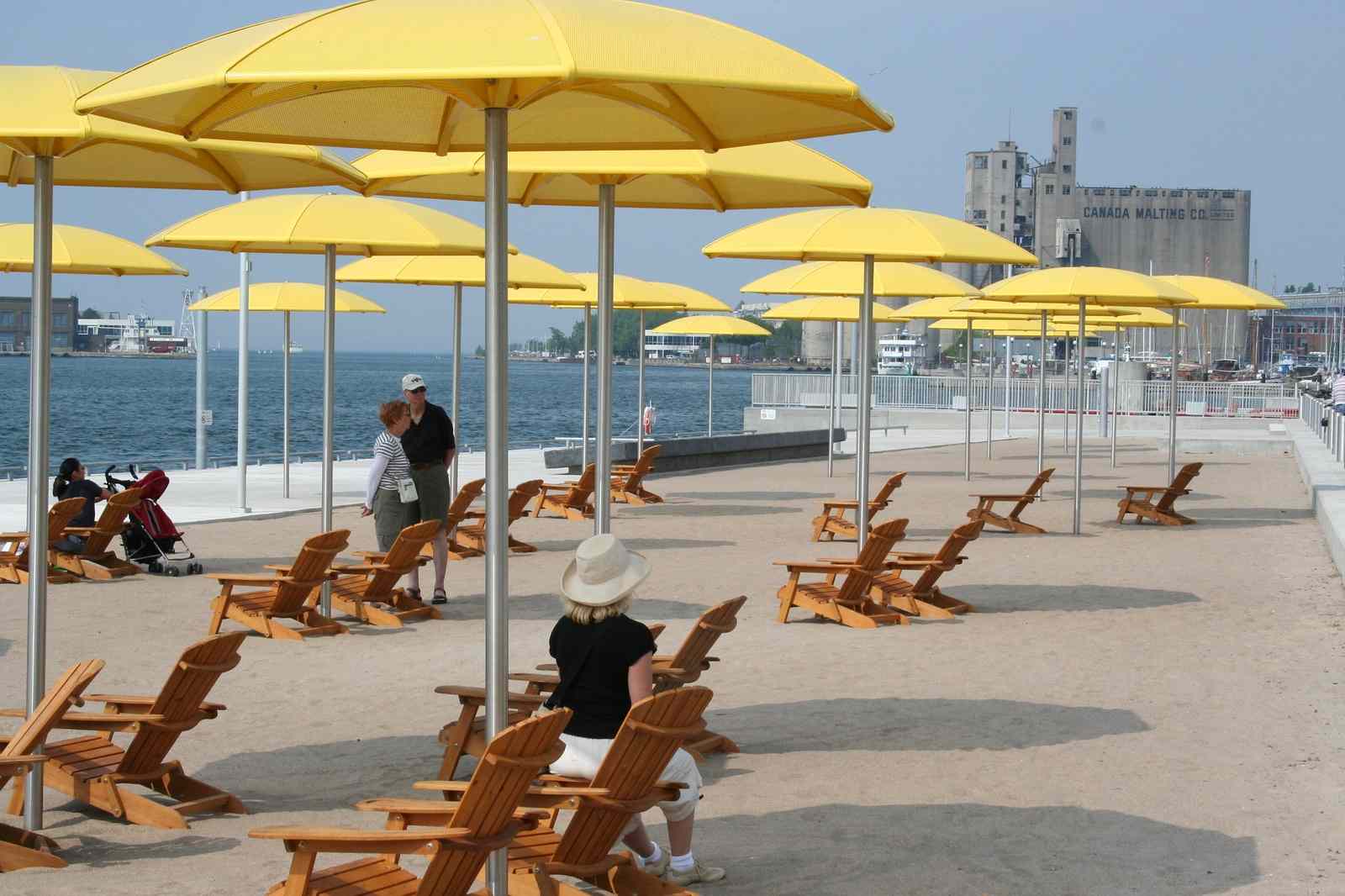 HTO Park was created in 2007 to connect the community to Lake Ontario. Large areas of industrial land (some of which has been unused since the 1980s) were transformed into something beautiful. HTO Park brings tourists and locals alike closer to the lake.
What does HTO stand for? It's actually a clever play on words. As you know, "H2O" is the scientific name for water, since each molecule of water is made up of two hydrogen atoms and one oxygen atom. "TO", of course, is what many of us affectionately call Toronto. Science and regional colloquialism come together to form HTO.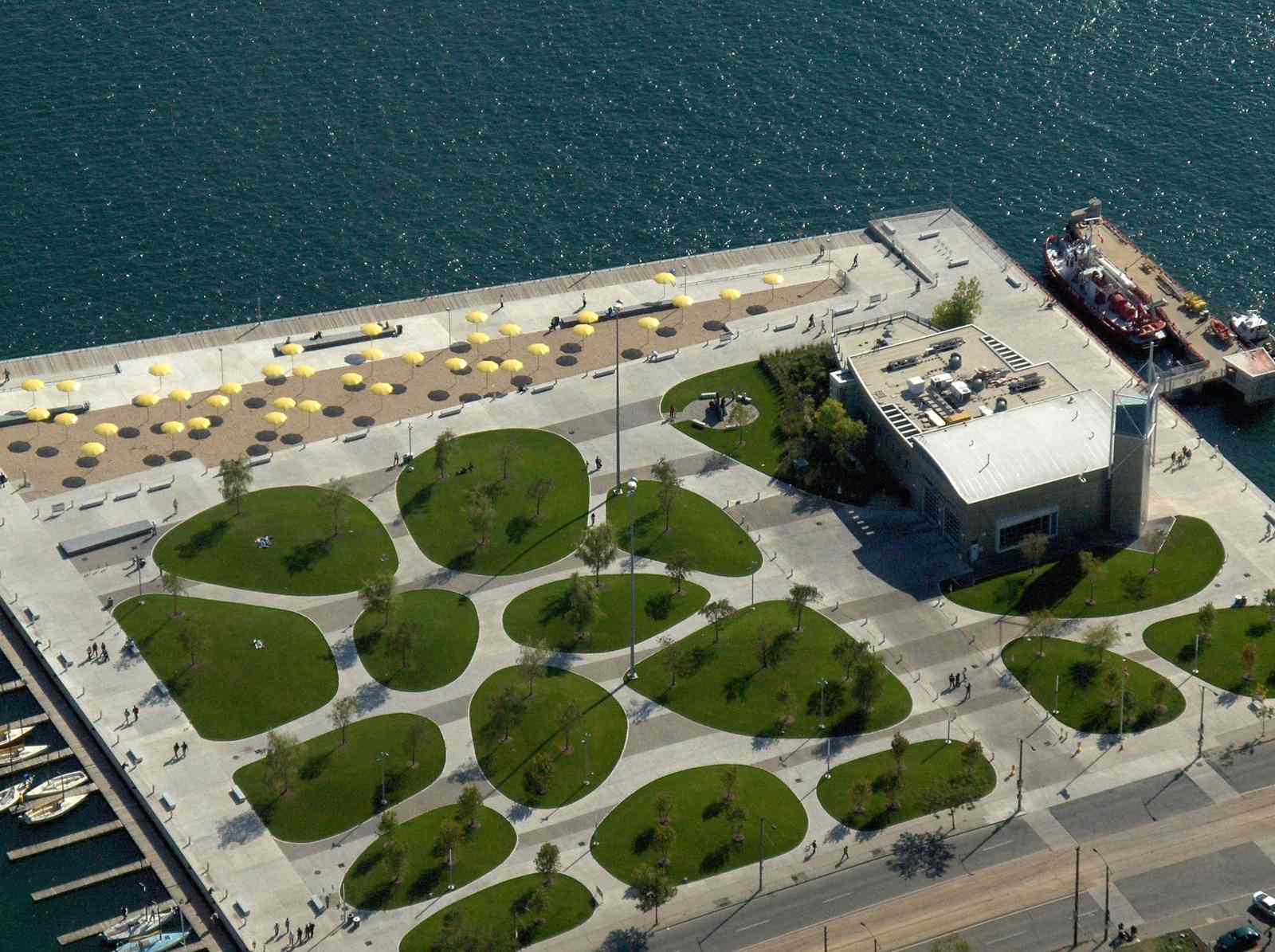 While you're thinking about what's in a name, "Toronto" itself is a Mohawk word (tkaronto) meaning "where there are trees standing in the water". This is a reference to the paddling-portage route that runs up the Humber River to the top of Lake Simcoe.
6
Spadina Quay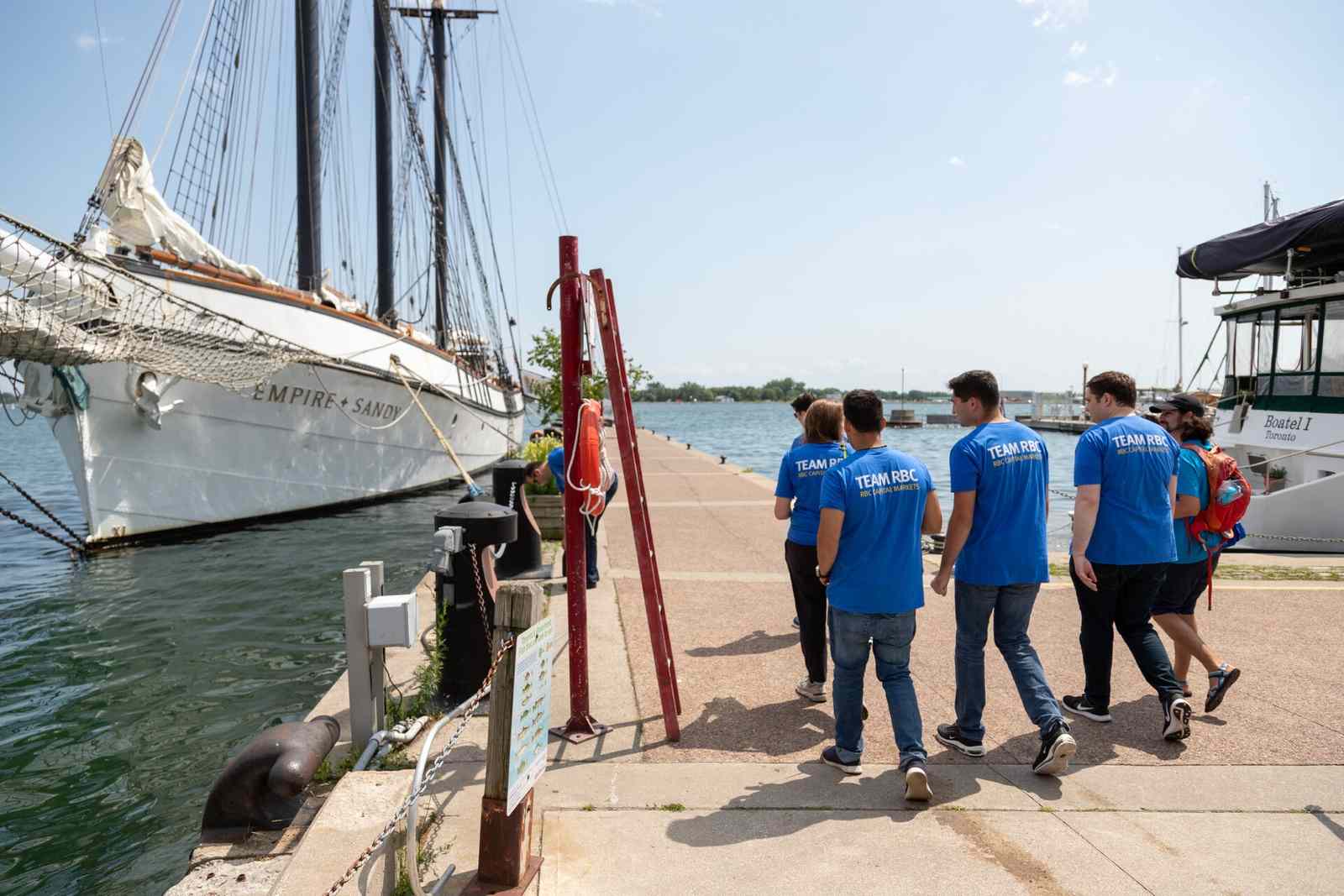 Our next stop is Spadina Quay. Torontonians often use place names derived from indigneous language without even realizing it.
Take the Spadina Slip, for example. The word "Spadina" comes from the Objibwe word "ispadinaa" which means "high or sudden hill". If you've ever visited hill-top Casa Loma (Spanish for "Hill House") you've probably already figured out this connection.
What you may not know is that this sudden ridge marks the original shoreline of prehistoric Lake Iroquois, a large lake left behind by melting glaciers. Lake Iroquois's shoreline extended well beyond what we know as Lake Ontario today.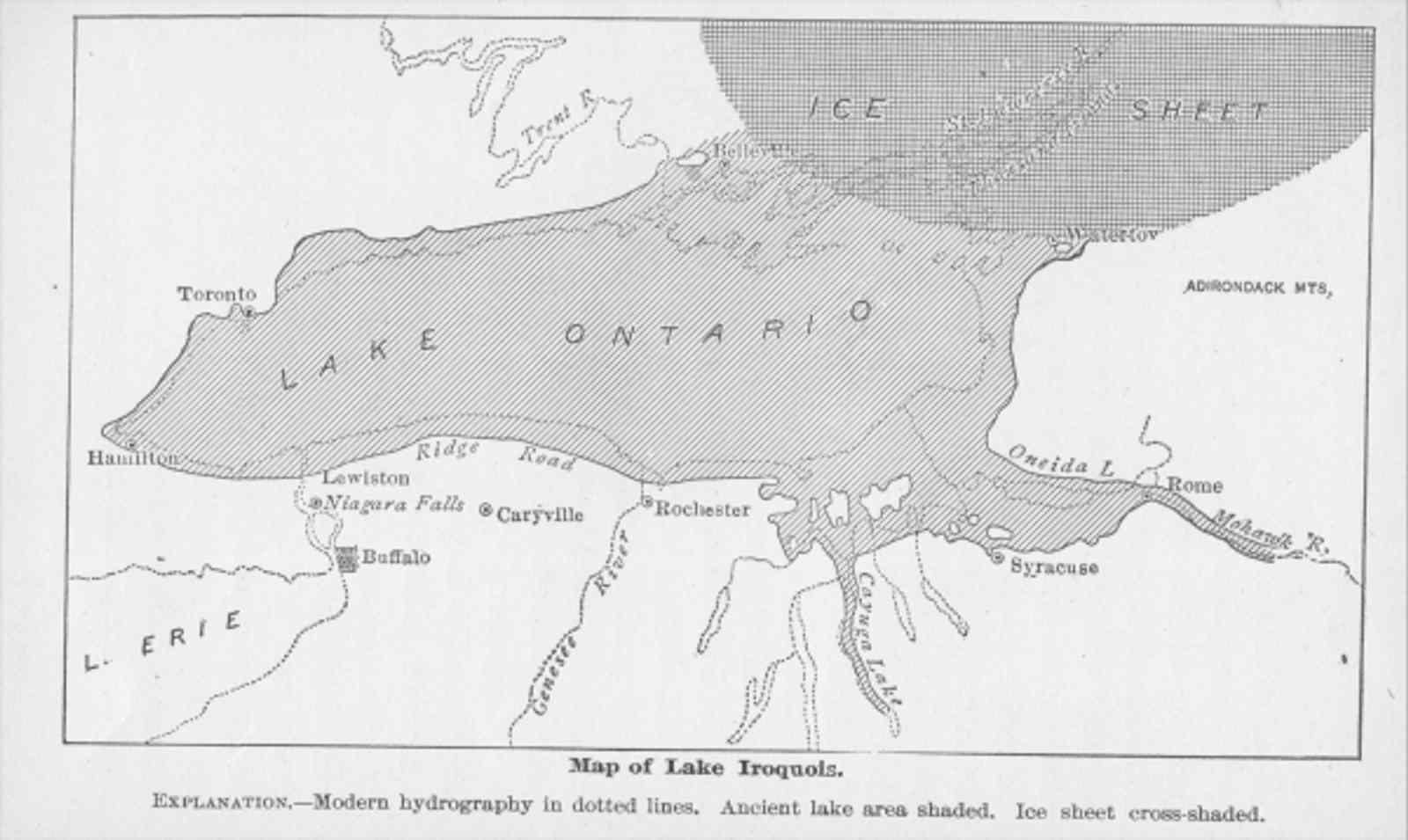 When the glaciers finished melting, most of Lake Iroquois' water flowed out to the ocean through the Hudson River, leaving a much smaller Lake Ontario behind. The top of the Scarborough Bluffs also marks where Lake Iroquois' shoreline once was.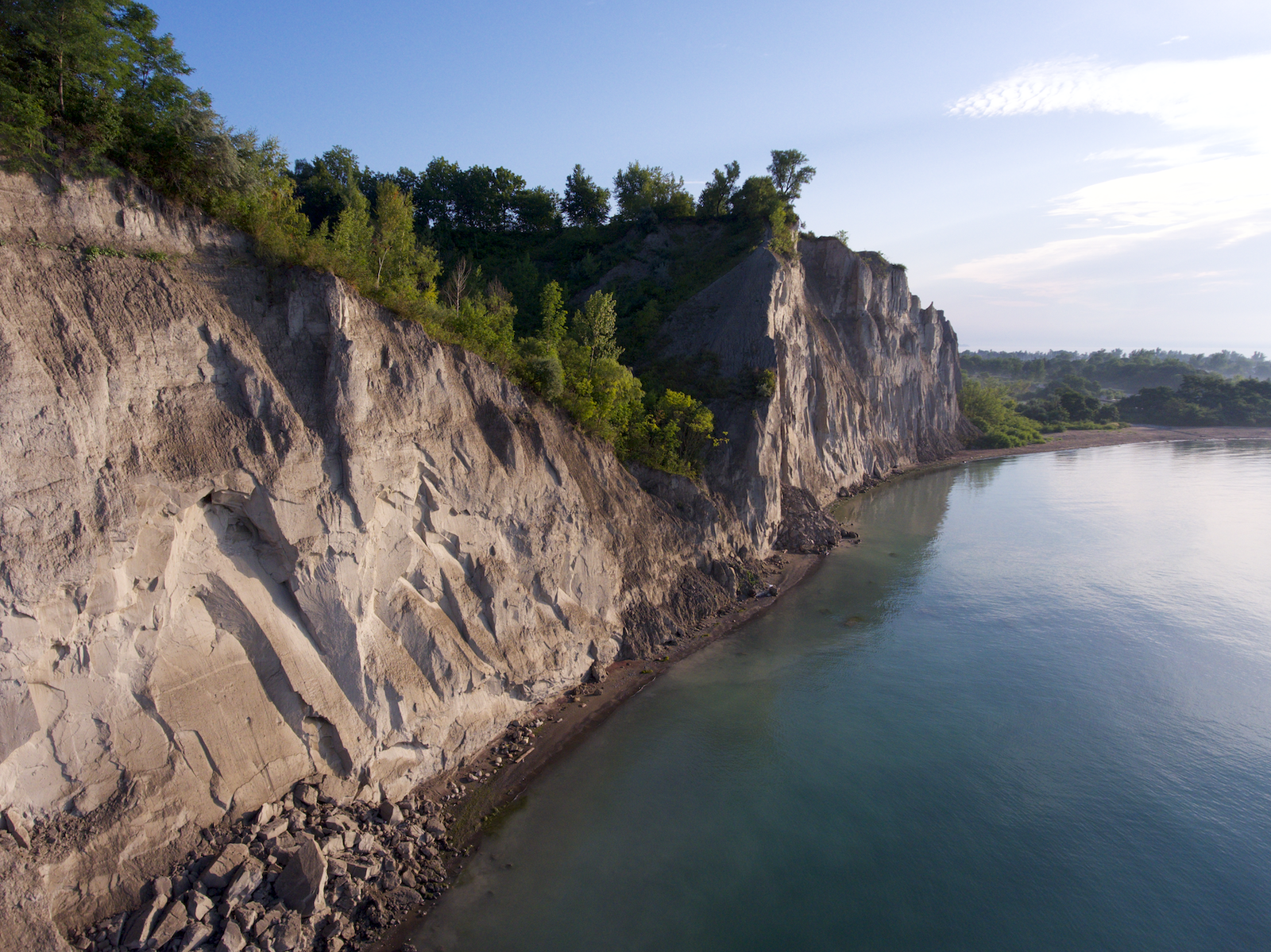 The Spadina Quay Wetland is one of the few places along the waterfront where efforts have been made to naturalize the shoreline.
The Spadina Quay Wetland proves that a parking lot can be restored into paradise—a place for both wildlife and city-dwellers to enjoy. You can see plants here that are commonly found in wetlands around Lake Ontario, as well as frogs, fish, birds, and butterflies.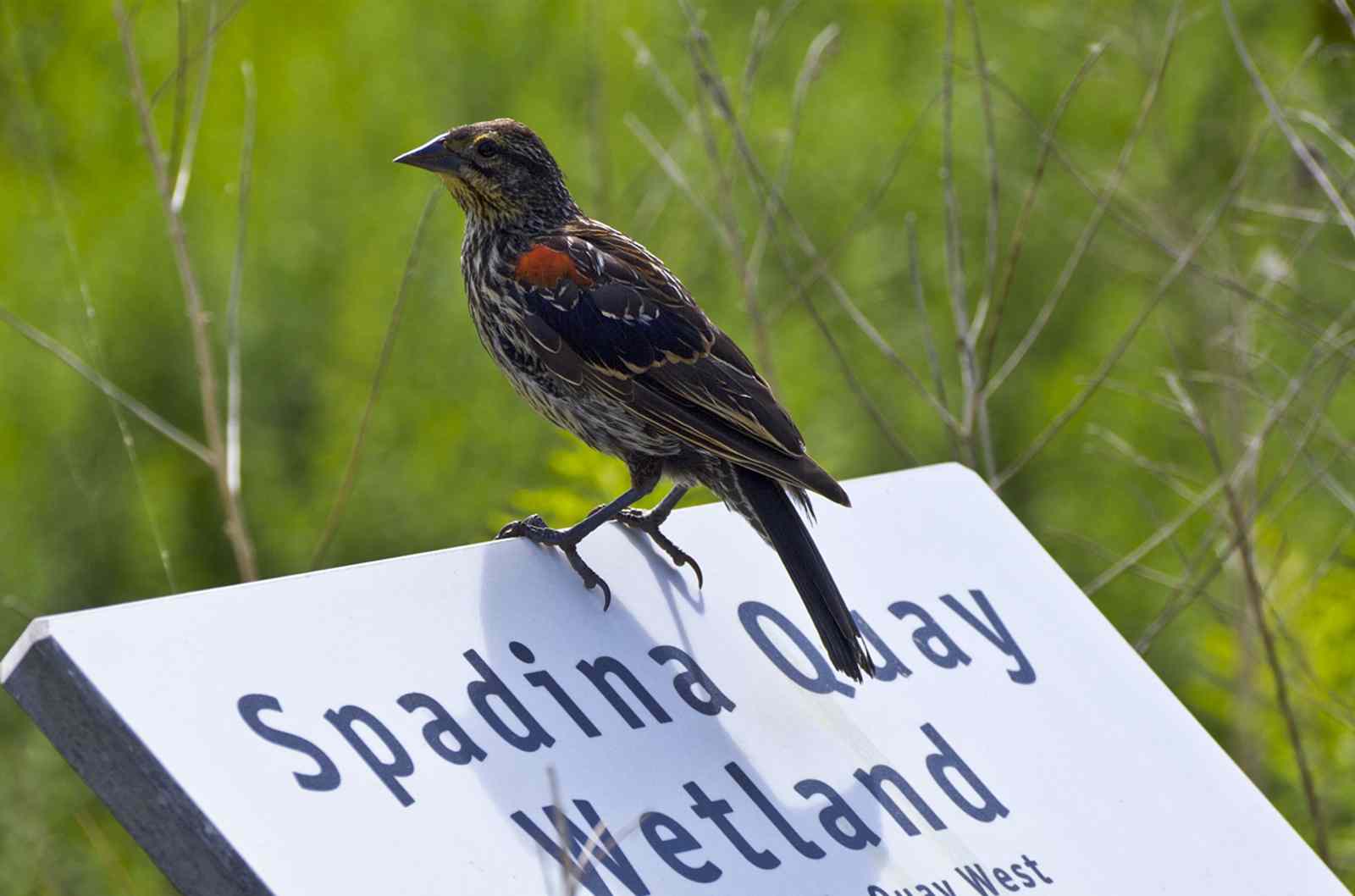 7
Marina Quay West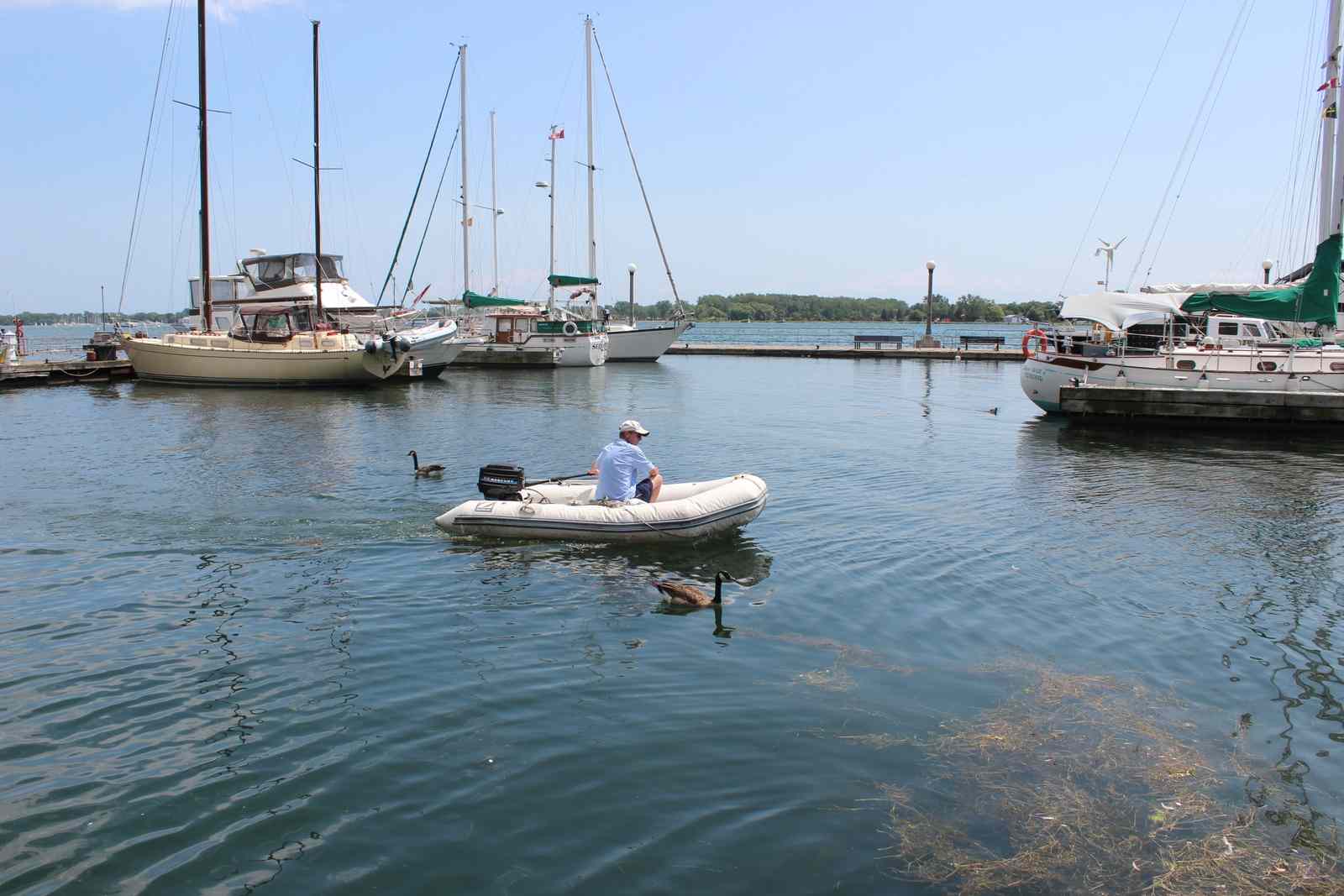 Let's go to Marina Quay West next. Marina Quay West is a large marina, with space for 130 boats. This marina is located adjacent to the City of Toronto Music Garden.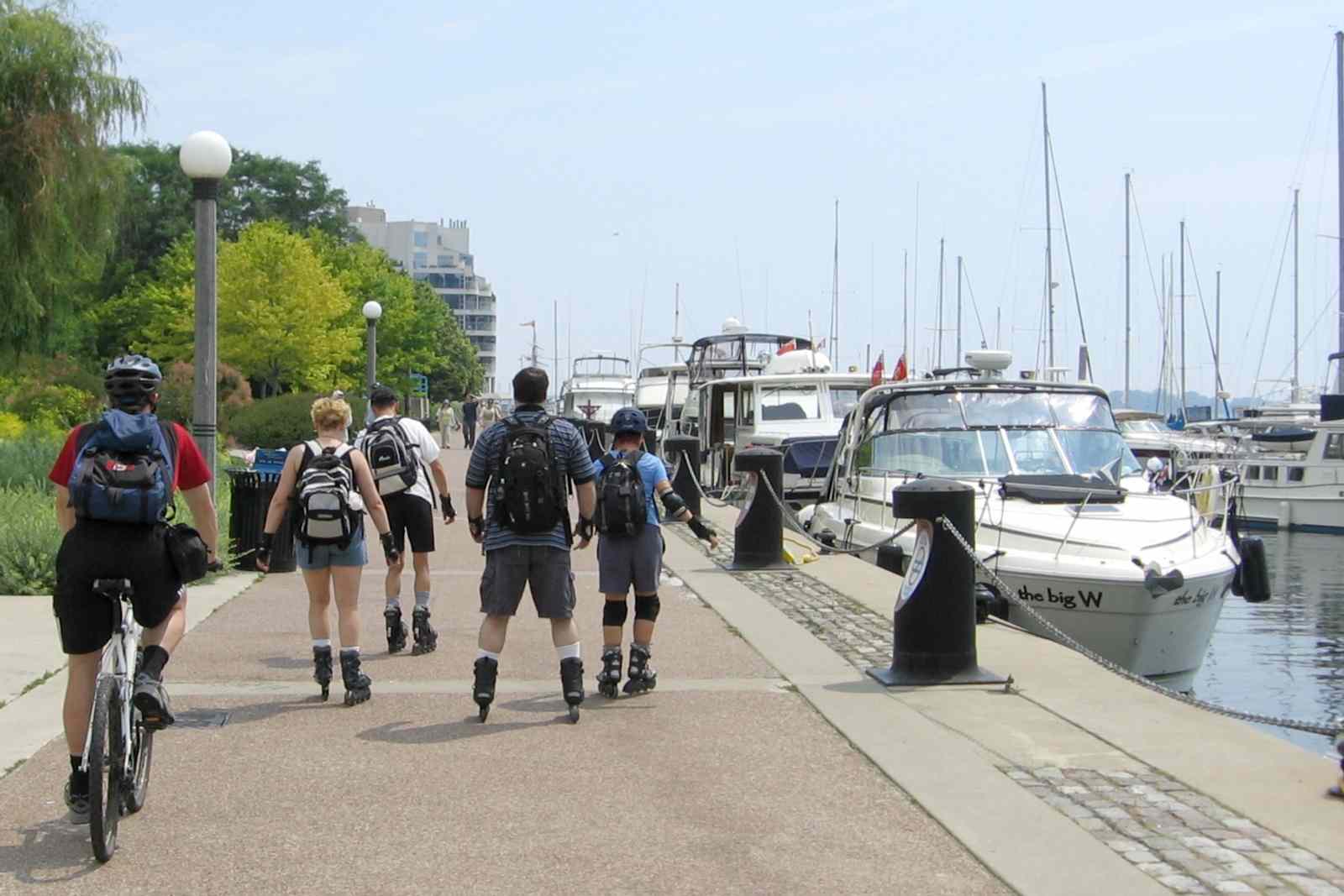 Completed in 1999, the Toronto Music Garden is a collaboration between cellist Yo Yo Ma and Toronto Parks.
Each of the park's six different design elements correspond to the six movements in the first suite of Johann Sebastian Bach's six suites for unaccompanied cello. The abundant flowers in the Toronto Music Garden make it a great place to look for butterflies.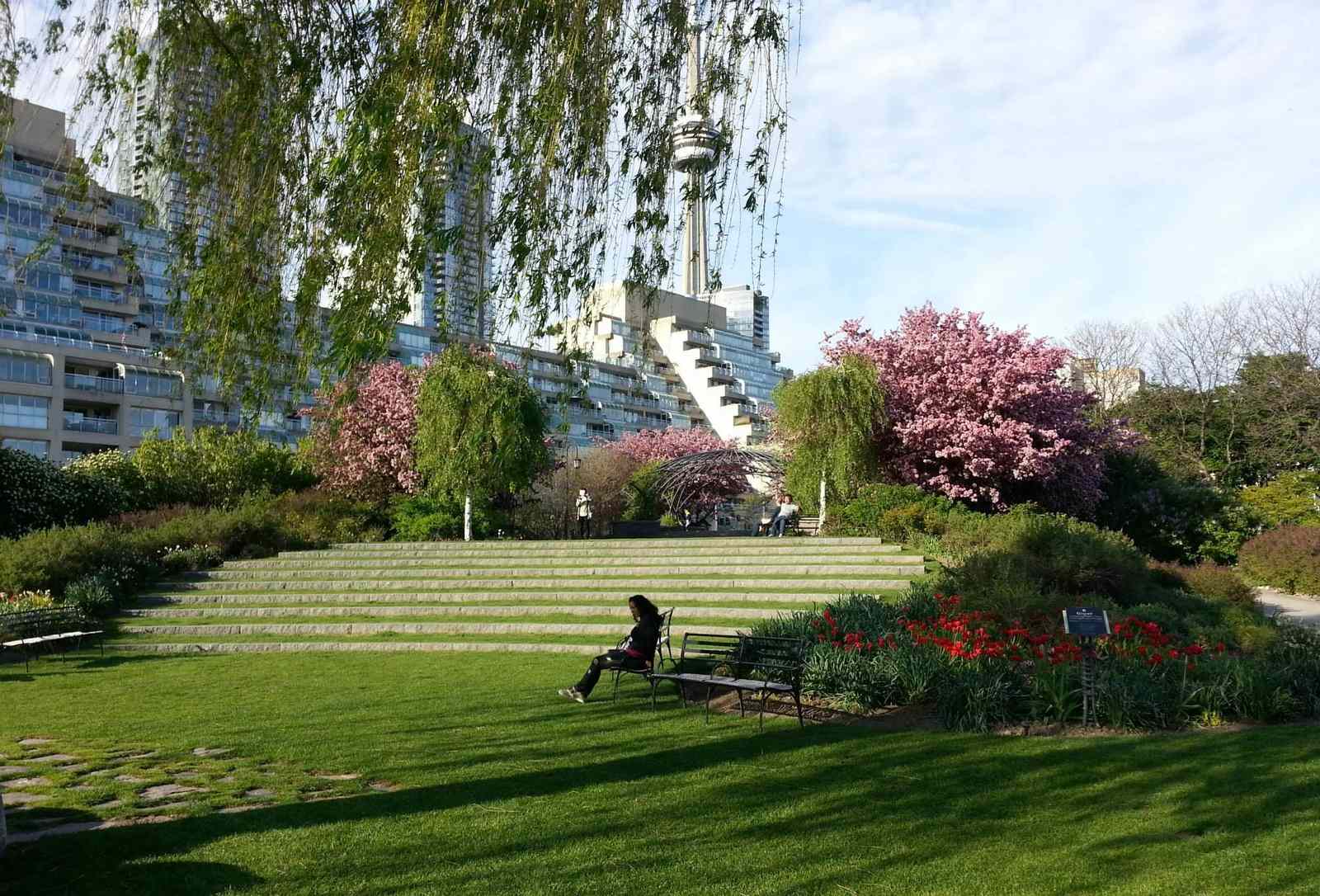 If you watch closely, you may be lucky enough to see a Trumpeter Swan at Marina Quay West. Trumpeter Swans are the largest water-birds on the planet. You can identify them by their black bills. If you see a swan with an orange bill, it's actually a Mute Swan, an invasive species from Europe.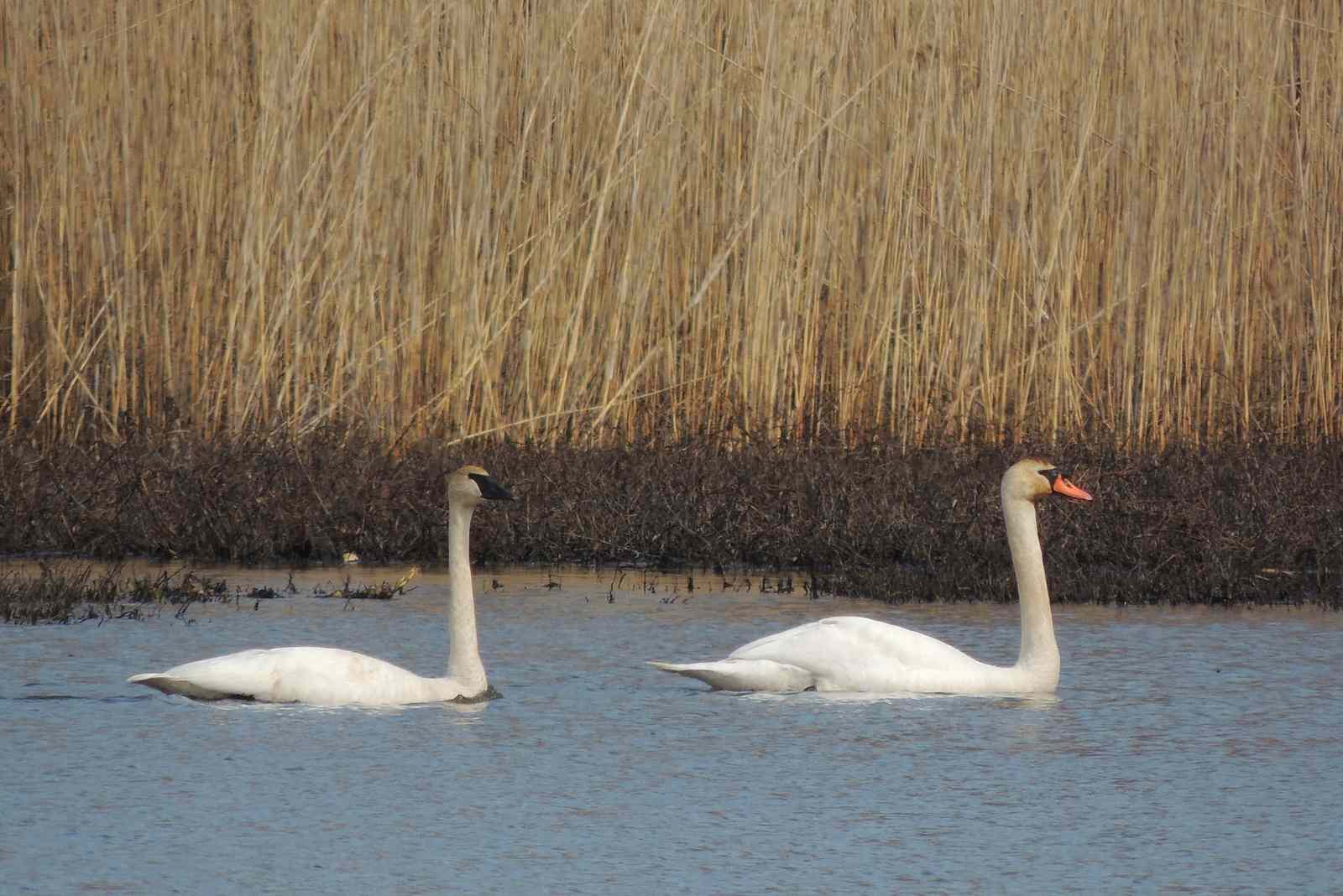 In the 1800s, Trumpeter Swans were wiped out in Ontario because of over-hunting for food, feathers, and the leather on their feet. Conservationists have worked hard to bring them back, and they can be spotted in this area today.
8
Bathurst Quay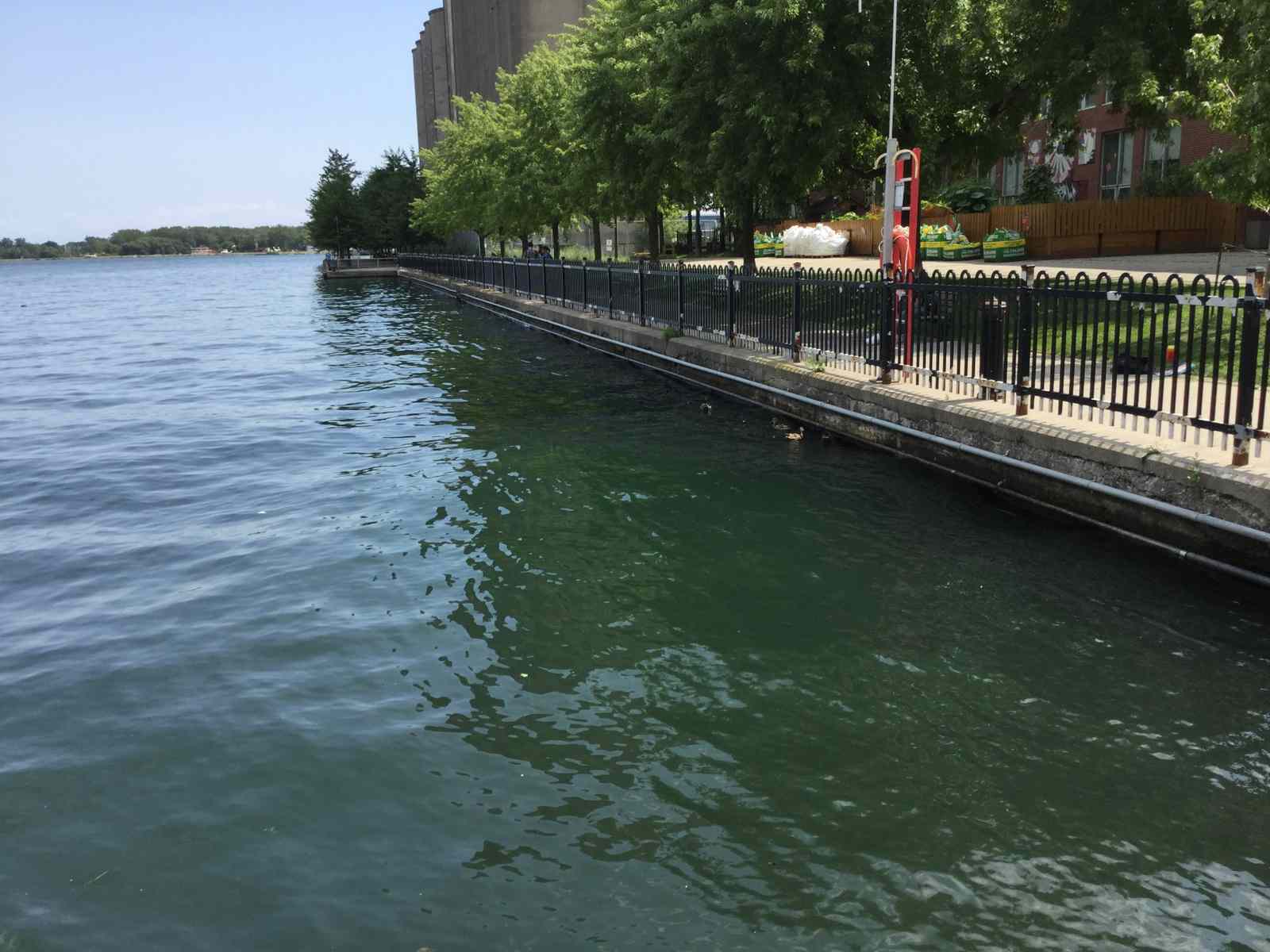 Now let's head to Bathurst Quay. Bathurst Quay is more than just is a favourite spot for paddling. The quay is steeped in history, having once been the site of a World War II Training Base.
Bathurst Quay includes Little Norway, Ireland Park, and the Bathurst Ferry Terminal to Billy Bishop Toronto City Airport on the Toronto Islands.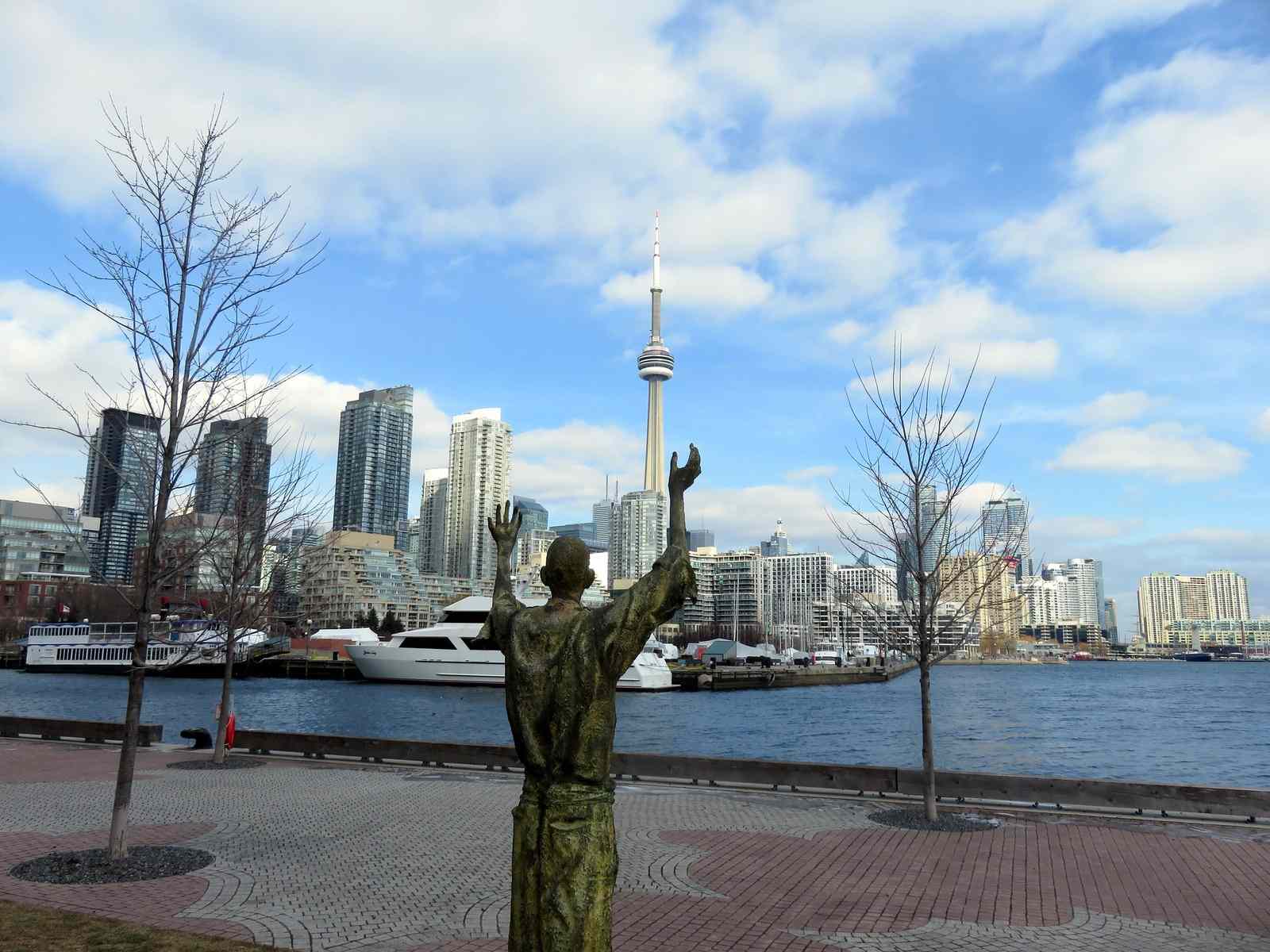 And those old grain silos you see towering overhead? They're the Canada Malting Silos, which were built during American prohibition to hold malt hops. They've been empty since the 1980s and will soon be converted into cultural event space.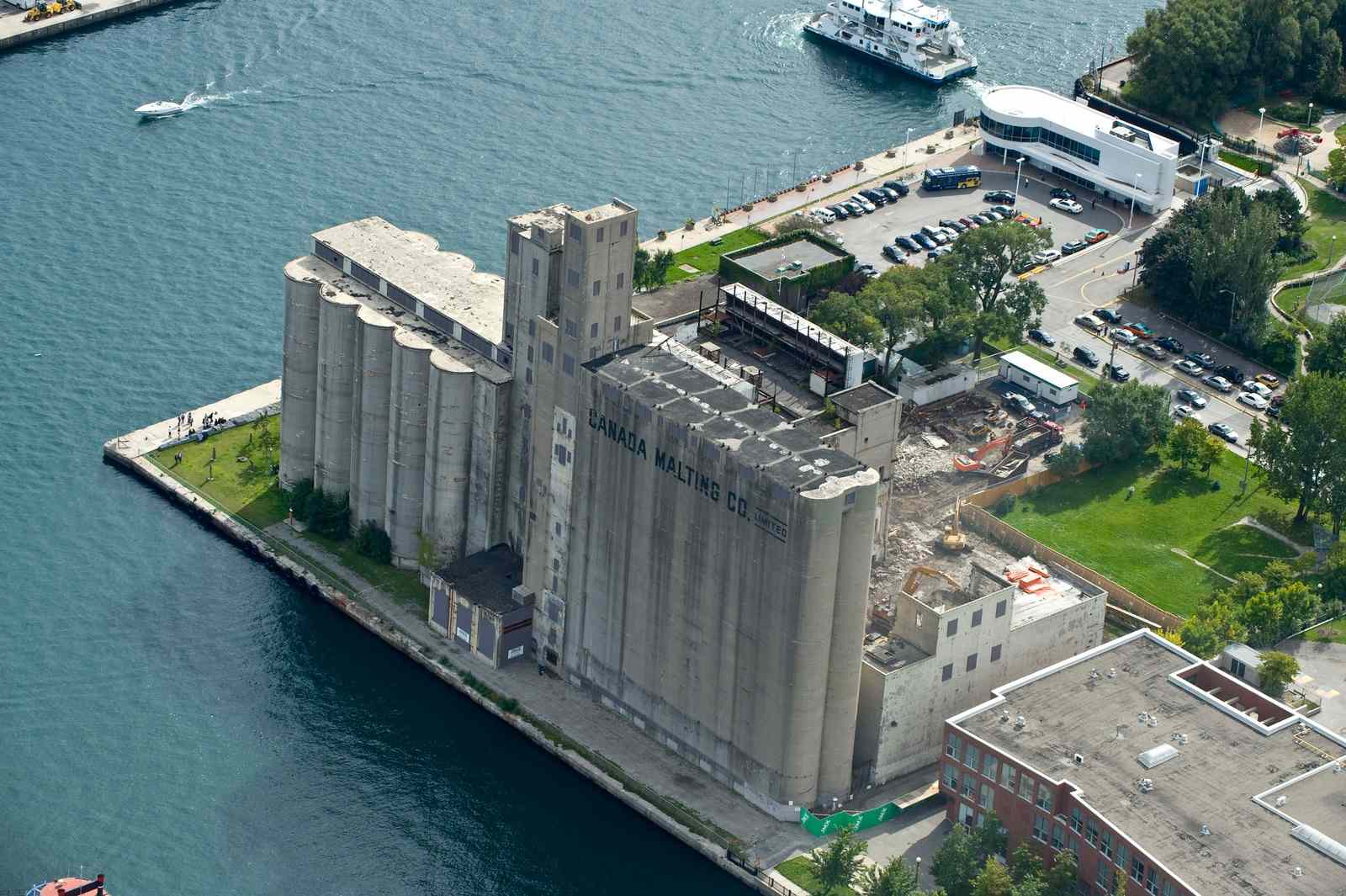 As you finish your walk along the Toronto waterfront, take a moment to appreciate the vast, sparkling beauty of Lake Ontario. Beyond its beauty, Lake Ontario is home to approximately 9 million people. The lake gives us so much, from drinking water to recreation to livelihood.
Lake Ontario is always around you whether you can see it or not. It's in the grass and the trees around you. It's in your home, providing for you in ways you may not even realize.
Unfortunately, we often take Lake Ontario for granted.
For 15 years, Swim Drink Fish (the nonprofit behind Great Lakes Guide) has been monitoring water conditions along the waterfront.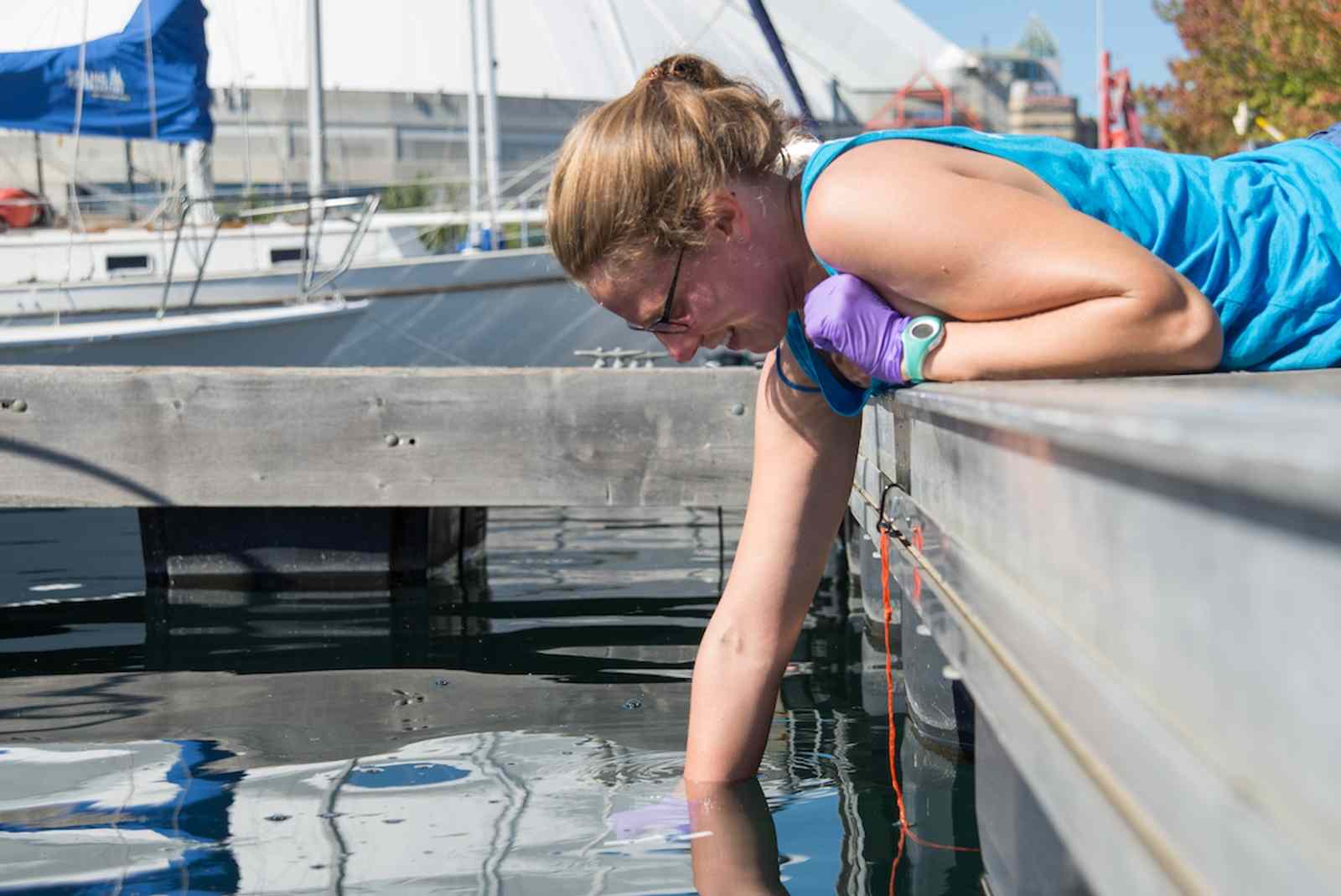 Remember passing by Bathurst Quay? Water quality at Bathurst Quay is almost always worse than any other place Swim Drink Fish samples in the harbour due to a nearby sewage outfall that never seems to stop running.
Monitoring water in the harbour lets you know where and when the water is clean enough to use, whether you're a paddler, boater, or fishing enthusiast. It tells you about the health of Toronto's waterfront, which is important information for both Lake Ontario's ecosystems and your recreation.
You can help! If you want to spend more time at Toronto's waterfront and help keep Lake Ontario beautiful and clean, become a citizen scientist and help us gather important water health data.
Did You Know?
You can also become a citizen scientist by taking photos of what you see in the water, whether it's pollution, animals, or people!
Submit your photos to Gassy,
our digital water monster. She uses AI to track patterns in your photos, which helps us collect important water health data.
---