Valentine's Day is just around the corner, and it's time for you to meet the region's five most eligible singles: the Great Lakes. The Great Lakes get lonely in the winter, ghosted by those who prefer sand to snow and sunlight to shivering.
But how can that be?! There's something entirely enchanting about winter on the Great Lakes. The dramatic formations of ice. The serene, Narnia-esque forests. The pristine snowdrifts graciously reflecting daylight onto your vitamin D-starved face.
February in this region definitely offers something special.
The Great Lakes will woo you with wintry landscapes, breathtaking views, and tons of things to do with them on Valentine's Day. Whether you visit the lakes with your loved ones or go alone so you can have them all to yourself, one thing is certain: you'll never be bored on a date with a Great Lake.
So, which Great Lake will you date? Swipe on to find your perfect match…
First date idea: Lake Ontario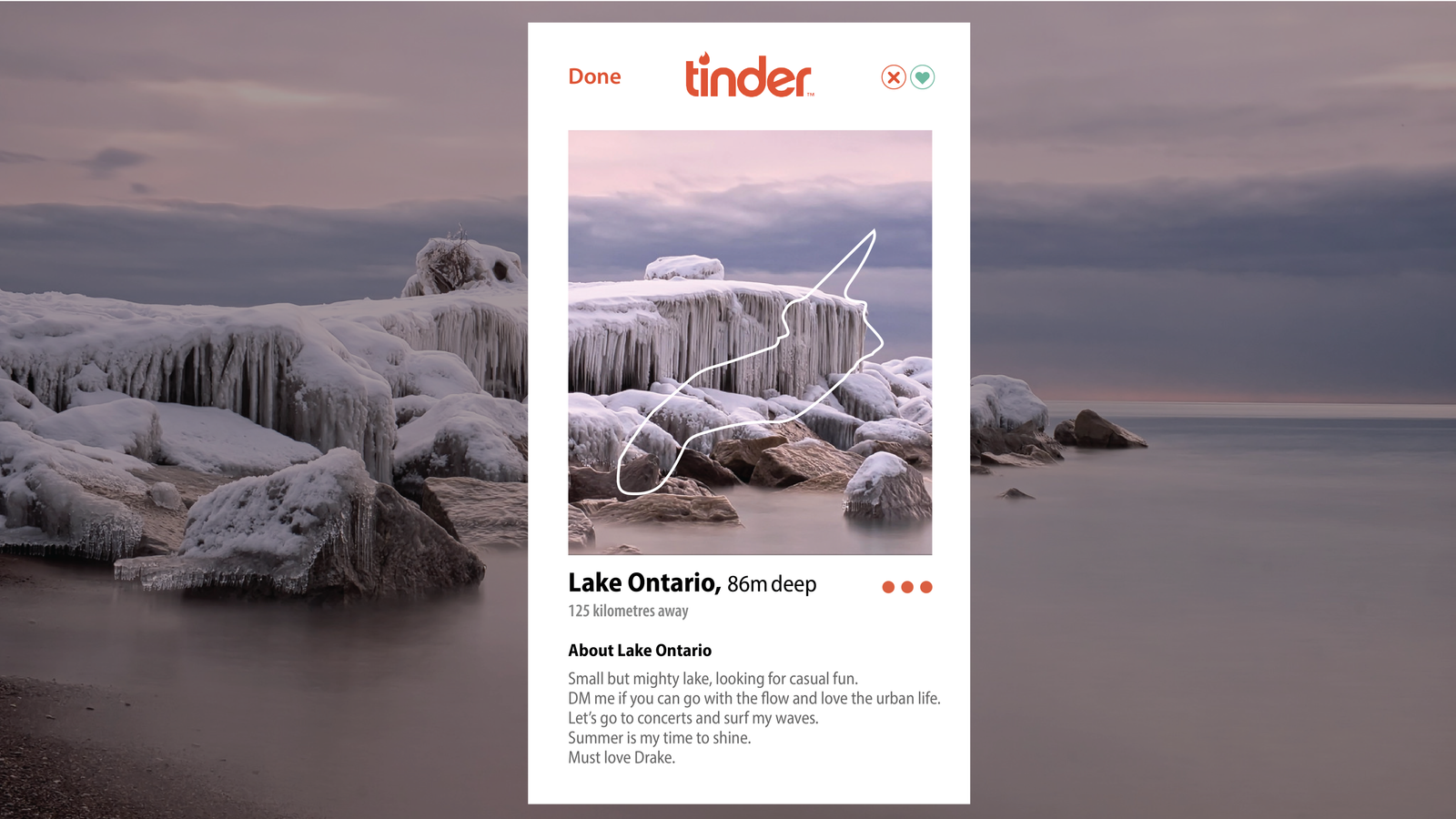 Lake Ontario may be something of an urbanite, but that won't stop this lake from charming you with wildlife and city living. Bring your lovebird birdwatching on the shores of this laid-back lake and observe some of the 140 bird species that can be seen in the GTA in the winter. Without leaves on the trees blocking your view, it will be much easier to see birds resting in the branches than it is in the summertime.
Near Humber Bay and Colonel Samuel Smith Park, you may spot cute and colourful waterfowl, like the harlequin duck. Or, if you're really lucky, you might see a graceful snowy owl swooping overhead. If you do see one, gesture towards the owl and tell your one-and-only that you've been thinking about them 'owl' day long.
Second date idea: Lake Erie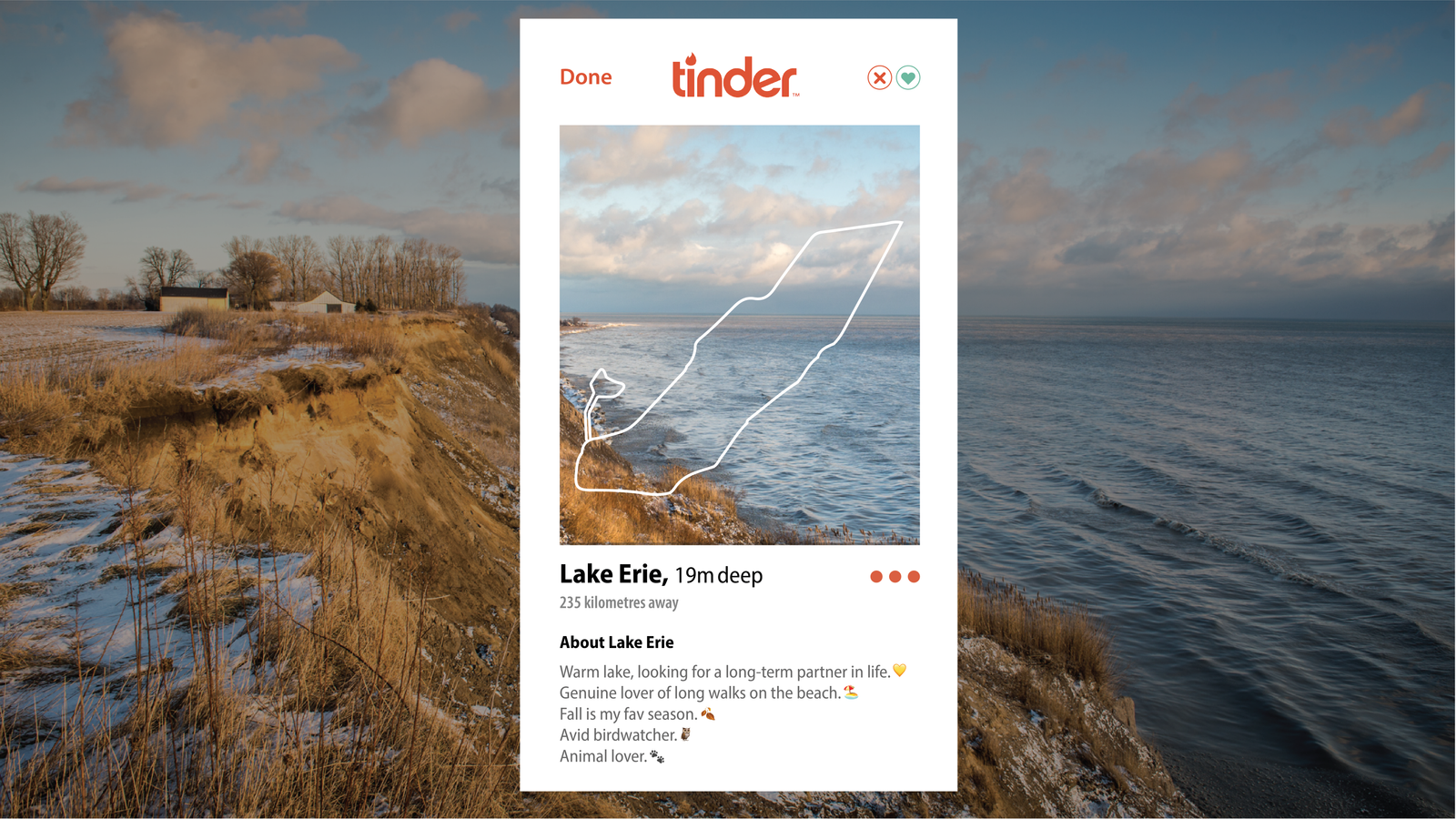 Despite being the shallowest of the Great Lakes, Lake Erie is a total catch. In fact, you'll find Plenty of Fish (hah) to catch in this lake even in the winter. This is precisely because the lake's shallowness causes such mild temperatures.
On February 14, Lake Erie cordially invites you over for a day of ice fishing, so you can discover what lies below its surface. Long Point's inner bay near Port Rowan is a favourite spot for Lake Erie ice fishing.
This activity may not immediately come to mind when you're making your Valentine's Day plans, but picture yourself hudded in an ice fishing hut with someone you care about, secluded and sheltered from the cold. Pretty cozy.
Maybe you only have eyes for walleyes. Perchance, you yearn for yellow perch. Perhaps your heart melts for rainbow smelts, and only crappie make you happy. Lake Erie wants to provide for you. You can also trap bait minnows in this lake if cupid's sent clupeids your way, or if you've taken a shining to shiners. (Okay, I'm done making fish puns.)
Third date idea: Lake Huron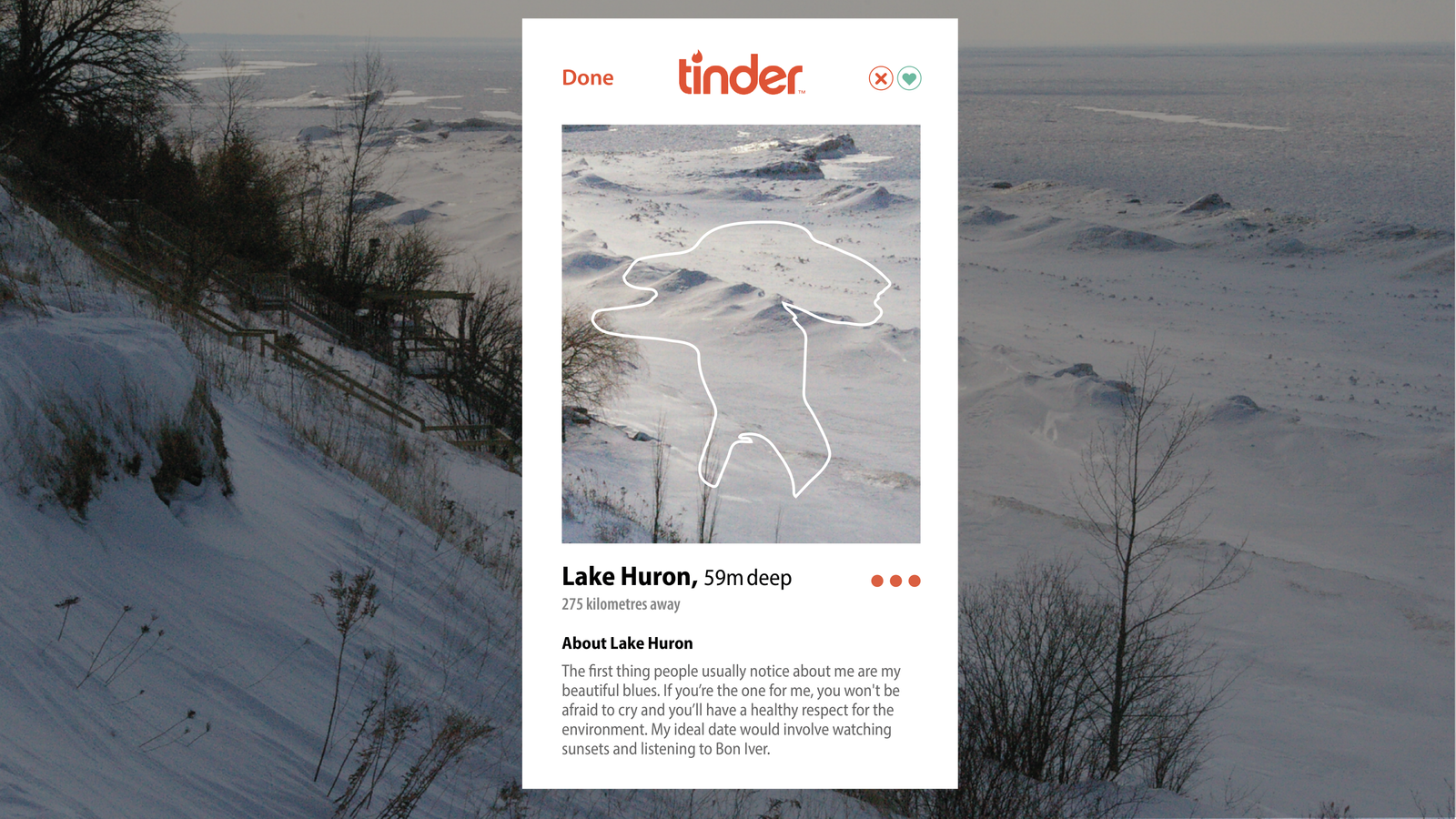 Lake Huron is a feast for the eyes, that much is sure. But Huron is more than just a pretty lake. From Manitoulin Island, you can witness some of the most spectacular science our atmosphere has to offer: the northern lights. What could be more romantic than watching vivid shades of green, yellow, and purple illuminating the sky?
You'll have the best chance of spotting this gorgeous natural phenomenon during the winter months, so now is a good time to get out past the city lights with your special someone. (My thoughts? Silence is golden. Lake Huron and I will stargaze in peace, just the two of us, thank you very much.)
Fourth date idea: Lake Michigan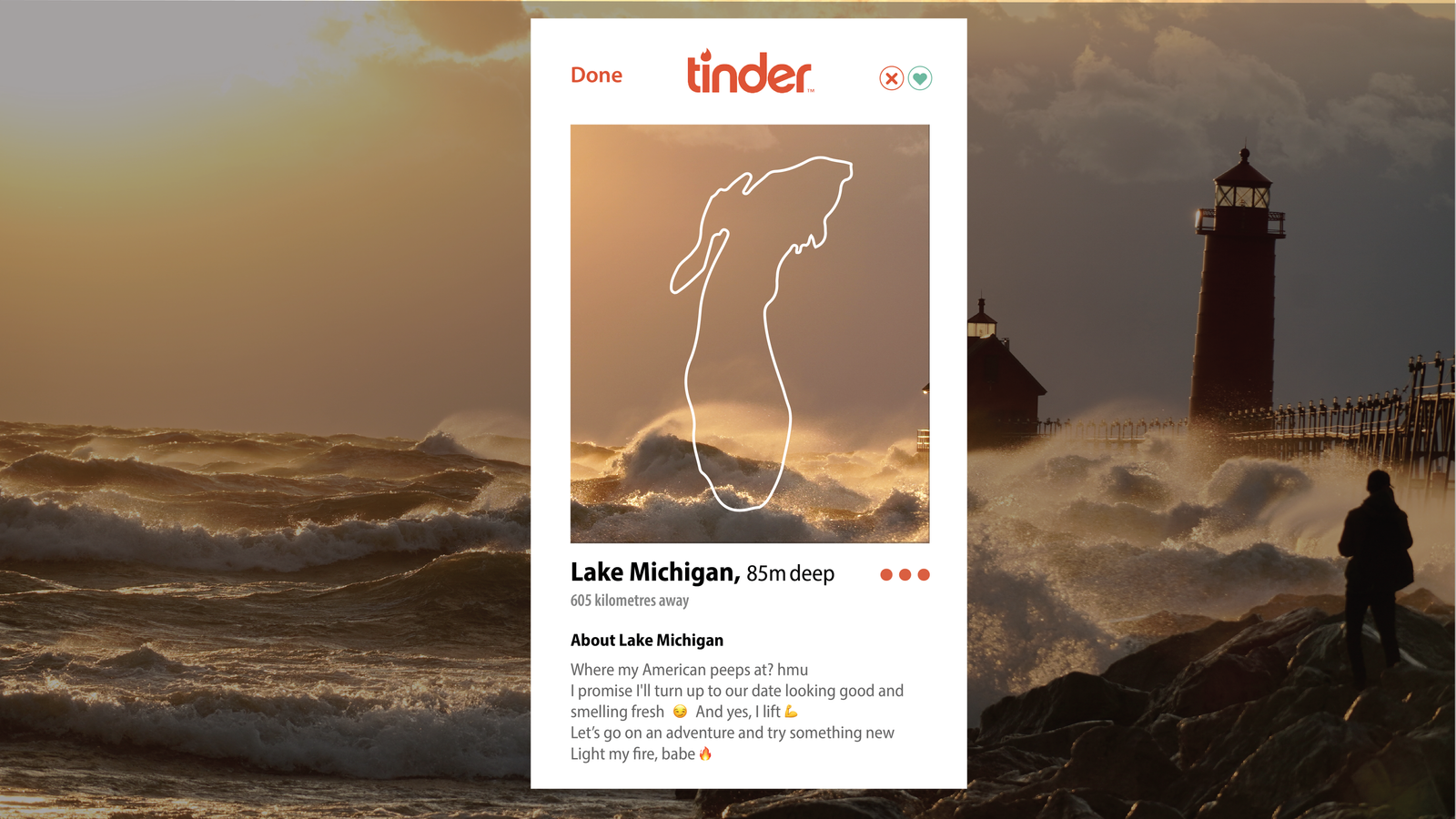 Whether you're looking for love on the north or south side of the border, lively Lake Michigan is ready to make your acquaintance. This lake's sand dunes are spectacular in the summer, but they're just as striking in the snow. Take your sweetheart to the majestic, 38 meter tall Mount Baldy on Michigan's southern shores. Point to the enormous dune. Lock eyes with your beloved and say, "This is how much I love you." It's a recipe for romance.
Mount Baldy isn't the only place to delight in the dunes. Try some winter camping in Warren Dunes State Park campground. Fall asleep snuggling with your soulmate, and wake up to the gorgeous view of frozen Lake Michigan.
What's that? You're single? Take yourself on a date. Give your heart some tender loving care with some fun-fuelled endorphins instead, by skiing or sledding the Sleeping Bear Dunes in Michigan's lower peninsula.
Fifth date idea: Lake Superior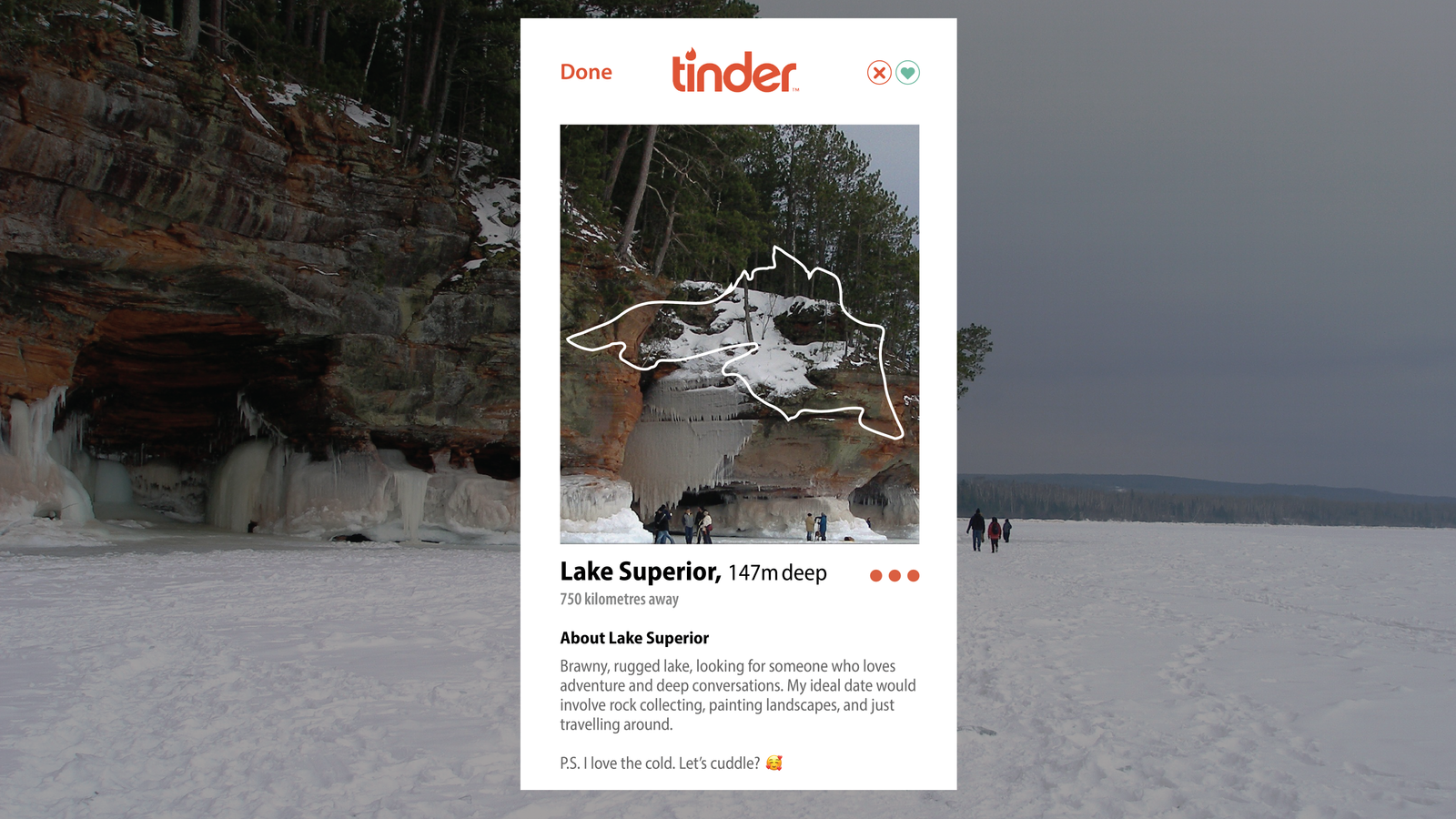 Meet Lake Superior, the strong silent type. This Great Lake wants to take you on a magical journey through its remarkable ice caves. These natural wonders are absolutely awe-inspiring. Plus, the frosty temperatures will give you a fantastic excuse to hold hands with someone you love. If you're single, I recommend… wearing mittens.
Frigid temperatures mate with mighty waves to create these otherworldly structures. When Lake Superior's waves crash against the rocks onshore, they freeze into layers of icy ridges that build up over time to form magnificent caverns. "Much like my love for you builds over time," you divulge to your date, "creating something so sturdy, yet so beautiful." (You can use that line when you go. You're welcome.)
You can behold Lake Superior's ice caves from mid-February to early March, but February is the best time to go, making them a great Valentine's Day destination.
So, which Great Lake will you spend your Valentine's Day with? With such enticing options, it may be hard to choose.
If you're still not feeling tempted by any of these blue-eyed beauties (although I would find that incredibly hard to believe), meet Lake St. Clair. This lake may be much smaller than the Great Lakes, but it's here to open its heart to you. Shaped like a heart and nestled between Lake Huron in the north and Lake Erie in the south, some call Lake St. Clair "the Heart of the Great Lakes".
In fact, this lake has been getting some love recently, with two restoration projects underway. Read more about these projects and examine your relationship with the Great Lakes here.
---