How did you first hear about Great Lakes surfing?
About two years ago, I walked past Surf the Greats (the surf store at Carlaw and Queen). That's when I realized people go surfing here, in Ontario! After this realization, I kept my eyes open when I was at the beach and started noticing surfers in the water at Woodbine Beach—a place I have been visiting my whole life.
It was wild to me that this sport that I had always wanted to try but had deemed geographically inaccessible was actually happening right here in Lake Ontario!
Did you have a Great Lakes surfing mentor or teacher? How did you actually start doing it?
I took a flatwater introductory class with Surf the Greats back in October and had a blast! They taught me the basic skills I needed to get out on the water, and perhaps even surf a wave. After that, I decided I really just had to dive (pun intended) into the sport.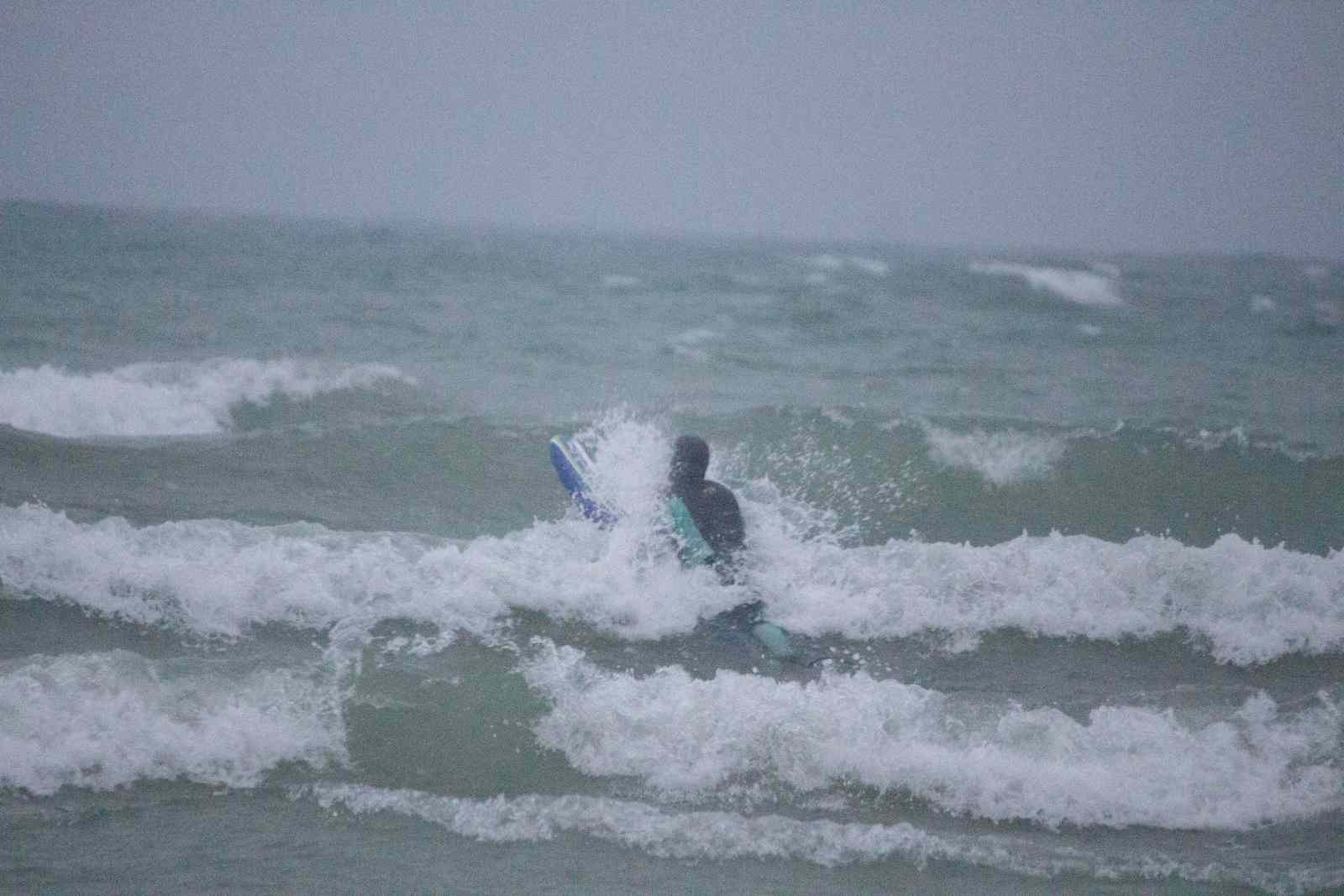 I'm pretty budget-conscious, so I hunted down some used beginner equipment from a lovely person on the Toronto Surfing Facebook page, got myself a very warm wetsuit (but I promise it's not as cold as you'd think!), then got in the water the next day!
Check out Isabel's favourite surfing resources for guidance:
Surf the Greats FAQs
The Toronto Surf Club Facebook page
Lake Surfistas Discussion Facebook page
Through the same Facebook page, I met another beginner who was keen on getting into Great Lake surfing too (I have yet to convince any of my old friends to join me). We've been able to meet up when the conditions are good and go surfing together. It has been awesome to have a surf buddy, not only for safety, but also so we can encourage each other and have someone to laugh with when we wipeout (which is all the time).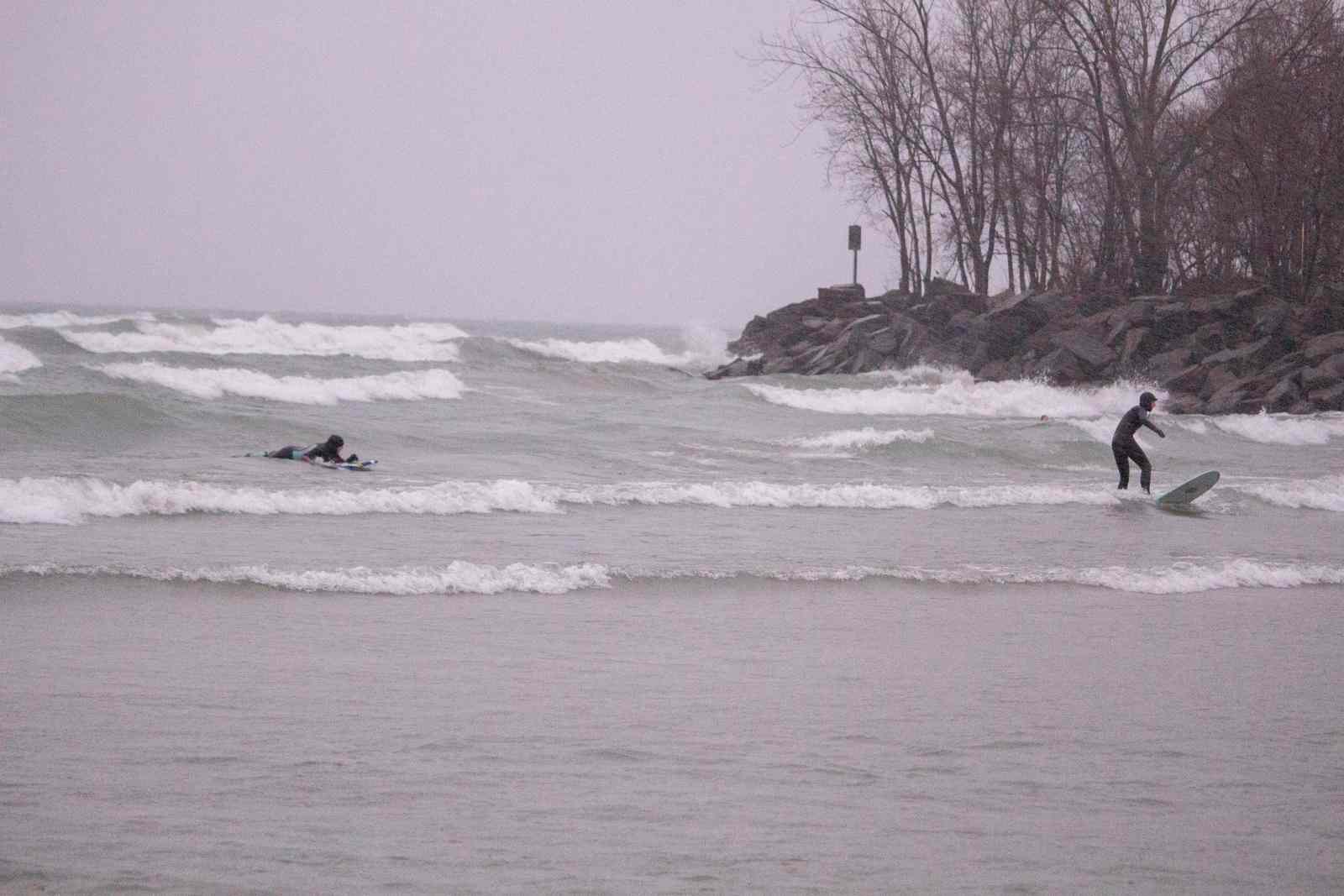 One of the things you need to learn when you're starting to surf is where and when you can go. There's a lot that goes into forecasting waves that I'm still figuring out. There are many great resources online to help you discover popular Great Lake surfing locations and under what conditions they are favourable. I've found Great Lake surf dedicated facebook pages very helpful for understanding where and when a location is going to have good waves.
Check out Isabel's favourite surfing resources for forecasting:
Great Lakes Surf Radar
Windy.com
What's your favourite thing about surfing in the Great Lakes?
I really like being in the water and being totally present in the moment. I'm a pretty slow learner when it comes to sports, so just getting outside and doing something new to me has been such a blast! I never would've thought of surfing as a winter sport, but as a self-proclaimed winter-hater, surfing is changing my opinion on the season!
With COVID especially, I have been struggling with my anxiety. But when I'm out in the water my anxious thoughts fade away.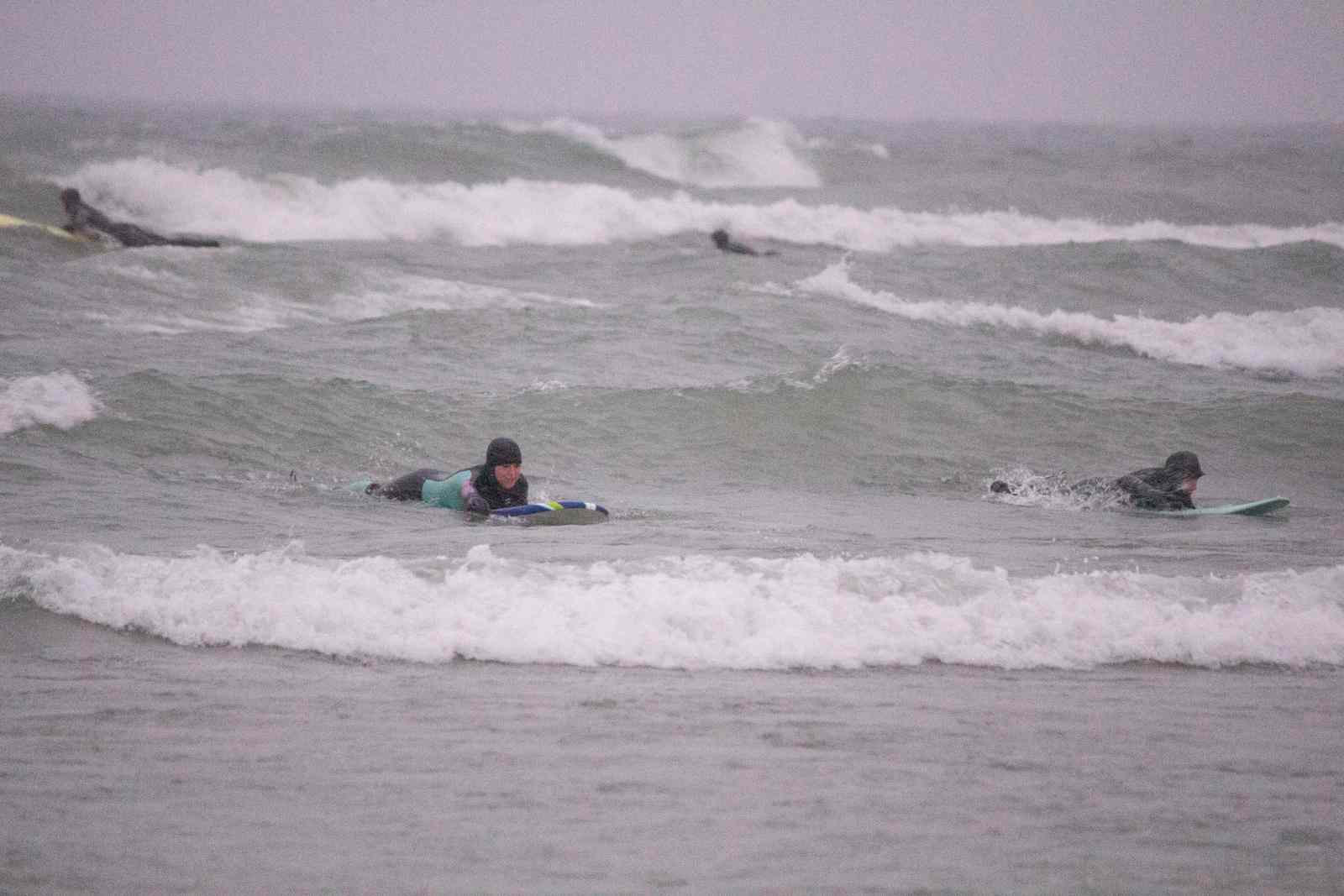 The Sunday before the latest lockdown, I was really anxious about the upcoming month. I got the chance to go surfing that day, and by the time I was out of the water that anxiety I was feeling was gone. When I'm among all the waves there isn't really time to let my mind wander towards negative thoughts—if I do, I might get a nice faceful of cold water—which definitely brings me right back to the present moment.
What's the most difficult thing about surfing the Great Lakes?
I've always enjoyed physical activity and being outside, but I wouldn't call myself a person who is naturally good at sports. It takes a lot of practice to get to the level of a lot of the awesome Great Lake surfers. I have to remind myself to be patient and just keep trying (no matter how many times I wipe out). I find myself having the best time when I'm not focused on performance, but just enjoying splashing around.
What's one thing Great Lakes surfing has that ocean surfing doesn't?
It's right here! Accessibility is a huge part of what makes Great Lake surfing awesome for me. I love that surfing can be done so close to the city center, and it has also been a great way to explore other waterfront towns that I haven't visited before.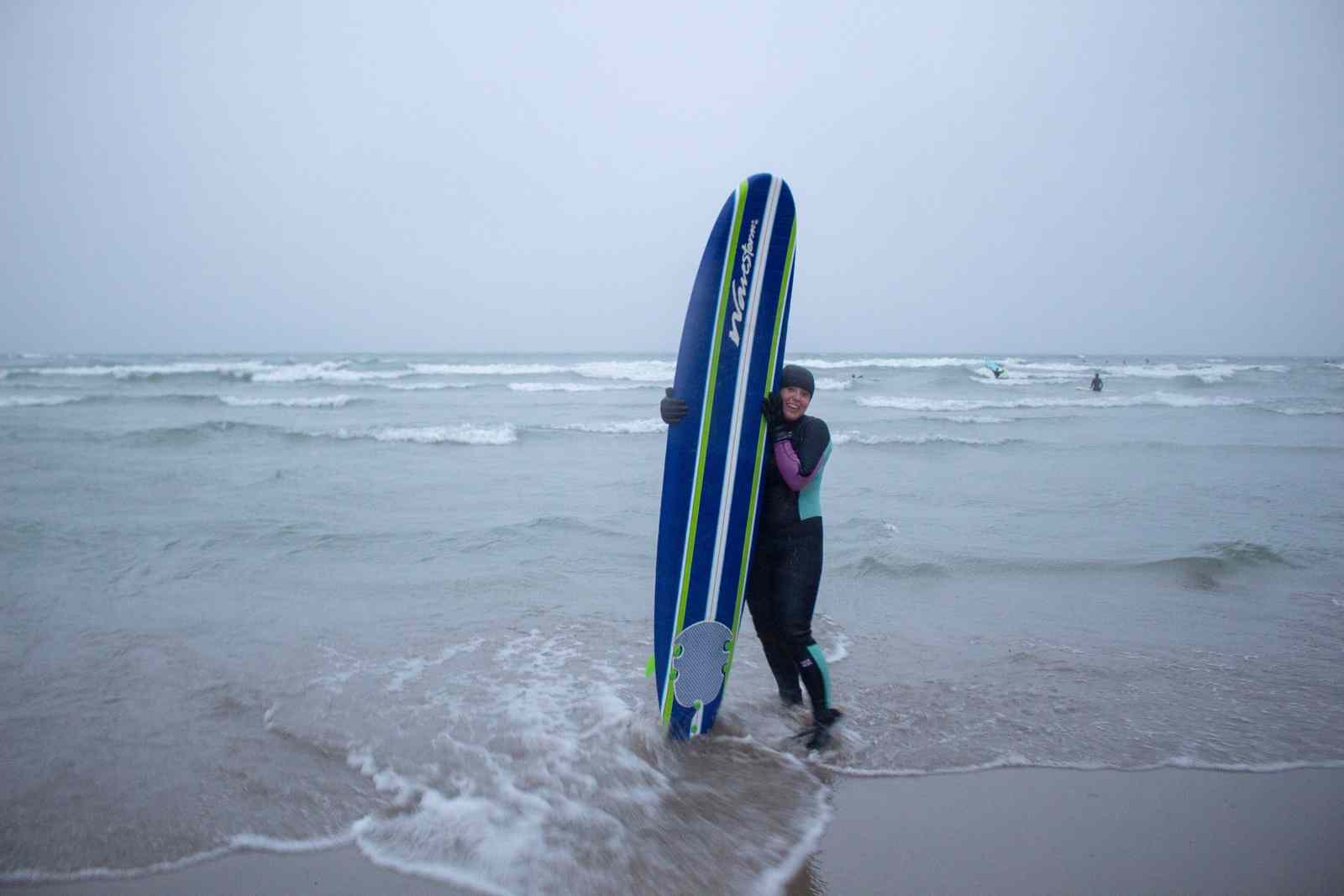 There's also a really passionate community of Great Lake surfers that are doing an excellent job of supporting people to help them get out on the water and have fun in the lakes. I think a lot of people have no idea you can surf in the Great Lakes, so it's really cool to see awesome groups advocating for Great Lake surfing.
From an environmental standpoint, the more we interact with our environment, the more we tend to care about it.
Surfing is one of many activities to do on the Great Lakes, and the more people that know about Great Lake surfing, the more people there are caring about the lakes and perhaps are advocating for their cleanliness and protection.
What advice would you give to new Great Lake Surfers?
My advice is just to enjoy yourself and not worry too much about if you're doing it 'right.' Sometimes, I find I'm just so stoked that I caught a wave that I forget to actually try and stand up. But that's totally okay because I'm having fun.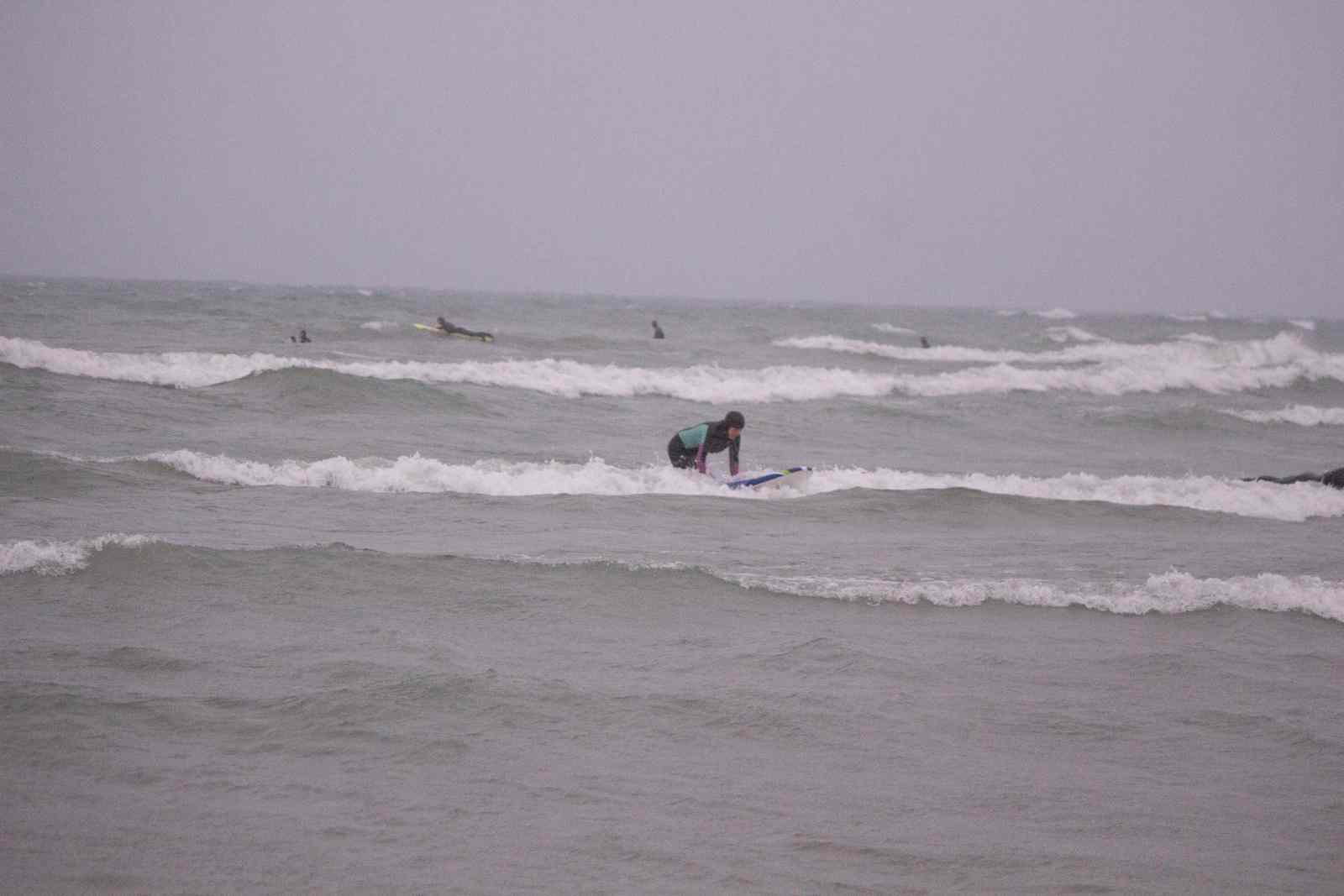 When I'm out surfing, I spend 90% of my time jumping through waves, paddling, and falling off my board. But I love it, because it's undeniably fun to be in the water. Spending time in the whitewater is a great way to feel safe while still practicing your skills (this is also where you'll find me).
The most important thing is to just enjoy the water.
Everyone has their own approach to learning new skills, but getting in touch with a knowledgeable surfer or surf organizations like Surf the Greats and Lake Surfistas can help you wrap your head around some basics! These organizations also have really helpful Facebook pages that can help answer your questions, connect you with like-minded people, and help you figure out where and when to surf.
If you're curious about giving surfing a try, then go for it! Great surf can be found right here in your own backyard.
---