Nothing compares to an Ontario fall. As our sweltering summer comes to an end, the crisp autumnal air flows in with familiar whiffs of an earthy and leafy breeze. It's the perfect time of year to be outside, the temperature is not too hot and not too cold.
We bring out the scarves and exchange our iced frappuccinos for pumpkin spiced lattes. And what better way to experience fall than to surround yourself with the warm colours of the changing leaves?
This guide answers the most common questions about fall foliage: when is the best time to see the fall colours in Ontario and where can I go to see them?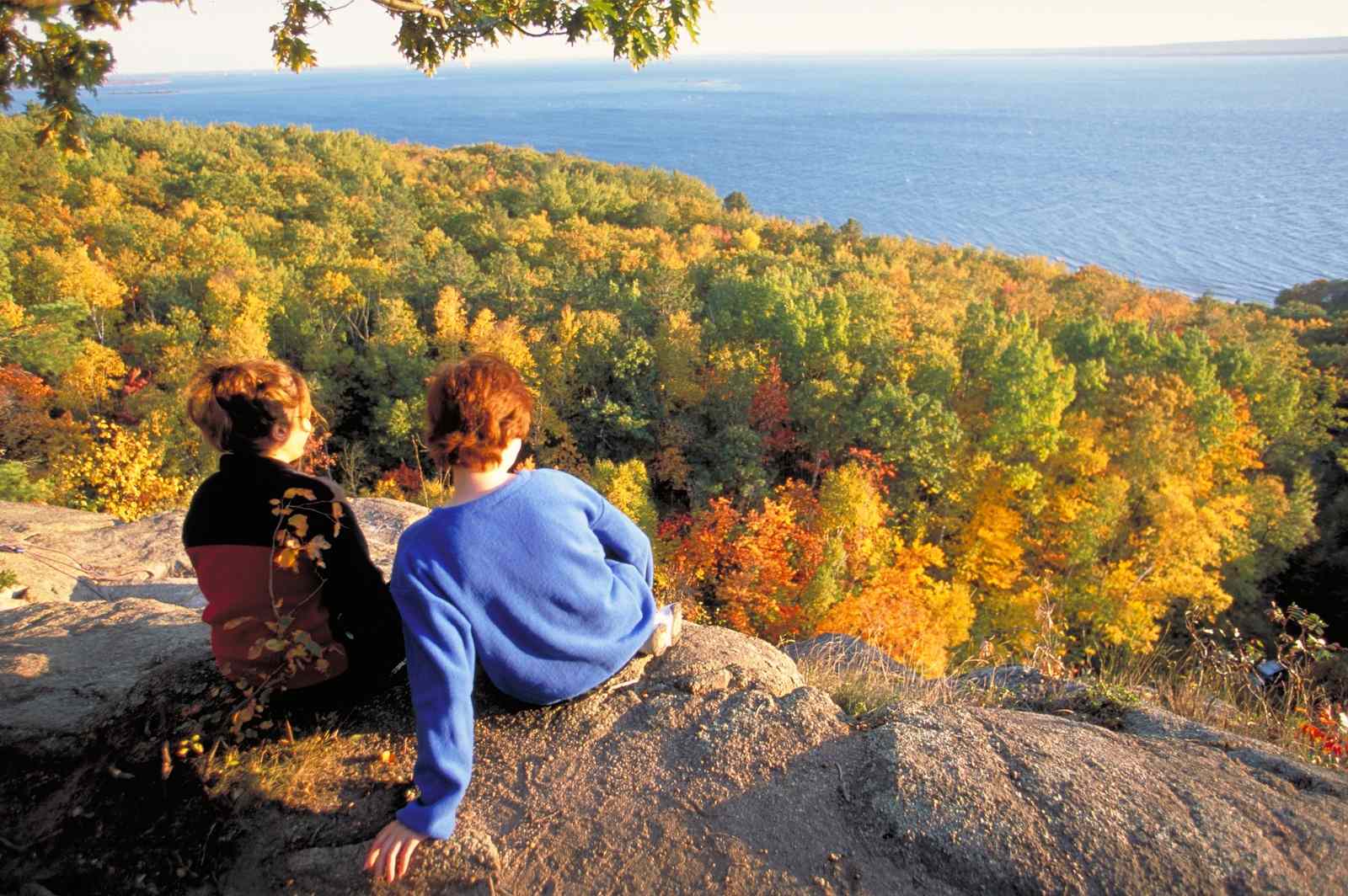 The best time to see the fall colours in Ontario is between mid-September and mid-October.
Each year is different, of course, but there are many online resources to help ensure you don't miss the spectacular display of fall foliage. Our top five recommendations for where to go to see the fall colours near Toronto are listed below.
If you are looking to venture outside of the GTA, Ontario 400 Eleven has put together a weekly fall colour status report to help you plan the perfect seasonal road trip. It includes reports from Ontario Parks and Ontario Travel and suggests even more locations to visit this fall.
"Fall" in love with the Great Lakes region by checking out some of our favourite parks this season:
1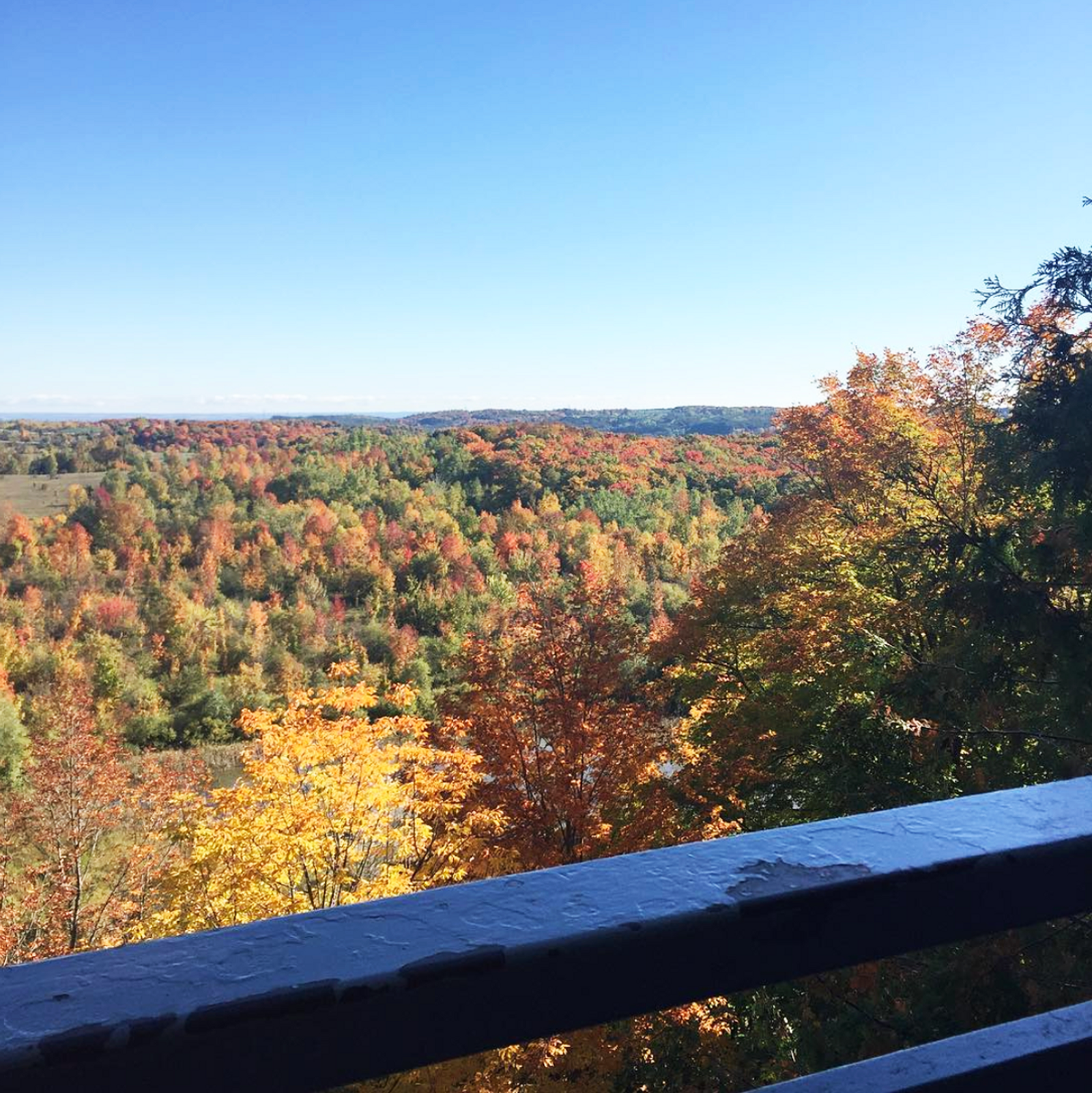 Get up-close and personal with the rugged, exposed Niagara Escarpment in this park, located in the appropriately-named Orangeville. The trails in this park will take you past spectacular cliffs looking out onto a palette of red, yellow and orange - an explosion of the richest fall colours.
Often less busy than many of the other spots, this park features six main trails. You won't want to miss the views from Cliff Top Trail and Lookout Side Trail - they are sure to excite even the most experienced "leaf-peeper".
2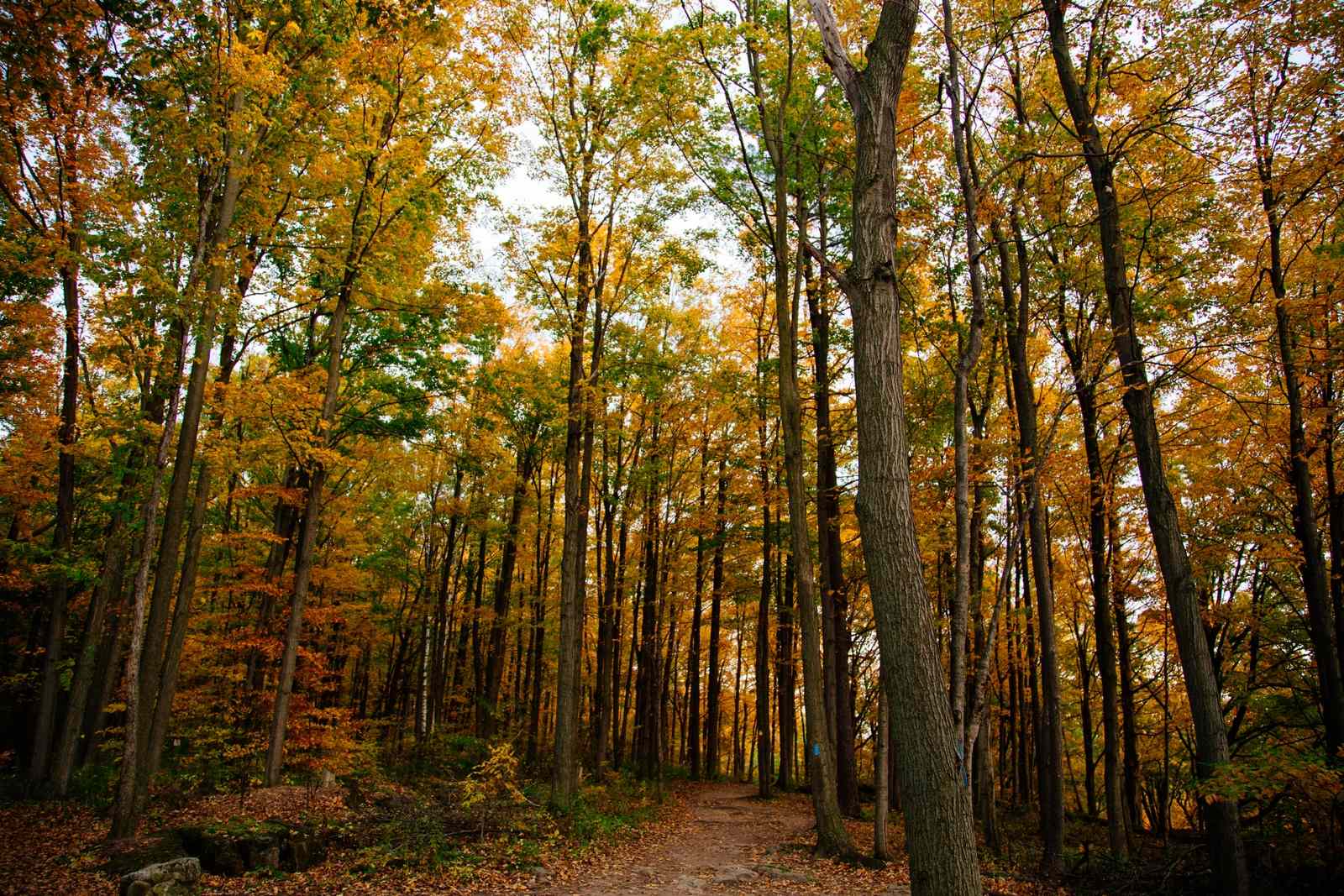 Don't fear the name of this Conservation Area, for you shall not encounter rattlesnakes here, only beautiful hiking trails. Located in Milton and surrounded by thousand-year-old cedars, the area features many beginner trails, perfect for a fall trip with the whole family.
There are many stunning vantage points that circle the region, including the Buffalo Crag Lookout Point, that are perfect to experience the fall colours. You will have a view of the Niagara Escarpment, which some more athletic visitors admire by rock-climbing up the cliff face.
3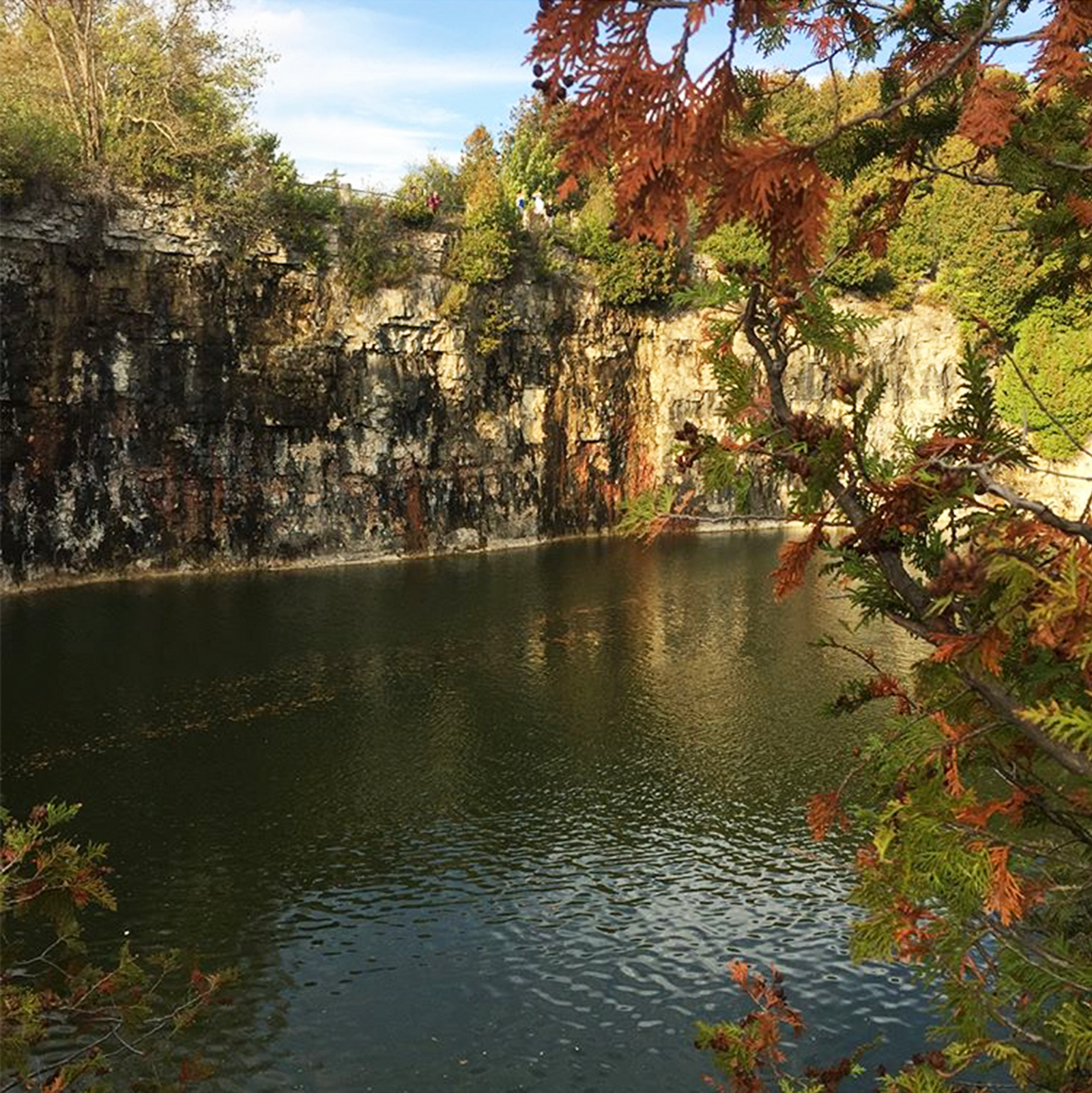 You may be familiar with the quaint little town of Elora - a place that is renowned for having retained its 19th century architecture and charm, alongside the spectacular gorge that it is perched on.
Located in the Grand River valley, the Elora Gorge features 22 metre high cliffs. Walk along the fenced path that winds its way atop the gorge, where you can admire a beautifully scenic waterfall - and of course, a gorgeous gradient of warm fall colours.
4
This provincial park is one of the closest major parks to Toronto and is perfect for a hike along the Bruce Trail. The Tramble Trail will bring you past cliffs with steep drops, waterfalls, and a rushing river. Spend an afternoon wandering down the beautiful paths shaded by a forest set ablaze with colour.
4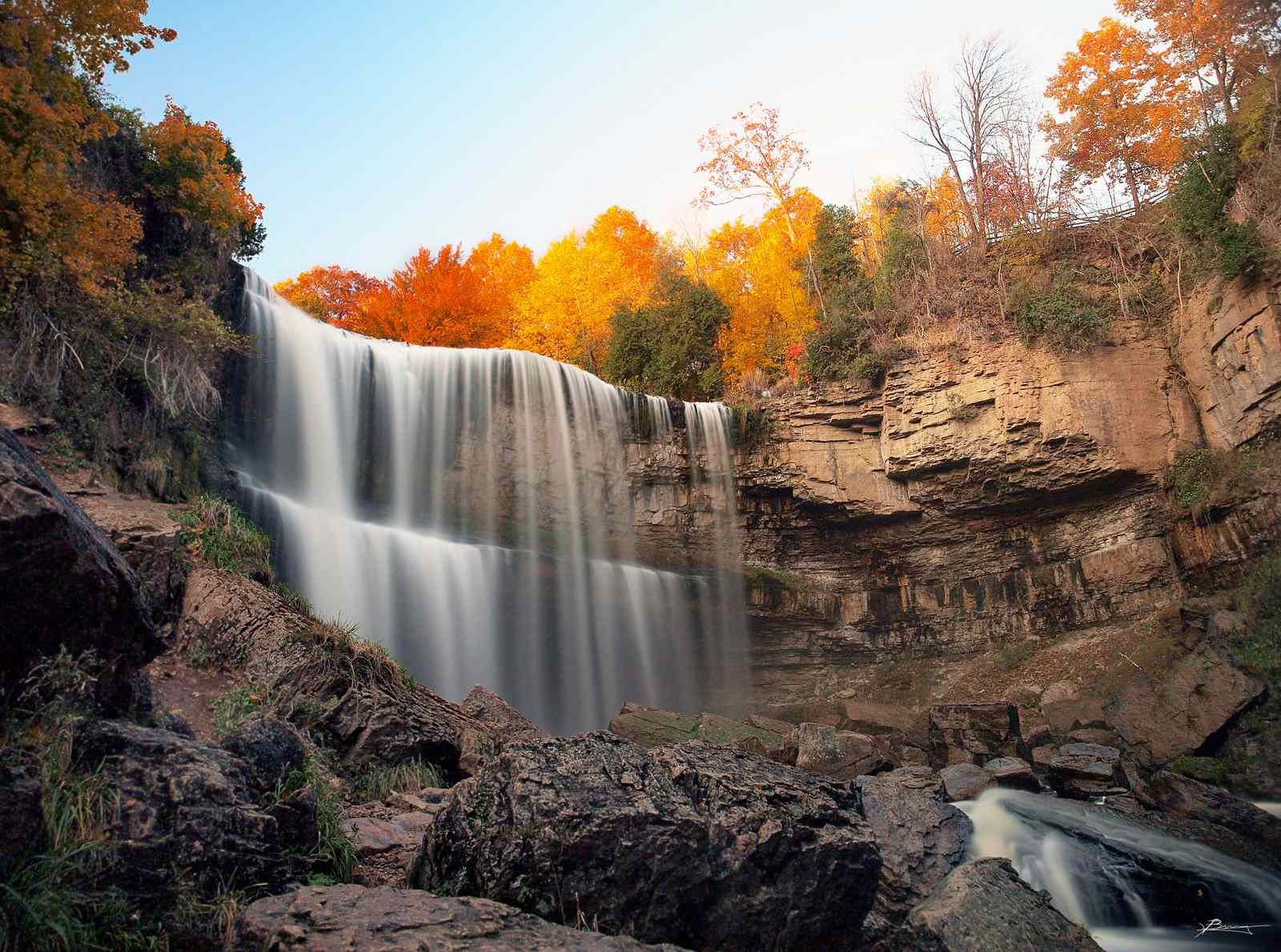 Experience magnificent views in this Conservation Area that neighbours the city of Hamilton. This striking natural space features two waterfalls known for their panoramas and offers stunning forest views rich in fall colours.
Take a hike to the 30 metre wide Webster falls, or if you long for more grandeur scenery, follow the Adventure Trail to visit the impressive Tew falls. At a towering 41 metres high, this waterfall is only a few metres shorter than Niagara Falls. There is a lookout spot perfect for a stunning forest view rich in fall colours.
You can also hike up to Dundas Peak and overlook the cities of Hamilton and Dundas.
When you visit these spots, make sure you tag us in your posts using @greatlakesguide and #greatlakesguide.
---