Every year, an estimated 3.5 million people get sick after swimming in a waterbody that contains harmful bacteria and pollution.
Ingesting or coming into contact with water that has poor quality can make you very ill. Citizen science monitoring hubs on the Great Lakes are here to make sure this doesn't happen to you.
The beloved places where people enter the Great Lakes are not always the ones where water quality is regularly monitored by governments or health units. Citizen science monitoring hubs on the Great Lakes sample water so that you can connect with your local waters worry-free.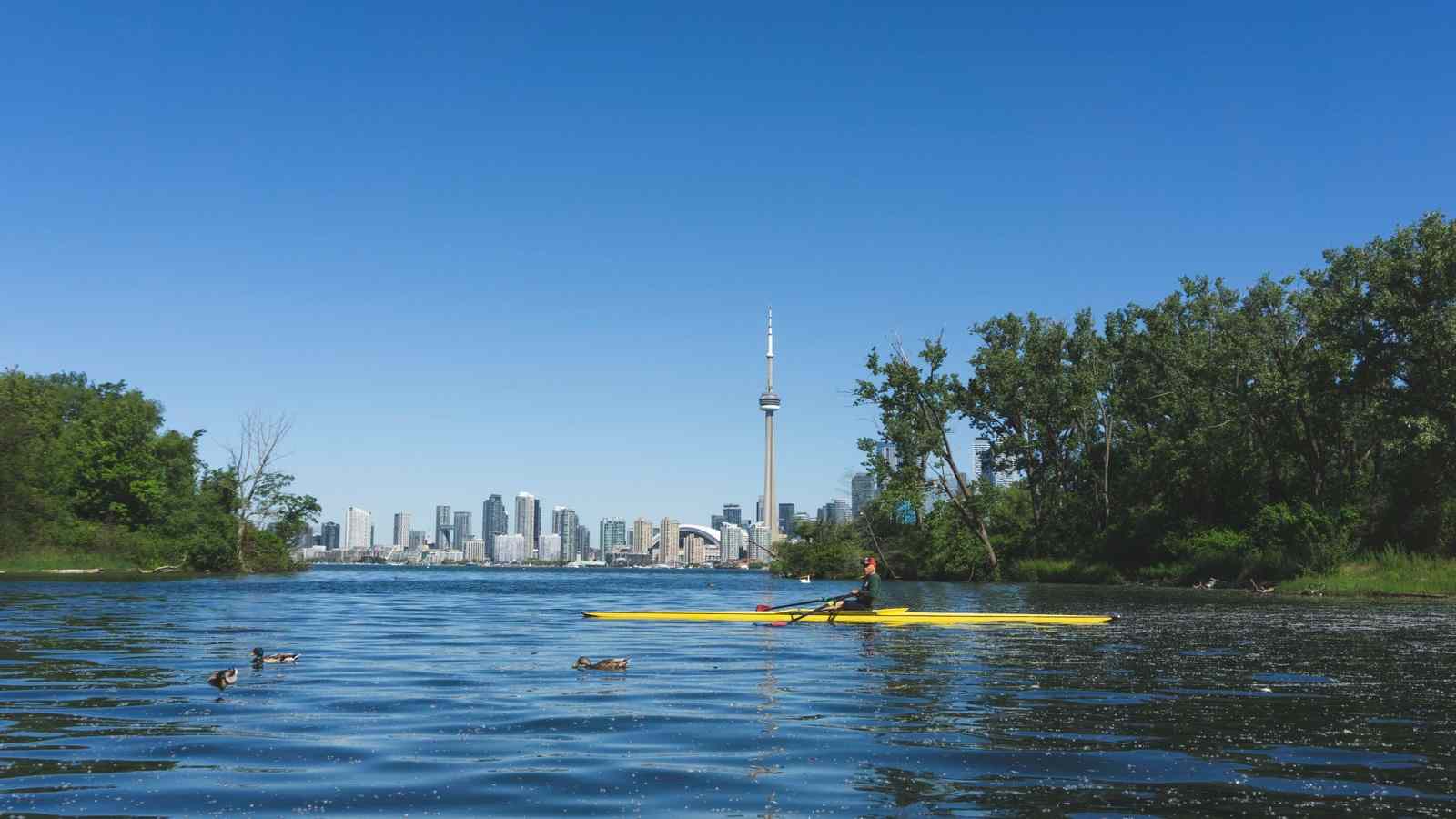 Like the weather, recreational water quality changes all the time. Testing water at each of these monitoring hubs lets you know when and where the water is clean enough to enter.
The Great Lakes are home to four of the five Swim Drink Fish citizen science monitoring hubs currently running in Canada. These hubs empower everyday people who care about the Great Lakes to learn more about them by monitoring water quality.
What are citizen science monitoring hubs?
Citizen science monitoring hubs are lab and work spaces that process recreational water samples and data.
The hubs are managed by trained coordinators with the help of non-professional members of the public, also known as citizen scientists. That means that they're people just like you!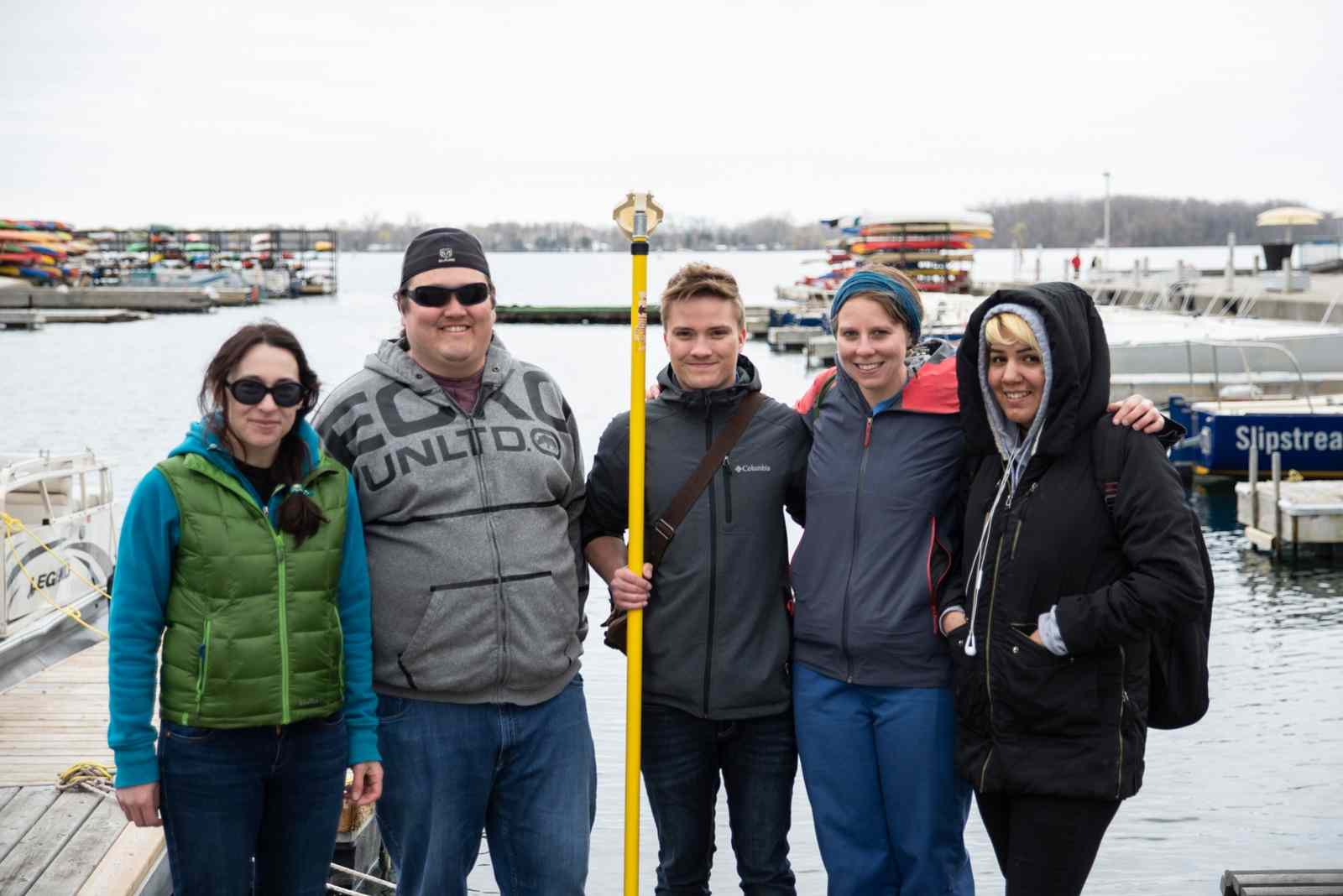 Monitoring hubs test water samples for levels of E. coli, a bacteria found in the poop of humans and other mammals. High levels of E. coli indicate that sewage pollution (like from our toilets) is present in the water, along with other harmful contaminants.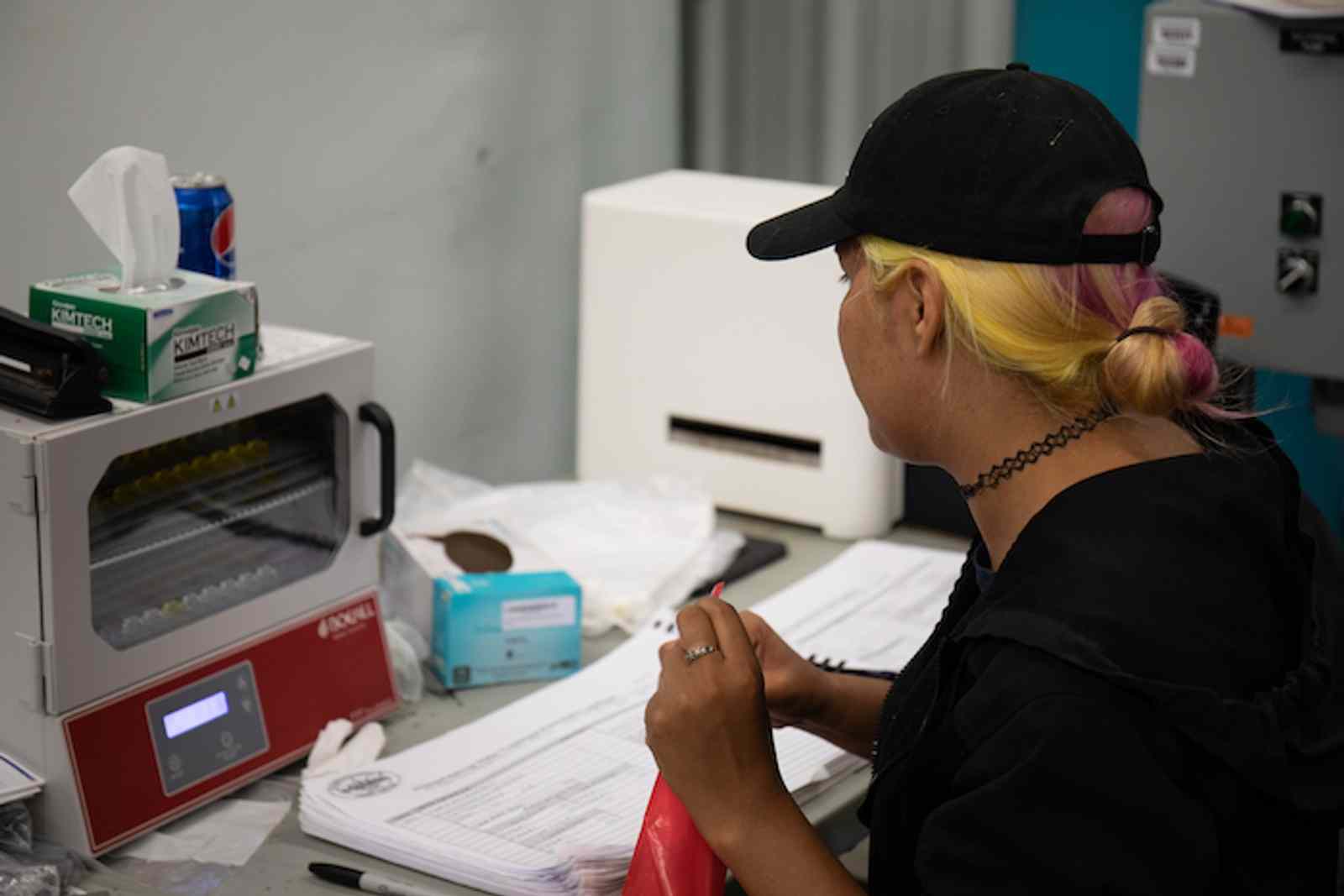 Entering water with high E. coli levels can put our health at risk. However, if the levels are low enough for humans, that's a great thing for wildlife as well as waders!
Citizen science monitoring hubs use three criteria to decide where to sample water:
People go swimming, boating, or fishing in the water there


The water is not currently being monitored or is under monitored


The water may be vulnerable to pollution
Water quality results from the hubs are shared on Swim Guide, a free app and website that delivers real-time water quality information. On Great Lakes Guide, results are shared on the Great Lakes Guide destination pages where community hubs are active.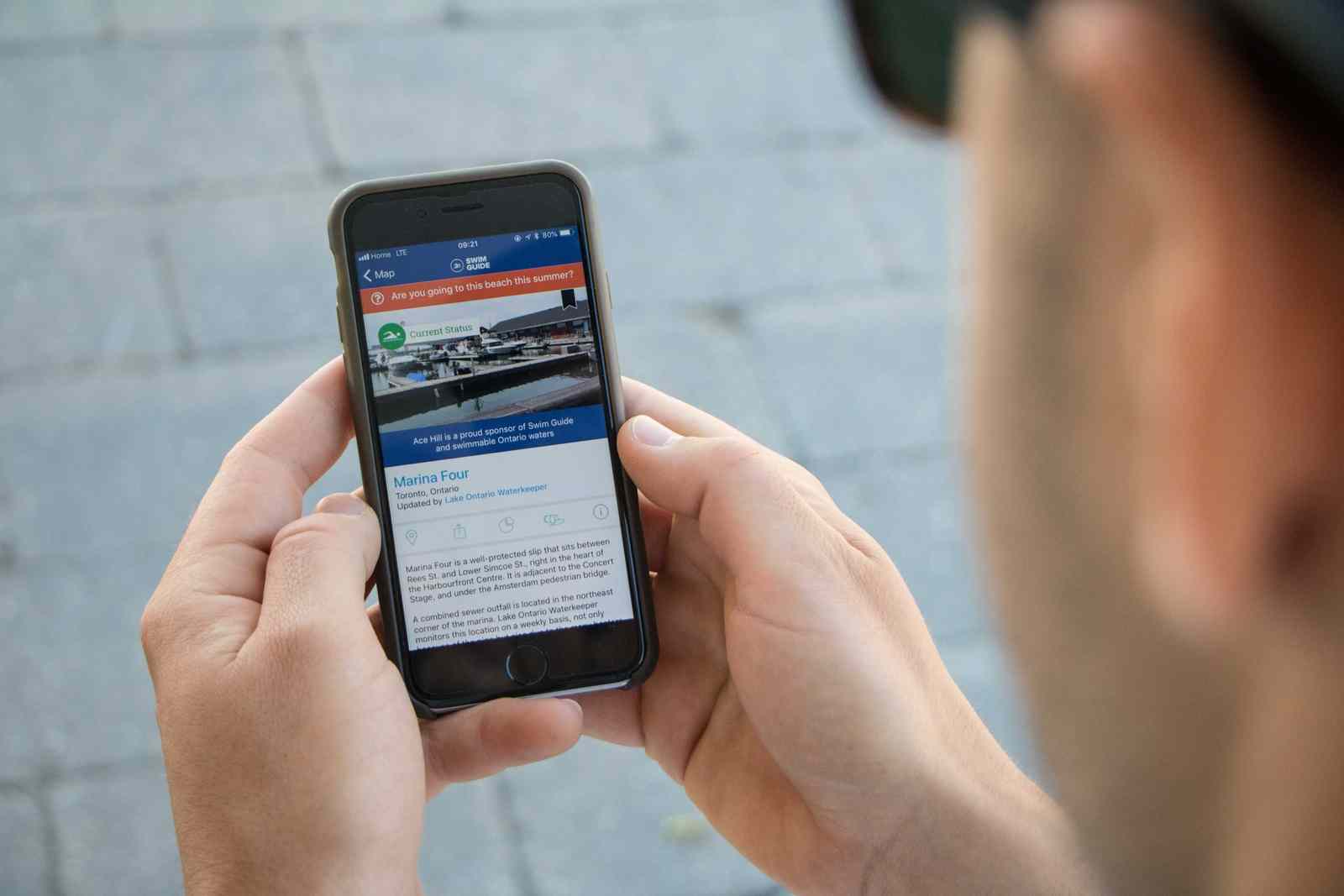 Citizen science monitoring hubs do more than just let you know what the water quality is.
The hubs connect you to the Great Lakes. They raise awareness about the issues threatening them. They show you how valuable our lakes are. They remind you why our lakes need to be restored and protected.
Where are the citizen science hubs located in the Great Lakes?
Swim Drink Fish has established four citizen science monitoring hubs (and counting) in the Great Lakes thanks to funding from Environment and Climate Change Canada's Great Lakes Protection Initiative.
By 2022, Swim Drink Fish will have established and supported six recreational water quality monitoring hubs in Great Lakes communities, with three in First Nations communities.
1
The Toronto Hub was launched in 2016. This Lake Ontario Waterkeeper project is the first of Swim Drink Fish's monitoring hubs.
Living in an urban city, Torontonians can become alienated from Lake Ontario, assuming that the entire shoreline is polluted. The Toronto Hub was created to both inform water users about water quality and to encourage them to use the water in places that are not contaminated.
The Toronto hub has sampled water at eight Lake Ontario sites in the inner harbour and other parts of the waterfront:
Did You Know?
In 2019, 550 volunteer citizen scientists helped sample the waters in the Toronto Harbour alone.
What are the environmental challenges at the Toronto Hub?
Toronto has a combined sewer system that collects stormwater runoff and wastewater in the same pipe. This water usually flows to a wastewater plant for treatment, but not always. Heavy precipitation can overwhelm the system, which is designed to bypass the treatment facility and overflow into Lake Ontario. These sewage spills are the largest source of water pollution in Toronto.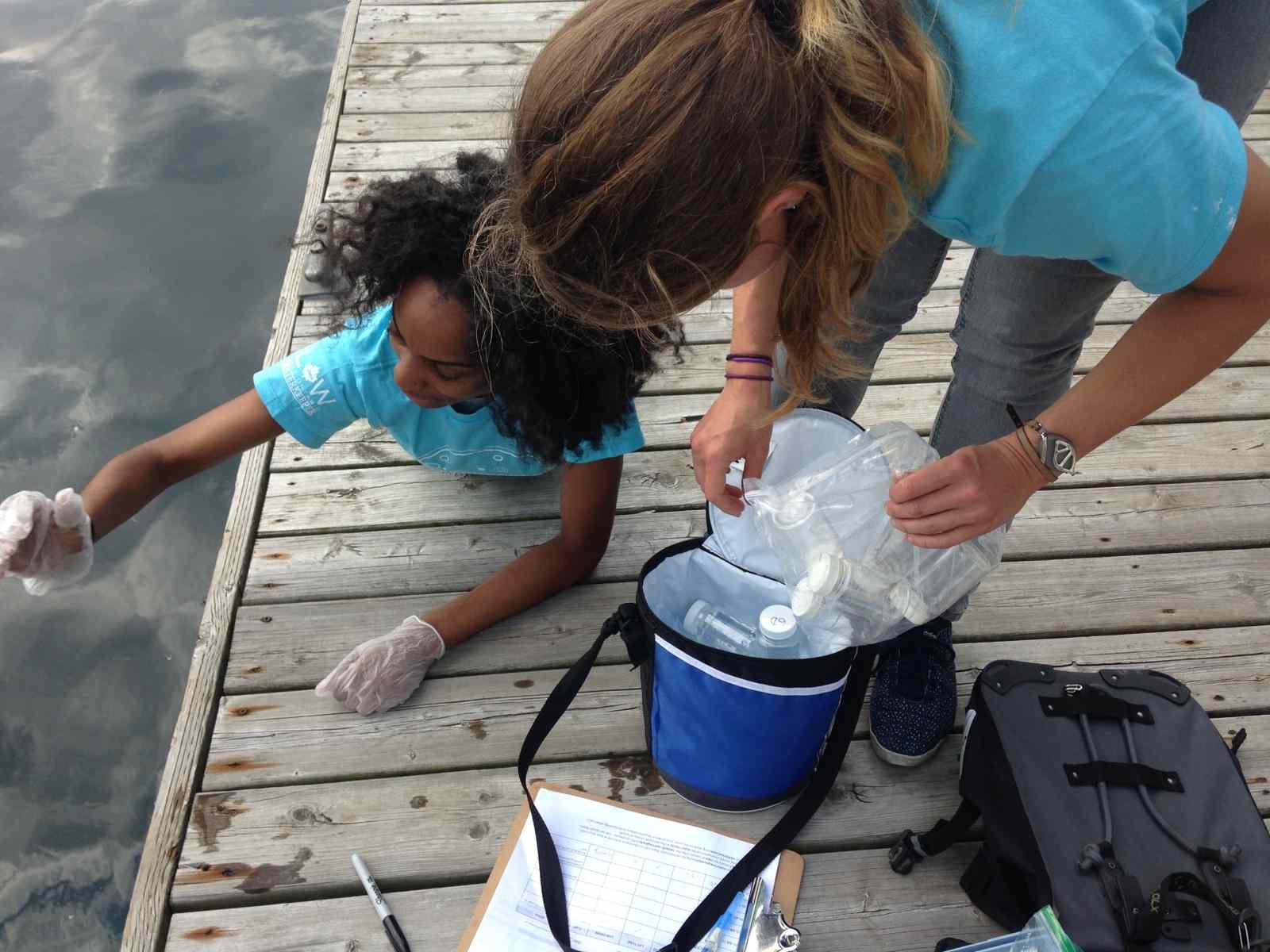 Learn more about the Toronto Monitoring Hub here.
2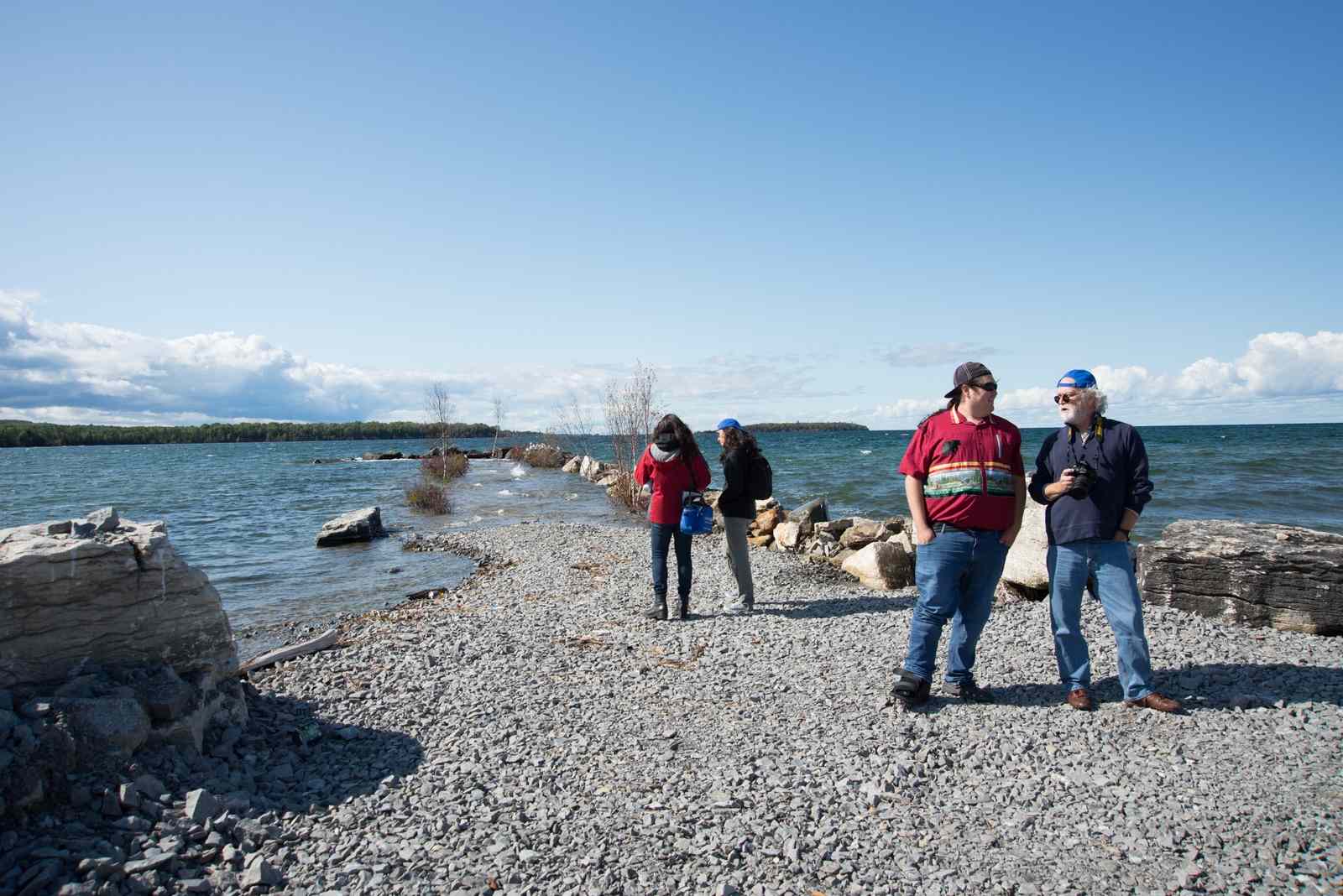 The Zhiibaahaasing First Nation Hub was launched in 2018. It's hosted by Zhiibaahaasing First Nation. The hub is located on the west end of Manitoulin Island, in the North Channel of Lake Huron.
The Zhiibaahaasing First Nation Hub provides traditional and scientific knowledge for youth, teaching them more about why clean water is so important.
The Zhiibaahaasing First Nation hub has sampled three Lake Huron beaches on Manitoulin Island and Cockburn Island:
What are the environmental challenges at the Zhiibaahaasing First Nation Hub?
Debris and pollution (such as cigarette butts and styrofoam) often wash up on shore at the beaches on Manitoulin Island and Cockburn Island. These waters are very important places for the Zhiibaahaasing First Nation community to gather and connect to the lake. Through monitoring, the hub is able to notice changes and protect their waters.
Learn more about the Zhiibaahaasing First Nation Monitoring Hub here.
3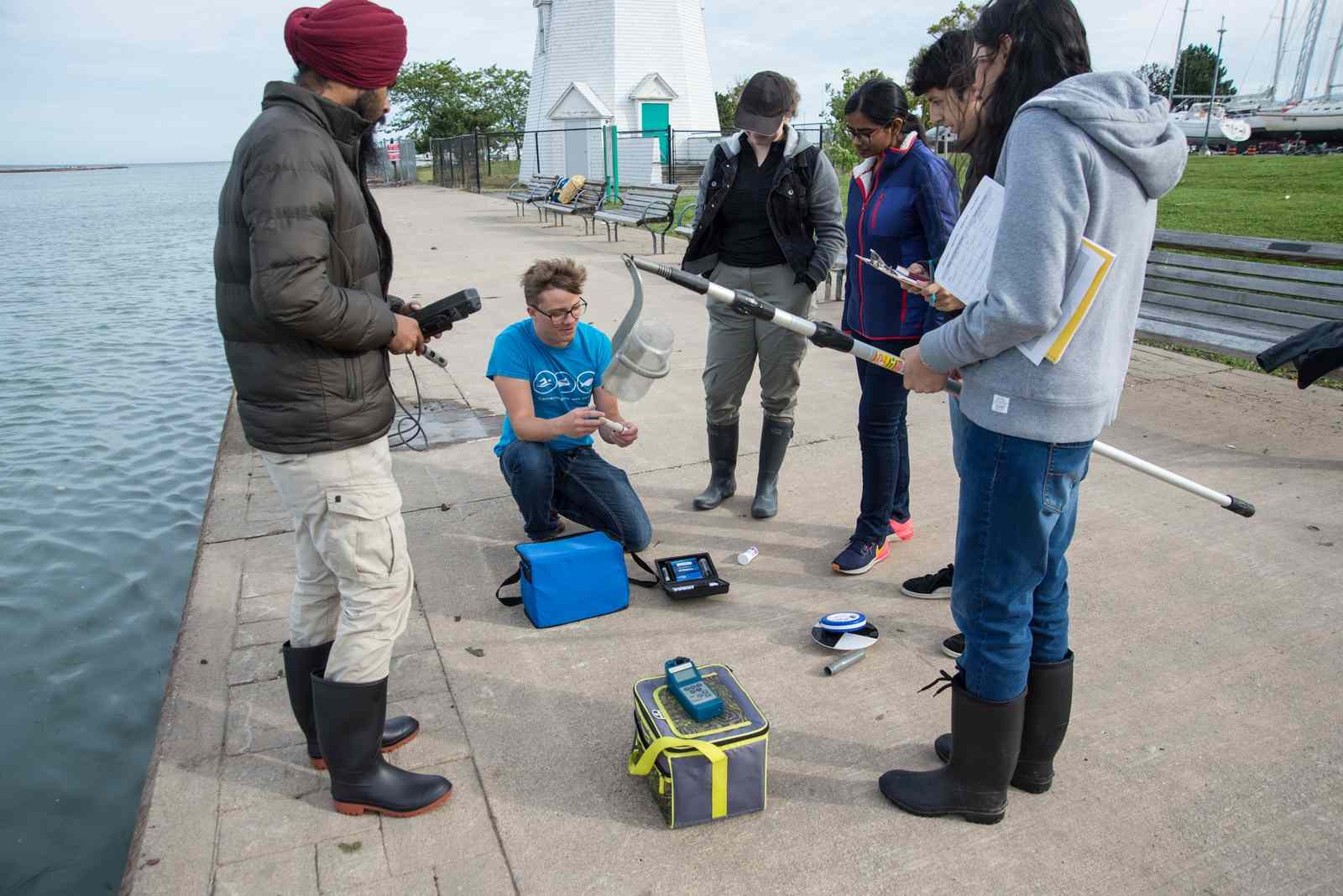 The Lake Erie - Niagara Hub launched in 2019. It is located in the Niagara region, which holds hundreds of kilometers of Lake Erie and Lake Ontario's shorelines. The hub focuses its efforts on Lake Erie. The hub is hosted by the Niagara Coastal Community Collaborative, which prioritizes habitat and species, healthy beaches, and nature based shorelines.
The Lake Erie - Niagara hub is sampling three beaches on the Lake Erie, North Shore:
What are the environmental challenges at the Lake Erie - Niagara Hub?
Lake Erie receives excess nutrients from agricultural runoff (such as fertilizers, herbicides, and livestock). Too many nutrients in the lake deplete its oxygen levels, which can kill animals. Too many nutrients also lead to harmful algae blooms and excessive growth of nuisance algae. Nuisance algae can help bacteria breed and make recreational water activities less enjoyable.
Learn more about the Niagara Monitoring Hub here.
4
Kingston Hub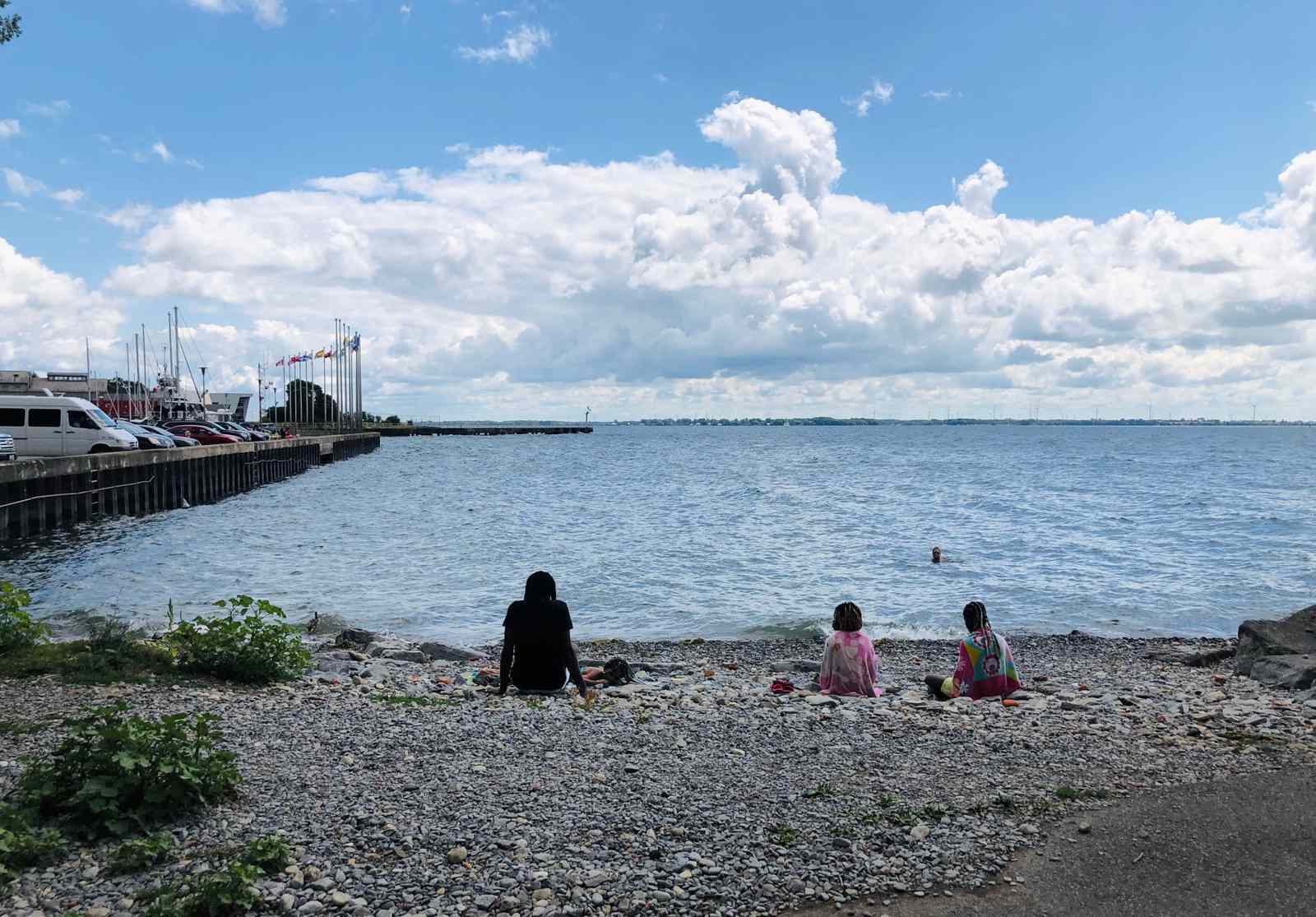 The Kingston Hub launched in the summer of 2020, making it Swim Drink Fish's newest monitoring hub.
Like the Toronto Hub, the Kingston Hub is a Lake Ontario Waterkeeper project. Lake Ontario Waterkeeper has been fighting for Kingston's waters for over two decades. The Kingston Hub is an extension of Lake Ontario Waterkeeper's ties with the community.
The Kingston Hub has sampled two beaches in Kingston:
What are the environmental challenges at the Kingston Hub?
Like Toronto, Kingston has combined sewer systems that overflow into Lake Ontario during heavy precipitation. For decades, Kingston's shoreline was considered unswimmable because of its water quality.
After much restoration work, Kingston's Gord Edgar Downie Pier at Breakwater Park opened in 2018. It became a flagship Great Lakes restoration project. Today, the pier is one of Lake Ontario's most popular swimming destinations. Historically, it passes water quality tests at least 95% of the time.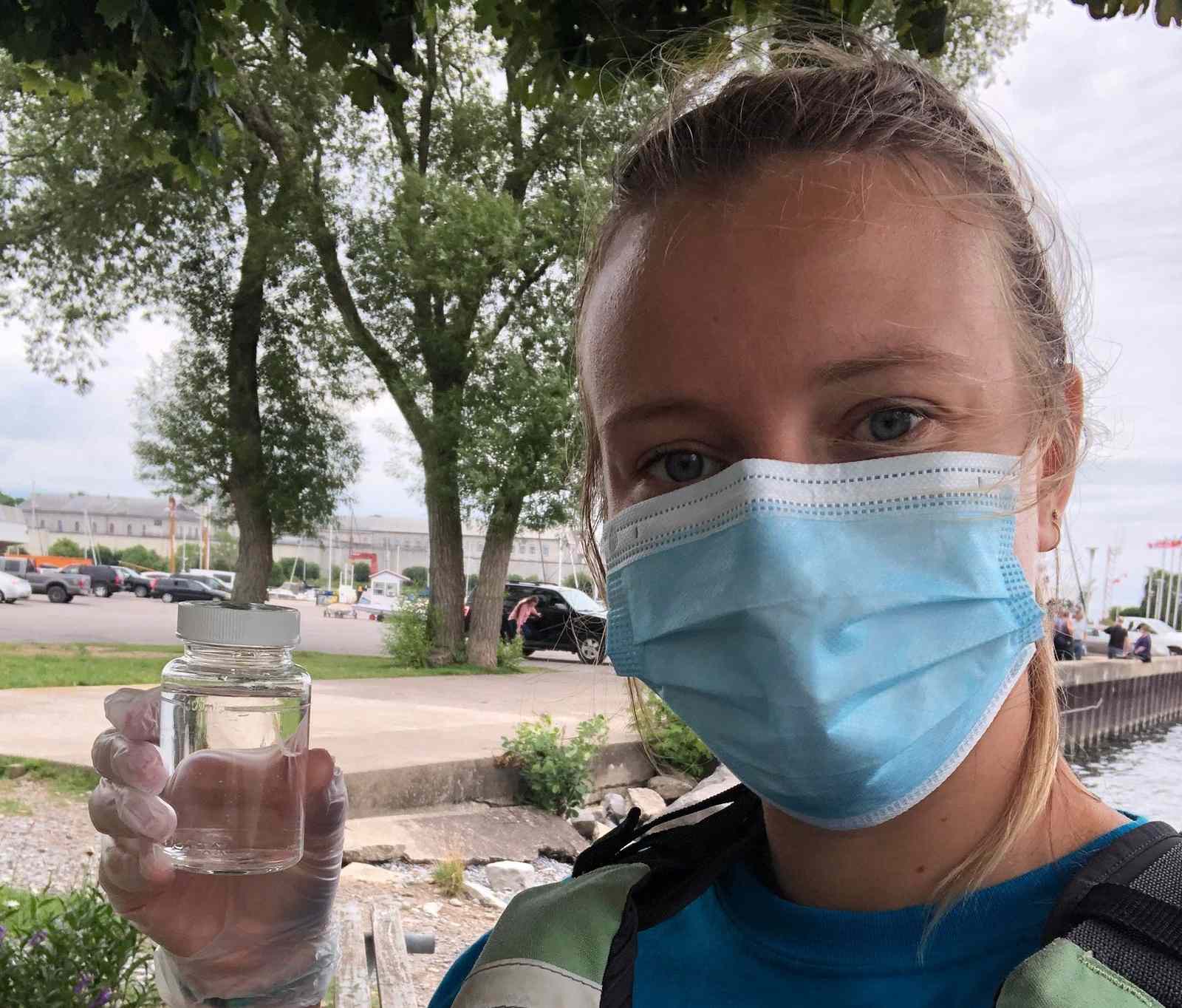 Learn more about the Kingston Hub here.
How to get involved
If you love the Great Lakes and want to protect them, citizen science monitoring hubs are a great way to make a difference. By volunteering at the hubs, you'll be contributing important water quality data and sharing invaluable information with your community.
Beyond simply sharing water monitoring results, hubs prepare annual reports that identify opportunities to restore, protect, and promote our waters.
When you volunteer to collect data for the water in the Great Lakes, you are actively safeguarding the biggest freshwater system on Earth.
"The vast majority of people on the Great Lakes believe that the lakes should be protected, but they don't know what to do. With these new monitoring hubs, we can help to ensure that everyone, everywhere on the Great Lakes has access to swimmable, drinkable, fishable water."
Collect vital data for the waters you swim in. Care for the waters you canoe in. Give back to the waters that give you so much.
Did you know that becoming a citizen scientist is as easy as taking a photo?
Meet Gassy, our new photo submission tool. This little lake monster digests all the photos you feed her and uses AI technology to track patterns in those photos. Whether you're taking pictures of litter, wildlife, or people enjoying the water, you're building a database of water data.
If you want to do even more for the Great Lakes, register for the Blue Flag volunteer program to find new Blue Flag beaches and marinas in Canada.
As of 2018:
This project was undertaken with financial support of the Government of Canada through the federal Department of Environment and Climate Change.
Ce projet a été realisé avec l'appui financier du gouvernement du Canada agissant par l'entremise du ministère fédéral de l'Environnement et du Changement climatique.
---