What is Swim Guide?
Swim Guide is a mobile app and website that was created in 2011 to answer the simple question: Is it safe to swim in Lake Ontario? As is so often the case, the answer was far from simple and today, Swim Guide is still asking that question of thousands of swimming locations around the world.
Available on iOS, Android, and the web, Swim Guide shares water quality data for over 7,000 beaches around the world, including over 1,500 beaches in the Great Lakes region.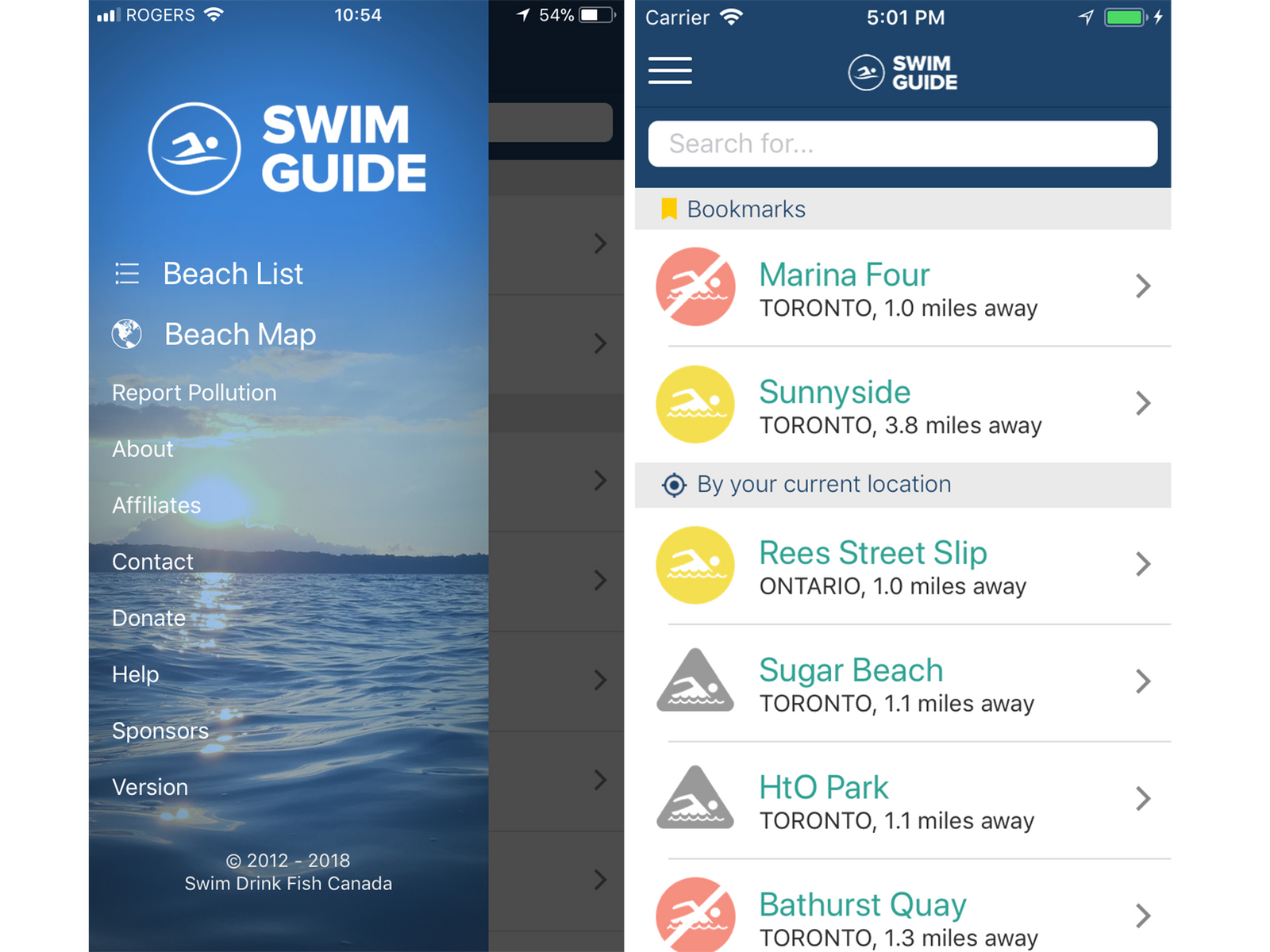 How to use Swim Guide
It's summertime, the sun is shining, and your beach bag is packed. You probably already checked the Weather Network to make sure today is going to be the perfect day at the beach, but what about about Swim Guide?
To date, Swim Guide has helped nearly two million people plan their trip to the beach by providing free and accessible water quality data for over 7,000 beaches around the world. These water quality ratings are constantly changing. It's important to check Swim Guide every time you go to the beach because bacteria can live in the water for up to 48 hours. Water that was clean one day may not be the next day. But don't worry. Swim Guide also provides historical data for the beach you're looking for.
For the beaches in the Great Lakes region, you can see Swim Guide's water quality ratings directly on Great Lakes Guide. But how exactly does Swim Guide work? Let us show you.
How does Swim Guide represent test results?
The standard identifiers used to measure recreational water quality are fecal indicator bacteria (FIB), namely E.coli for fresh water and enterococci for salt water. FIB are nasty stuff and present a wide range of health risks to recreational water users, which you can learn more about here. Swim Guide receives water quality data from two main sources: publicly accessible data collected by regional, municipal, provincial, or state health and environmental authorities, or data from environmental organizations who monitor their local recreational waters. Known as Swim Guide affiliates, these incredible organizations are the backbone of Swim Guide.
Raw data from monitored FIB are represented by bacteria counts per 100 ml of water. But displaying information this way can get tricky! Standards for what is an acceptable level of bacteria are different all across the Swim Guide network. In fact, the standards even vary within the Great Lakes region! As an international region, environmental standards differ on both sides of the border, and between federal and provincial/state jurisdiction. So, in order to make Swim Guide as user friendly as possible, we represent the data as either pass or fail. That is, did the test result meet the local standard or not? This local standard, along with other information about the local monitoring body, is represented on each beach page, both on Swim Guide and on Great Lakes Guide.
Once a test result is uploaded into Swim Guide, it is considered current for seven days. After that, the beach switches into historical status, where the historical trend is displayed. These results are represented on each beach page like this: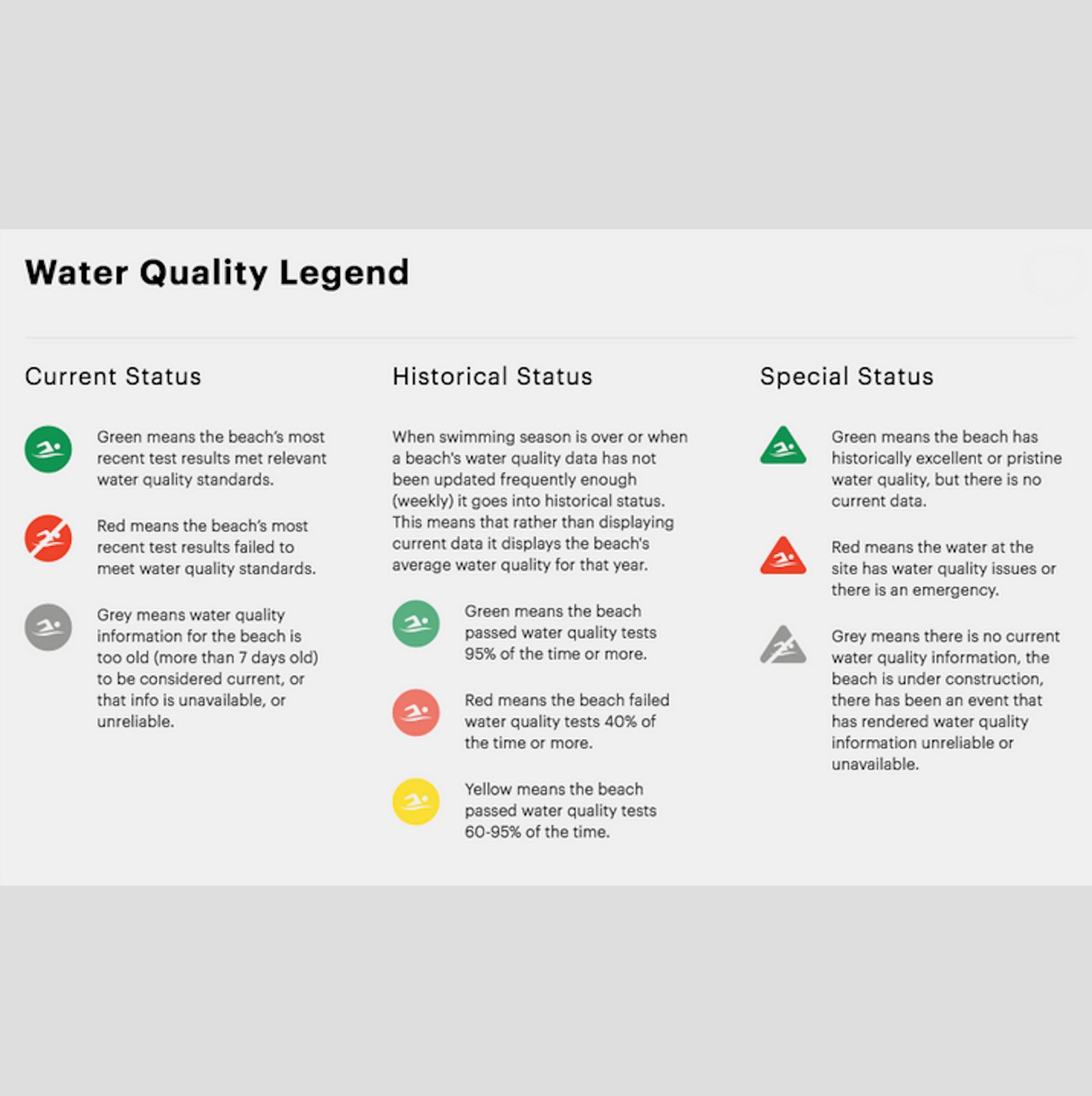 Why is Swim Guide important?
Simply put, Swim Guide promotes public health safety by informing recreational water users about the water they're getting into. It helps connect people with the waters they love, the waters that hold memories, and the waters where new memories will be made. In tandem with Great Lakes Guide, Swim Guide empowers people to get outside, explore, swim, and be happy.
Where can I find Swim Guide?
First of all, Swim Guide helps power Great Lakes Guide so you can find Swim Guide data for over 1,500 Great Lakes beaches directly in Great Lakes Guide! If you want to check out Swim Guide for other areas, or just because it sounds so awesome, you can find it in the App Store, Google Play, and online at www.theswimguide.org. Next time you're planning a trip to beach, don't just check the weather, but the water as well.
---