"You definitely learn about yourself when you surf here and it teaches you a lot about respecting the lakes."
Have you been asking the question, can you surf in the Great Lakes? The answer is yes! It is a little known fact that you can surf in the Great Lakes. Right outside your doorstep are some of the most fun and challenging waves in the country. Ontario has a dedicated and ever-growing group of surfers ready to take on these freshwater waves year-round.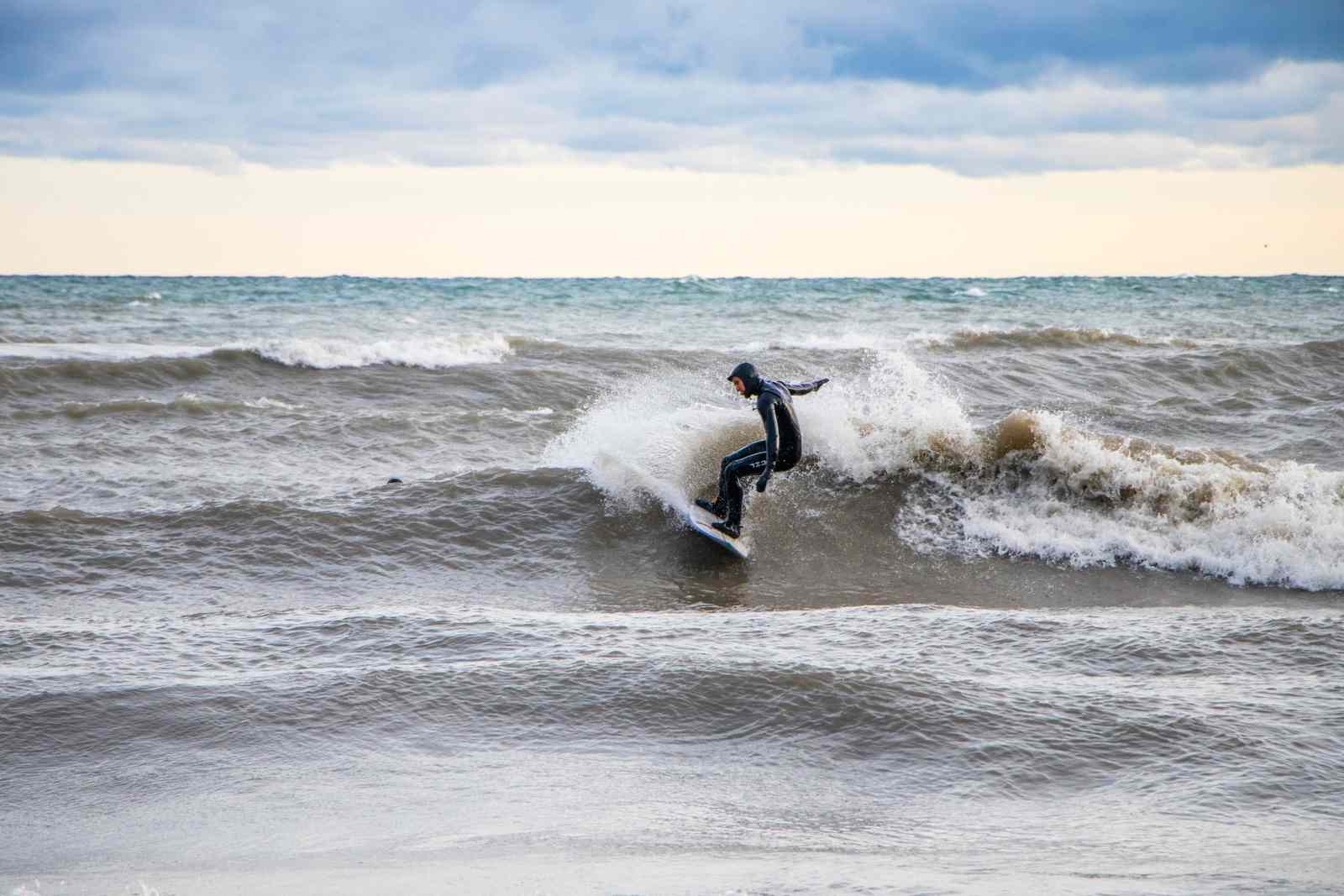 Believe it or not, fall and winter are actually the best surfing seasons in this part of the world. This time of year, lake surfers anxiously watch the weather report in the hopes that a big storm will roll in, bringing with it monstrous waves over Lake Ontario.
While most of us are layering on our Snuggies and huddling away from the cold, these surfers are layering on their wetsuits and heading outside, surfboards under their arms.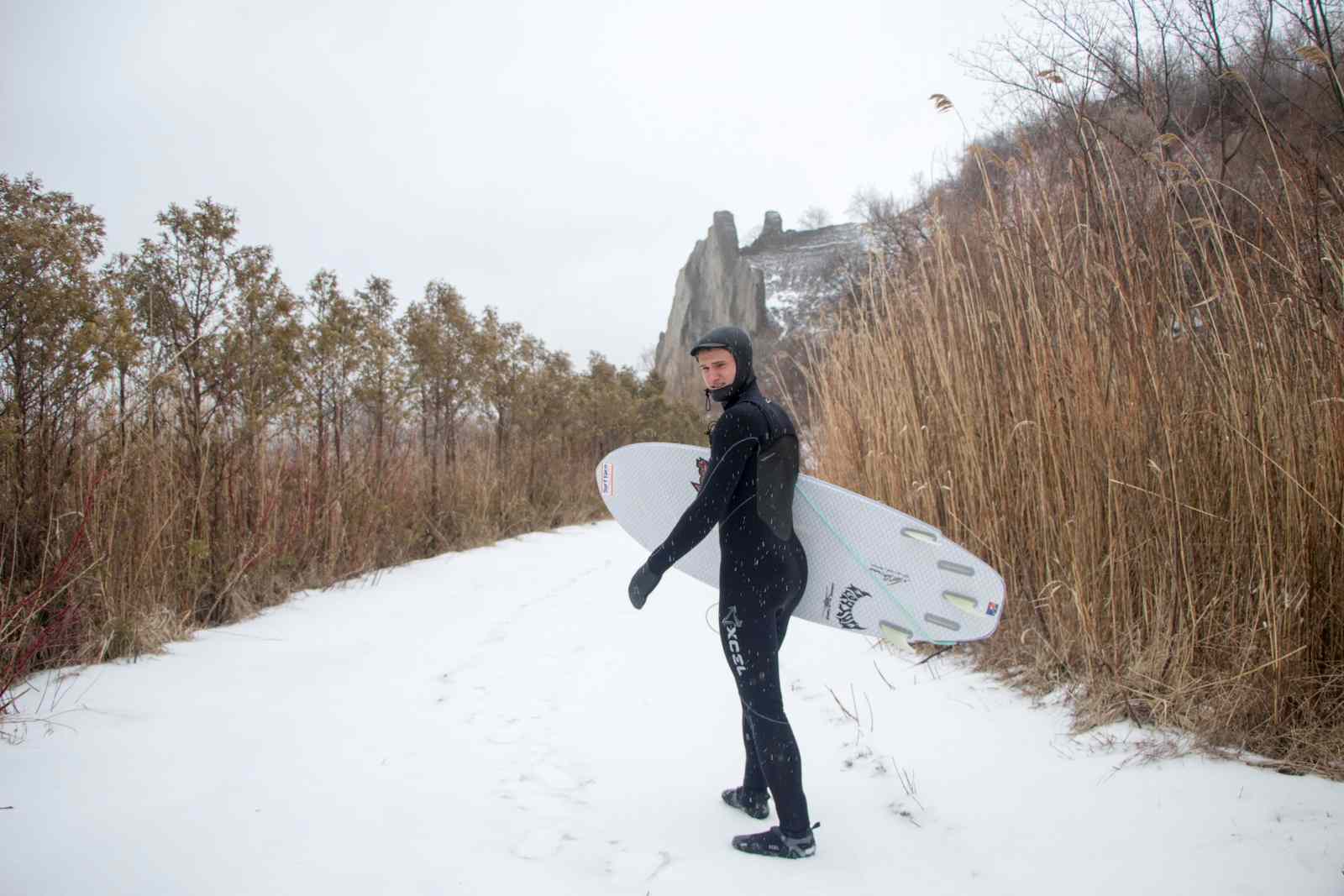 Alex Boutilier is one such surfer. Alex works with Surf The Greats (a Toronto-based surfing school, community hub, and retail store) and spends every chance he gets riding the waves, in rain or shine or… snow. Great Lakes Guide spoke with Alex to learn how he got into this unexpected local sport.


1
How does an Ontarian like yourself get into surfing?
For me, I was pretty lucky. My father did professional sailing and he got me into the waves in Nova Scotia [at our summer cottage] when I was a kid. Most people that I know started surfing somewhere else in the world, then moved here in Ontario and started lake surfing. Most people don't learn here first.
But many companies, like Surf The Greats, have started getting others into the sport here. With these groups beginners can take lessons with professional surfers. There are a lot of young people getting involved in the sport. Lots of diversity in age, ranging from teens to people in their 50s. There is also a strong, growing group of women that are really getting into the sport.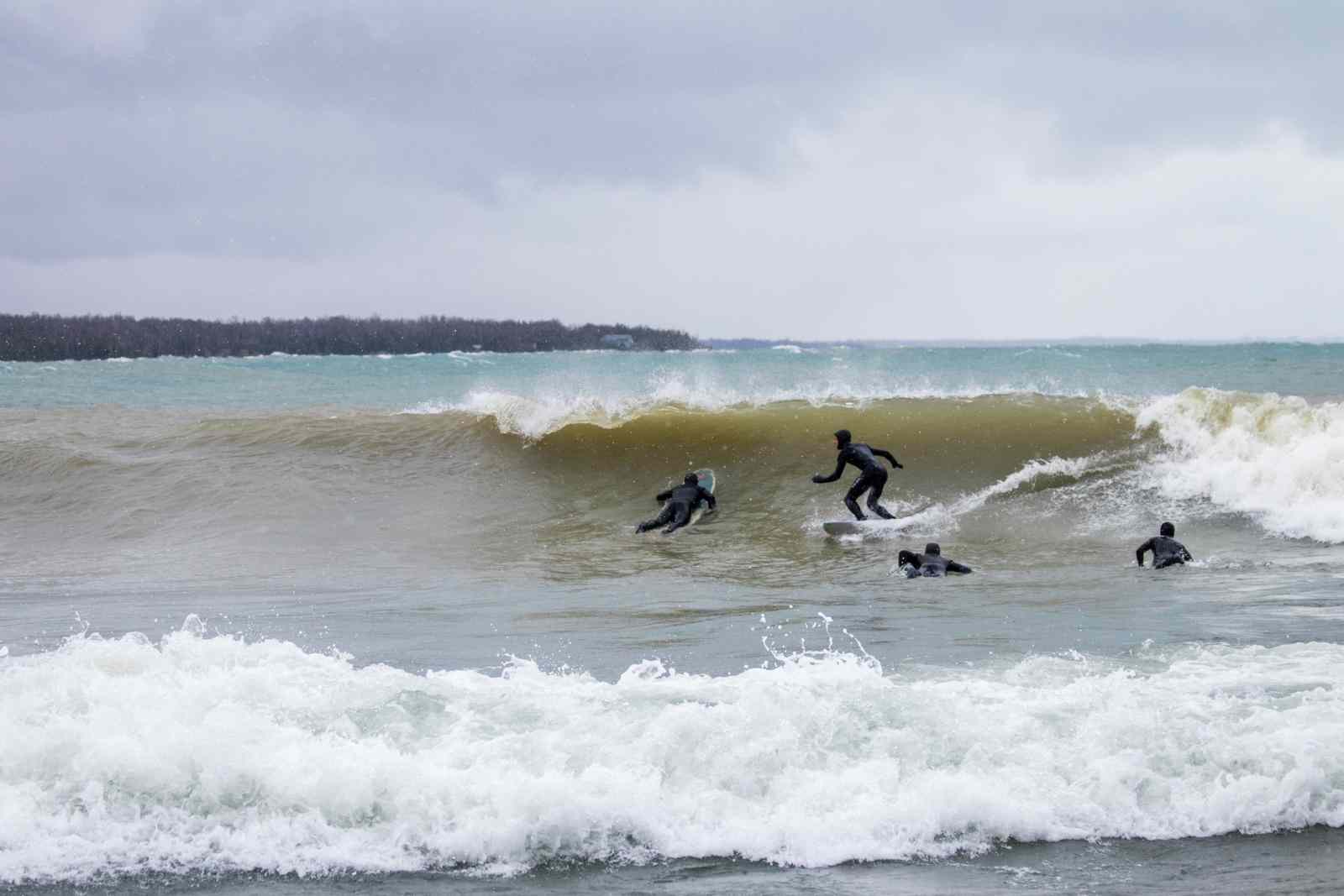 2
When did you start surfing in the Great Lakes?
I started surfing the lakes around three years ago. Before that, I didn't think it was possible. I didn't believe in the wetsuit technology. I didn't think it would keep me warm! I also wasn't aware that it was such a cool, growing scene. Within the last couple of years it has exploded in popularity.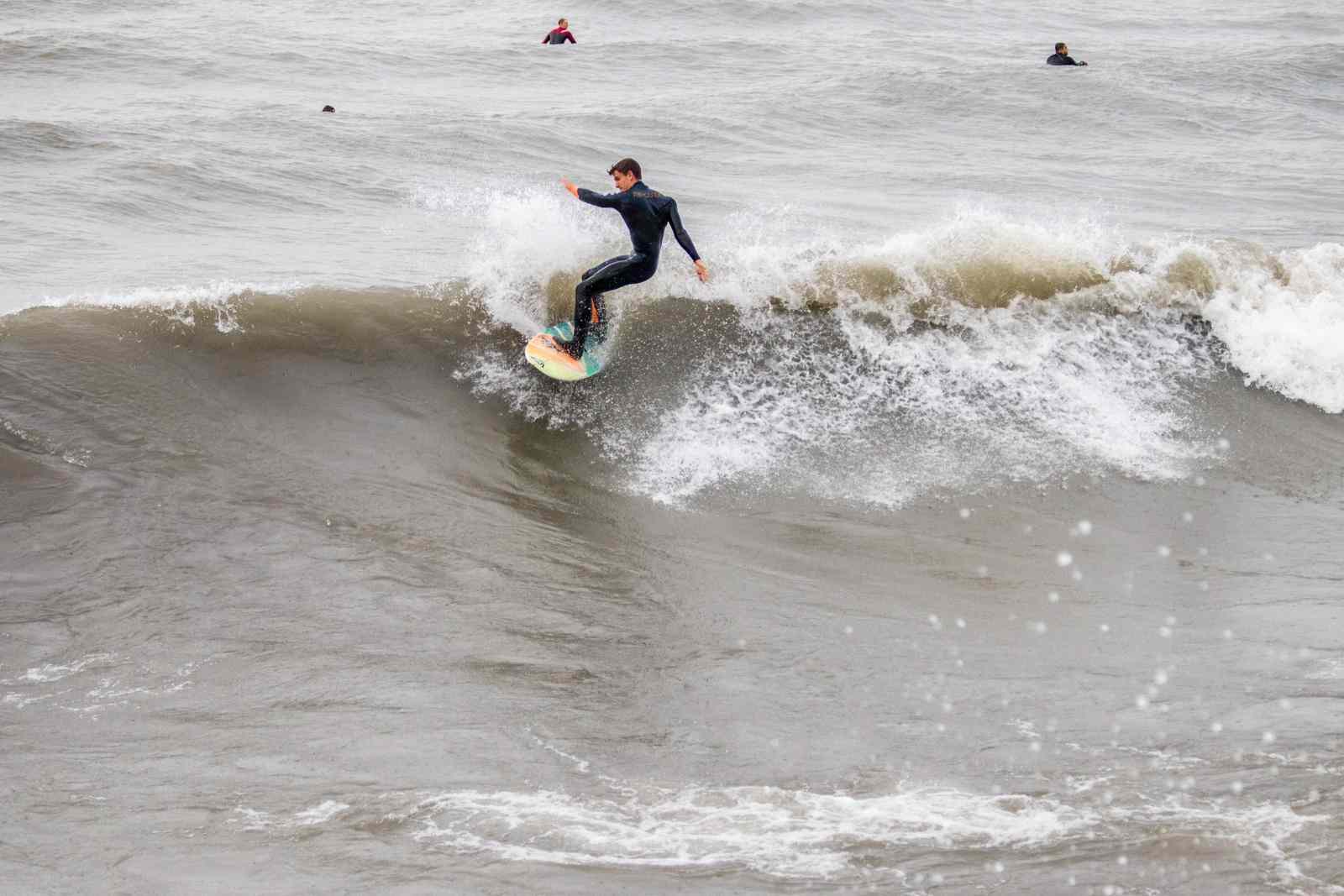 3
Do you have any tips for beginner surfers?
Go and check out Surf the Greats and other clubs. Go online and ask questions. There is a big online community that can help out people that are new to surfing, and everyone is really friendly. Also check out Instagram. There are tons of Great Lake surfers out there that can help you out. Just go for it!
Lake surfing gives us an opportunity to really learn surfing and become an expert. The lakes can be more challenging than the ocean, so once you surf on the lakes, you can master it and you'll be a pro once you hit the ocean.


3
Why do you think surfing is becoming so popular in the Great Lakes?
Well, honestly there is quite a bit of money here in Ontario- lots of people come here for jobs- and Southern Ontario is growing rapidly. With people coming here from all over the world, there are lots that love to surf. They want to be able to surf at home, even if it's only a few times per month.
But you don't have to be rich to surf. In the summer, it's easy to rent gear from the shops so it's affordable for people to get out there. In winter, the full commitment of getting out into the lakes is more expensive, since you need to invest in a good wetsuit and board. But it's worth it!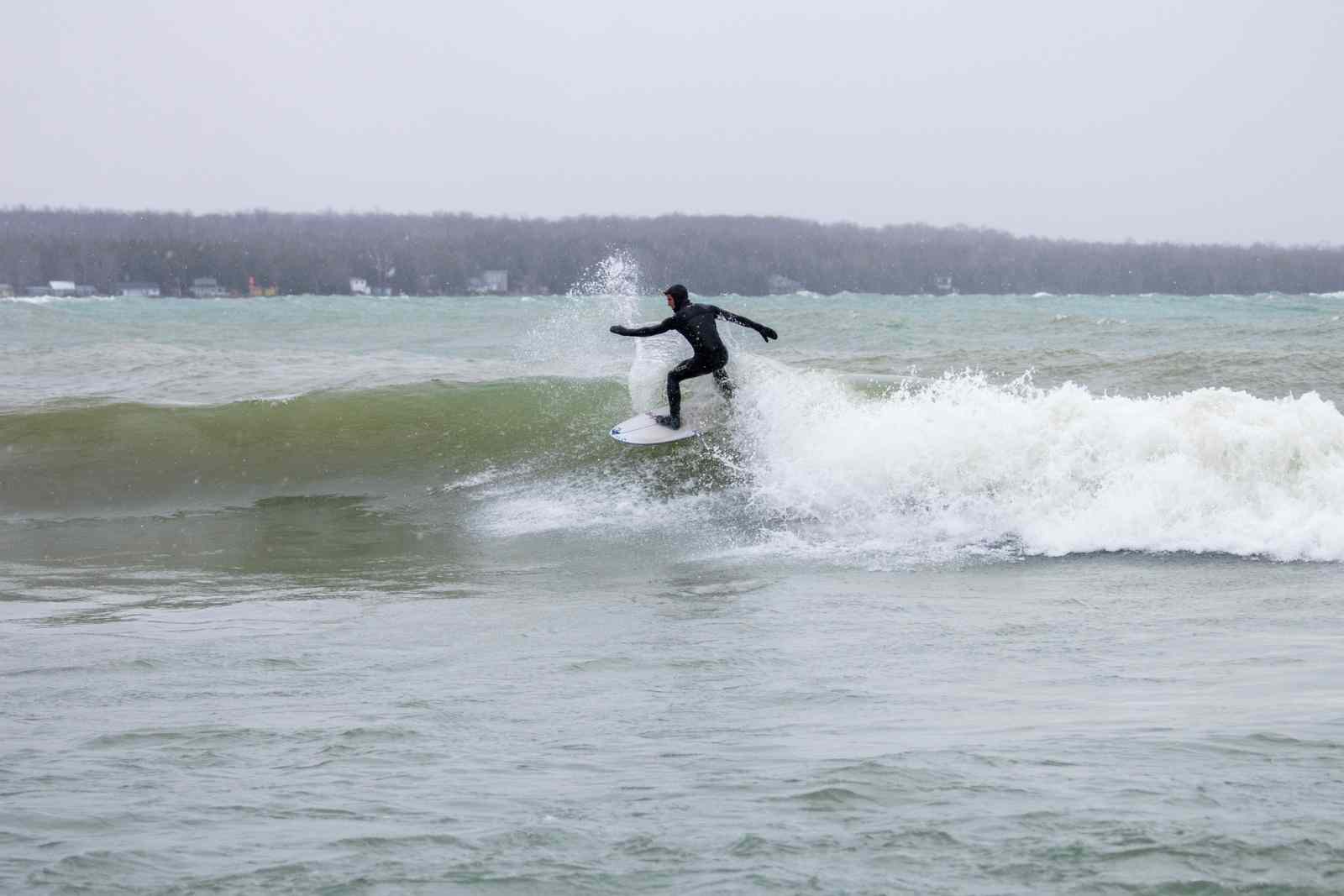 5
Where can you surf in the Great Lakes and where are your favourite spots?
I'd say Lake Huron is my favourite of the Great Lakes, especially on the North West side. I also like Lake Erie in the Port Colborne area and Western Lake Ontario (Toronto).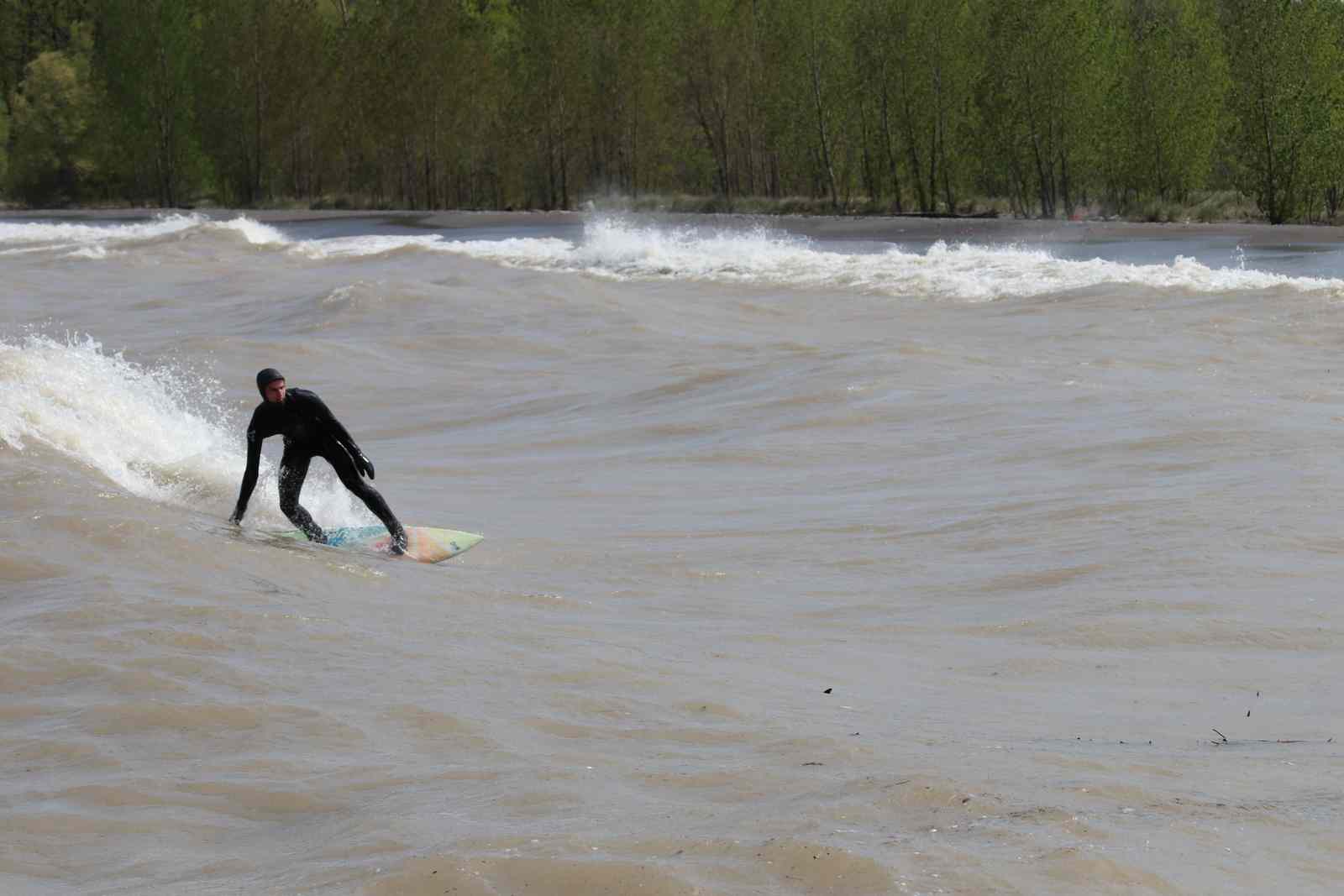 6
When is the best time to go surfing in Ontario?
The lakes are super dynamic. You can really surf any time of year, but October to December is the best time. The water is warmer [than in late winter] and you get consistent wind and storms. It's awesome out there right now. After that, the lakes can actually freeze over completely, so it becomes more limited after December.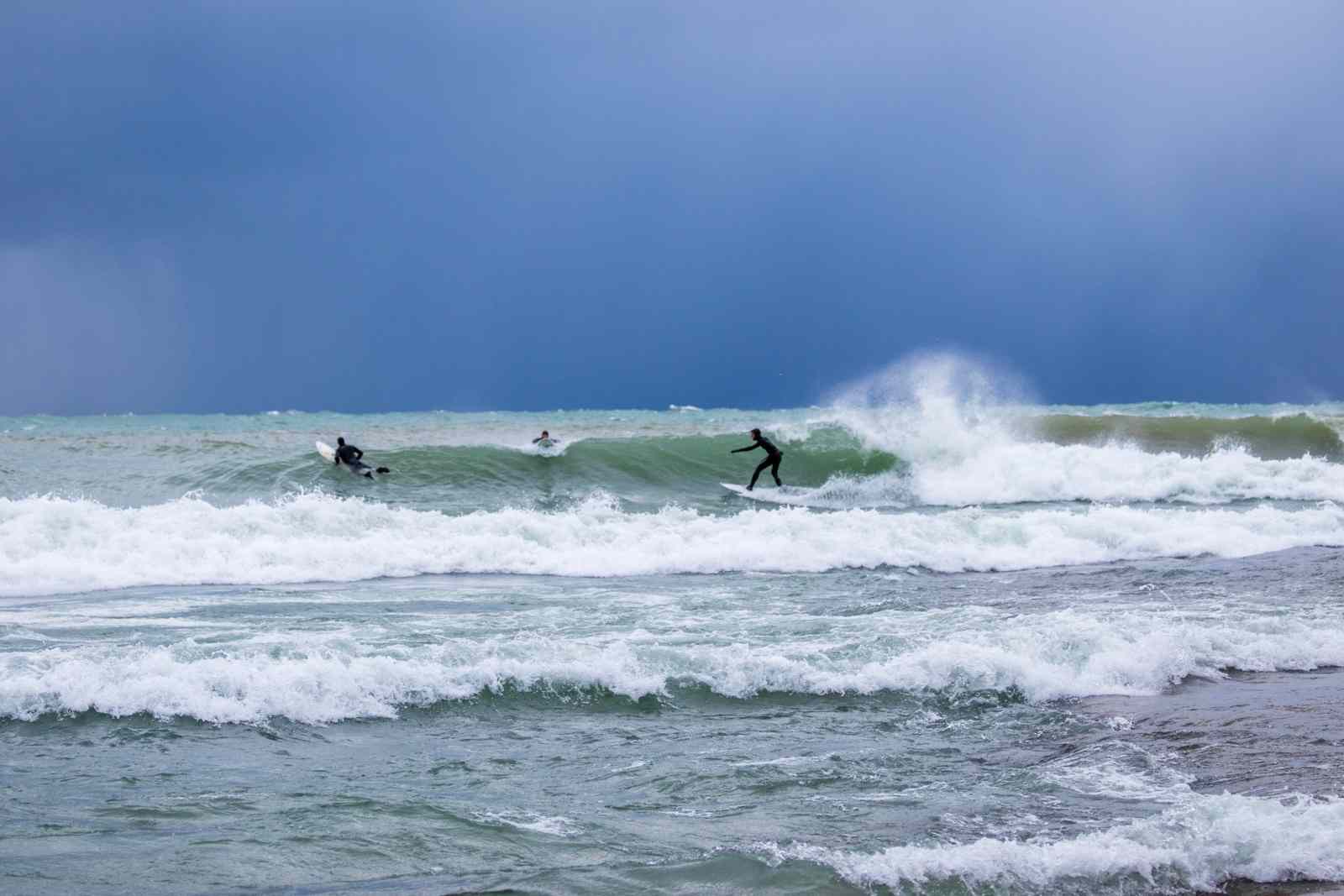 Convinced yet? You don't have to travel to the tropics to hang ten. You can try surfing right in your own backyard. Once you're up on that board, you just might find yourself falling in love with the sport. You'll be sliding into those cool waves like an antarctic penguin in no time.
To find out more, visit Surf the Greats.
---