The annual salmon migration in Ontario is a magical time of year in the Great Lakes. Fascinated people visit their local waters to catch a glimpse of the salmon's upstream journey. Whether you're into fishing or not, the fall salmon migration, also known as the "salmon run", attracts people from all across the Greater Toronto Area.
The fall season is a wonderful time to get outside and explore. Here's what you need to know about salmon in the Great Lakes.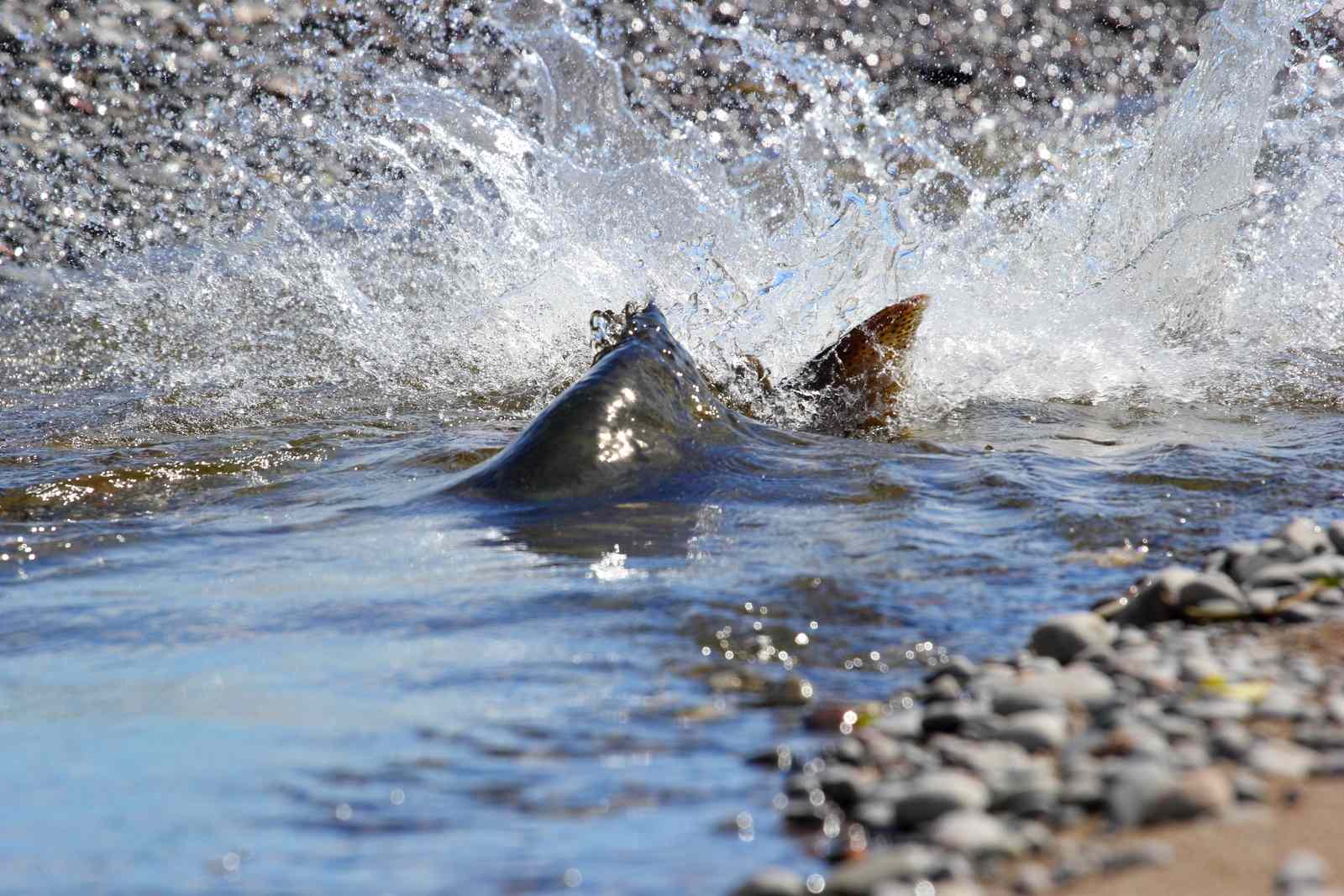 Fall salmon run: FAQ
Do salmon live in the Great Lakes?
Yes! You'll find salmon living across all five of the Great Lakes. This includes various species such as Chinook Salmon and Atlantic Salmon. Salmon mature in the cool, open waters, before spawning and finishing their life cycle in nearby rivers and streams.
How many types of salmon live in Lake Ontario?
If exploring near the Greater Toronto Area, you'll find Chinook Salmon, Atlantic Salmon, Pink Salmon and Coho Salmon in Lake Ontario. While each of these salmon look different, they all migrate during the fall salmon run.
When is the best time to watch the fall salmon run?
The best time to watch salmon migration in Ontario is from September to November, during the salmon run. You'll find them in rivers and streams connected to the Great Lakes.
Why do salmon swim upstream?
Salmon swim upstream to lay their eggs. In fact, salmon return to the same location they were born. They lay their eggs in the gravel banks of rivers and streams, known as tributaries. Juvenile salmon then swim upstream to return to the Great Lakes.
Where to go to watch the fall salmon run
If you are planning to watch the fall salmon run, why not make it a day-long adventure? Here are some of the best places to watch the fall salmon run in Ontario:
Humber River
If you are wondering where you can go see salmon run in Toronto, the Humber River is a perfect place for salmon watching as they migrate from Lake Ontario. Cheer on the hundreds of salmon as they jump over constructed barriers on their upstream journey.
Enhance your trip by visiting the nearby Humber Bay Shores Park or Boyd Conservation Area.
Credit River
If you're in the Mississauga area you can spot the salmon migrating through the Credit River. According to the Credit Valley Conservation Authority, some salmon enter the Credit River as early as mid-August. Walk along Mississauga's Culham Trail and stop at one of its many riverside lookouts. Or, pack a lunch for your salmon adventure and have a picnic at Lakefront Promenade Park or Meadowvale Conservation Area.
Highland Creek
Highland Creek in Scarborough has a long history with salmon. It was once a breeding ground for Ontario's native Atlantic Salmon before being extirpated. Now you'll find Chinook Salmon in Highland Creek, which were later introduced by humans. Highland Creek is also home to the annual salmon festival event — the perfect opportunity to get your salmon-watching on!
After visiting Highland Creek, be sure to visit Rouge National Urban Park, Bruce's Mill Conservation Area, or spend the night at Glen Rouge Campground.
Etobicoke Creek
If you're traveling along the Great Lakes Waterfront Trail, stop at the mouth of Etobicoke Creek. This waterbody is a popular salmon watching and fishing spot and you're bound to see salmon at the mouth of the creek during the migration. Add Marie Curtis Park and Heart Lake Conservation Area to your list and you have a full-day adventure.
Ganaraska River
In Port Hope, the Ganaraska River is a popular spot for salmon fishing and casual observers. You'll find the flat river banks are the perfect place to capture photos of the salmon run. During salmon fishing season, fishers line the banks before sunrise in anticipation of the permitted start time.
Port Hope West Beach and Ganaraska Millennium Conservation Area should also be on your list of nearby destinations.
Document your experience with photos and tag us on Twitter, Facebook, and Instagram to be featured!
---