Lake Michigan is a true treasure. Standing on the shores of Lake Michigan — with its bright blue waves, fresh breeze, and varied shorelines — it is hard to believe that you are looking at a lake and not an ocean. It is home to over 12 million people — many found in the booming cities of Chicago and Milwaukee — and hundreds of rare and diverse plant and animal species. Prominent beach towns in the north are popular tourist attractions, boasting sandy beaches and a mix of lively and quaint atmospheres. Michigan's beautiful wilderness shores have been the playground for many of America's industrial elite for almost three centuries, and they continue to draw millions of people to the water year after year.
Lake Michigan in a nutshell:


The 5th largest lake in the world by surface area


The 3rd largest of the Great Lakes


Has an average depth of 85 metres (279 feet)


Water circles through Lake Michigan and flows into Lake Huron from the Straits of Mackinac (pronounced mack-in-awe)


Home to approximately 12 million people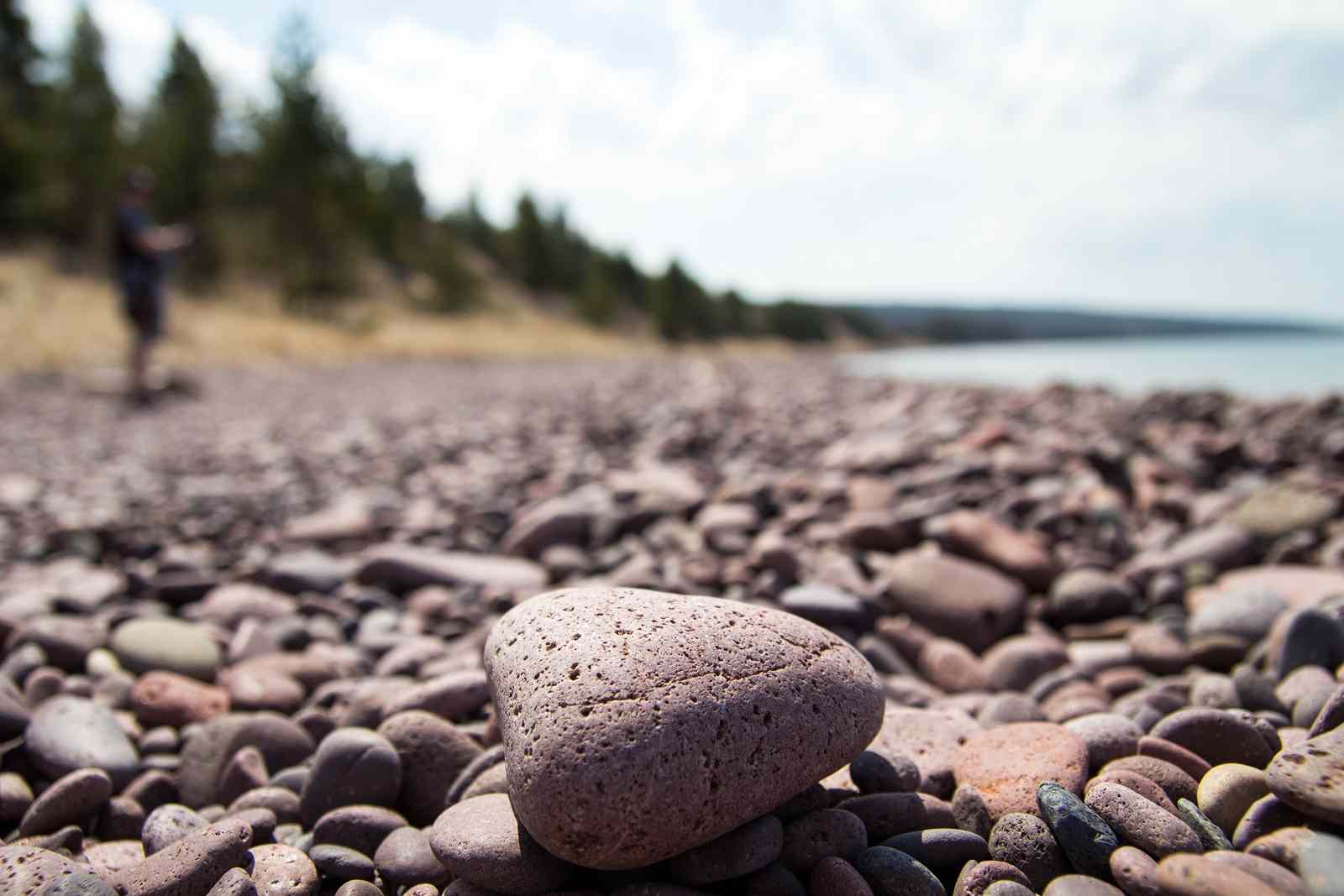 Why is Lake Michigan so important?
Approximately 12 million people call the shores of Lake Michigan home. It hosts a wealth of plant and animal species, many of which are rare or endangered (such as the Hine's Emerald Dragonfly and the Dwarf Lake Iris). The lake has a moderate climate, allowing for a rich and productive fruit belt and popular recreation areas.
Did You Know?
Mackinac Bridge is the longest suspension bridge in the Western Hemisphere, stretching across the Strait of Mackinac an impressive 8.04 km (4.99 miles).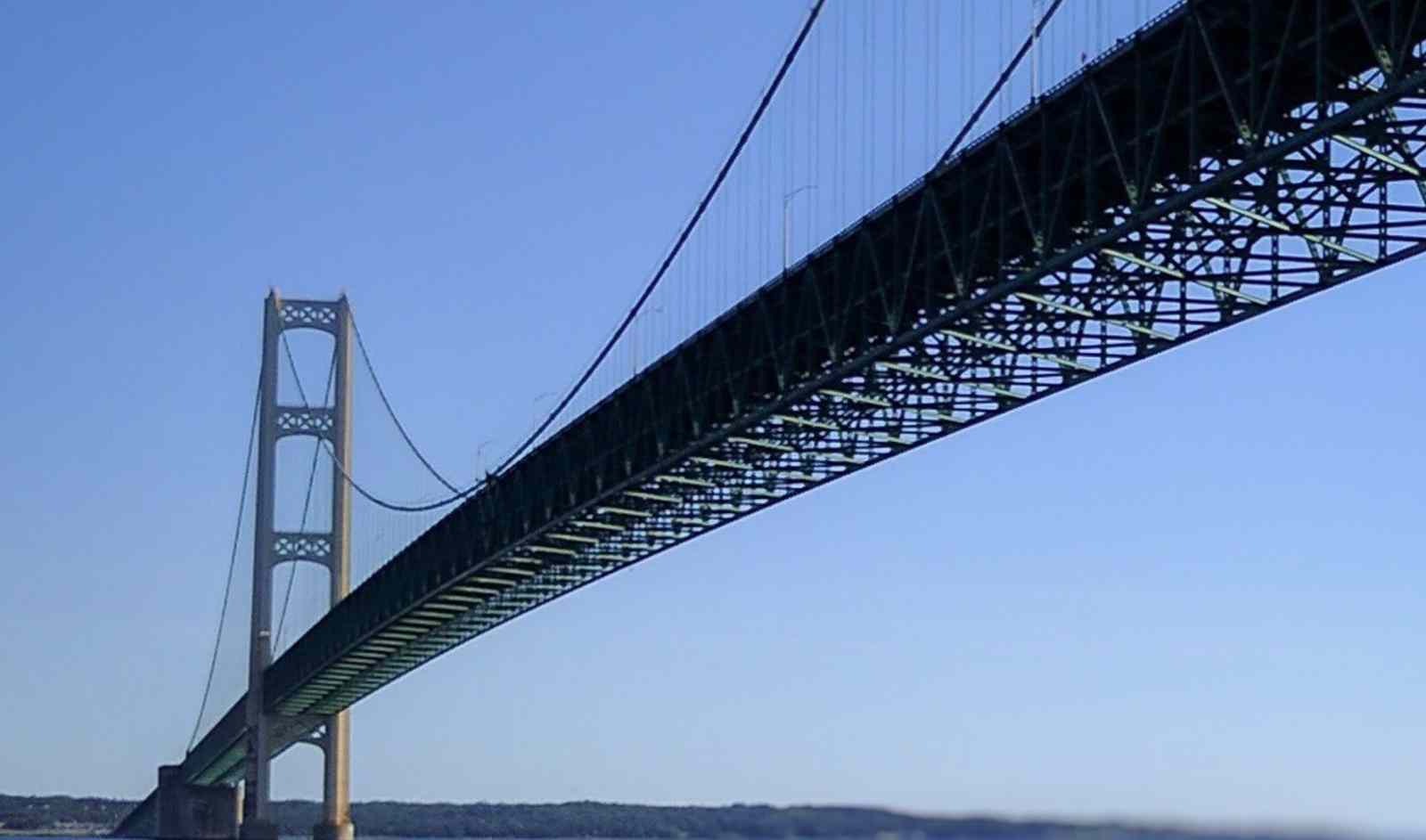 Precious environment
Lake Michigan has the longest stretch from north to south of all the Great Lakes, giving it a very diverse climate, which allows for a wide variety of plant and animal species. The lake boasts a variety of natural habitats, including tallgrass prairies, wide savannas, and the world's largest freshwater sand dunes.
The watershed is abundant, with over 140 bird species (both migrant and resident) and diverse year-round fishing. It is also home to at least six globally rare plant and animal species (including the Dwarf Lake Iris and the Piping Plover).
Did You Know?
Since the Strait of Mackinac connects Lake Huron and Lake Michigan at the same elevation, they can be considered one big lake!
Regional economy
Lake Michigan's southern shores, with larger centres like Chicago and Milwaukee, comprise the focus of commerce and industry. This part of the lake has been highly urbanized and extensively developed.
Much of the area surrounding the lake is agricultural, producing mostly fruit and vegetables (predominantly apples). This area is highly productive due to the presence of the lake - there is a delayed blossoming (which reduces the likelihood of spring frost damage), delayed frost in the fall (allowing for a longer growing season), and lower minimum temperatures in the winter. Michigan also hosts a strong fishing industry (both sport and commercial) and many pulp and paper mills.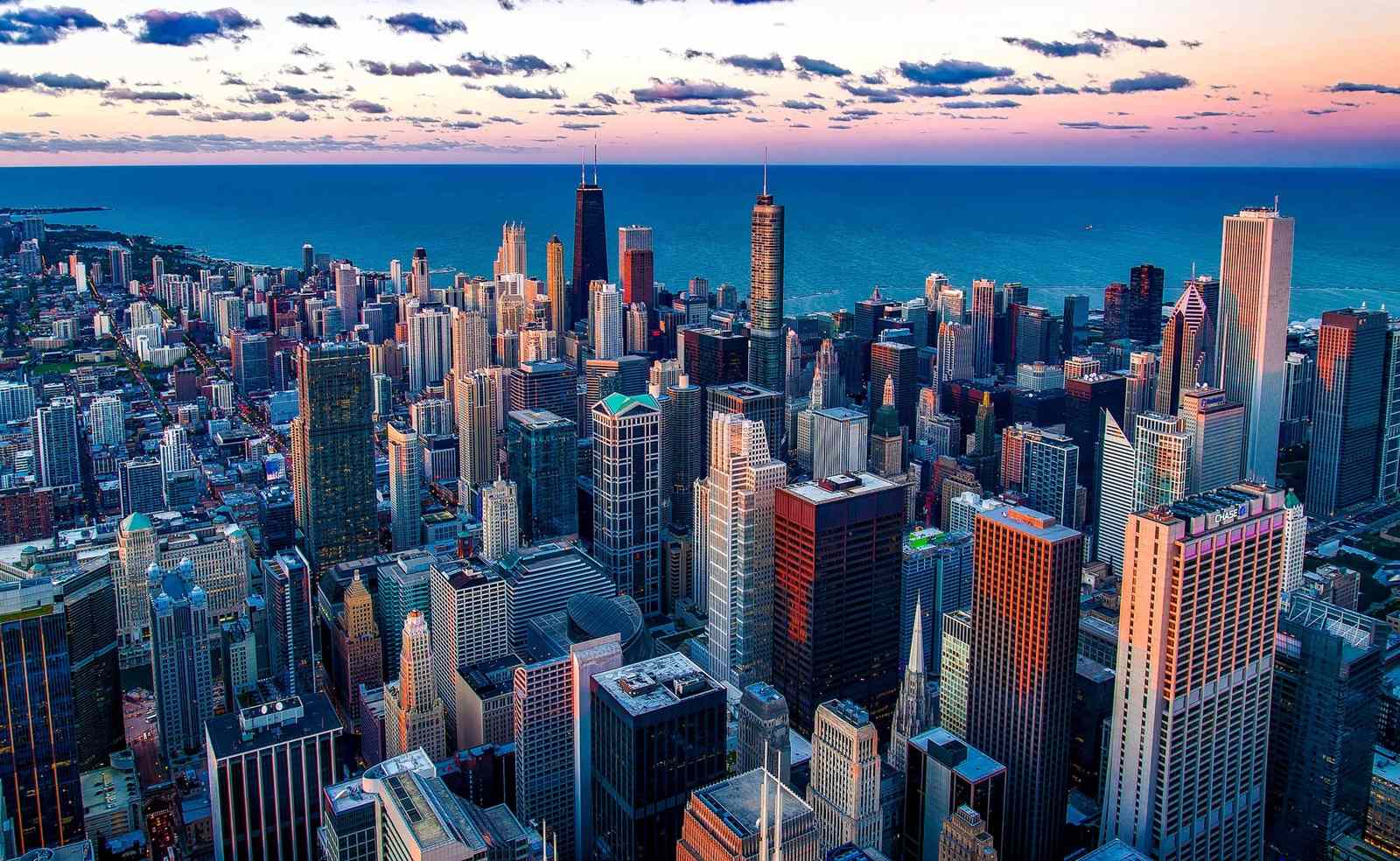 Lake Michigan geography: What's here?
Lake Michigan is the only Great Lake that sits entirely within the United States. Its shores are lined by the states of Michigan, Indiana, Illinois, and Wisconsin. Lake Michigan's connection to Lake Huron via the Straits of Mackinac is spanned by the impressive 8 km-long Mackinac bridge. The shallower southern basin and deeper northern basin are separated by the Mid-Lake Plateau: a relatively shallow region stretching north-east from Milwaukee.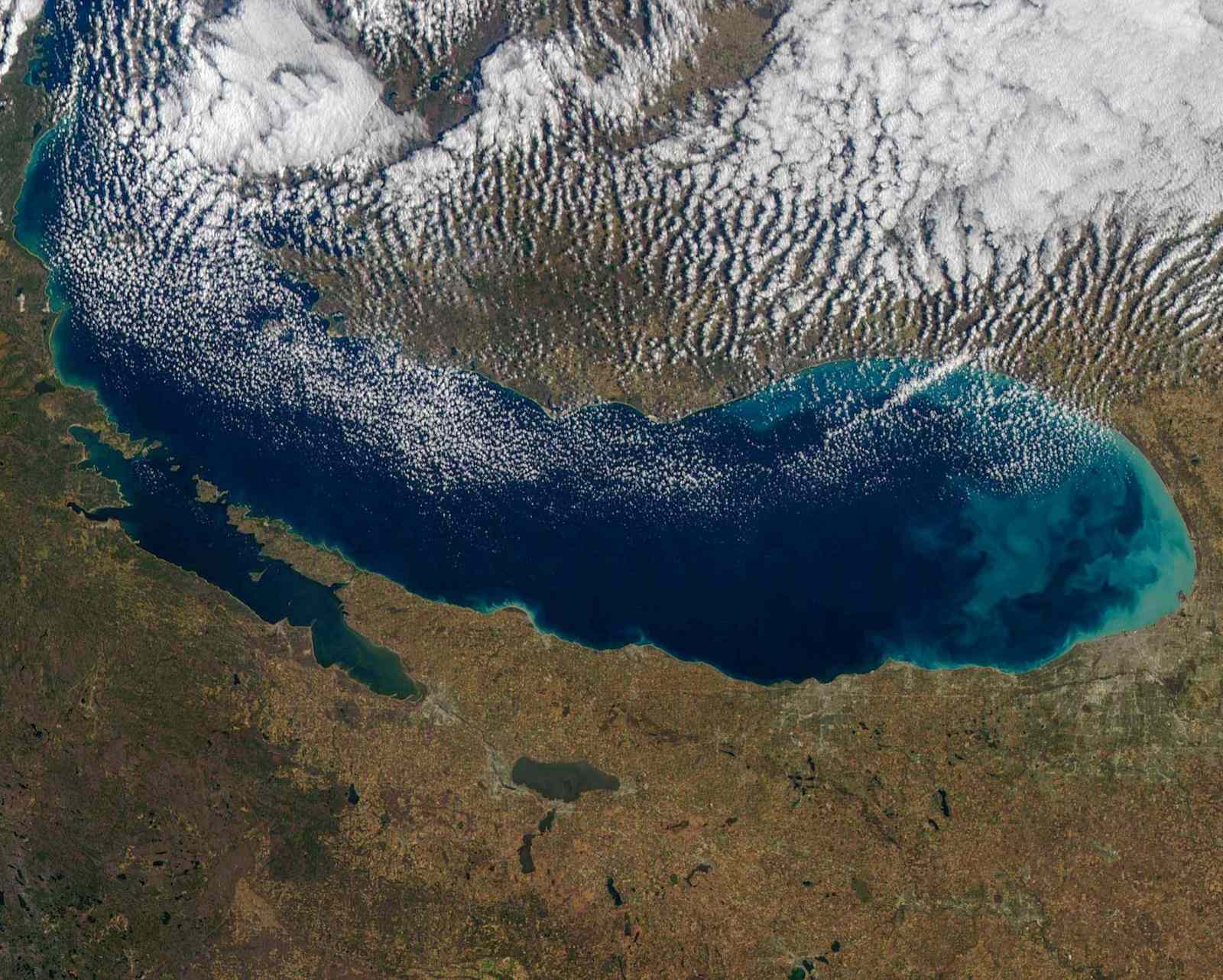 In general, the Lake Michigan coastline is made up of forests, sandy beaches, bluffs, and limestone bedrock. The northern portion of the watershed is composed of silurian dolomite rock that dates back 400 million years ago. The southern portion of the watershed is characterized by large sand dunes, moraines, and drumlin fields that were created by the last glacial retreat (somewhere between 3,000-15,000 years ago).
Lake Michigan contains more coastal wetlands than any other great lake. These wetlands were created by distinctive sand barriers. In fact, Lake Michigan holds the record for the world's largest collection of freshwater sand dunes. In addition to the sand dunes, much of Michigan's shoreline is wild and forested — approximately 41% of the land is covered in forests.
Did You Know?
Lake Michigan is home to the pebble-shaped Petoskey stone, a fossilized coral found only on the northern shores of this lake.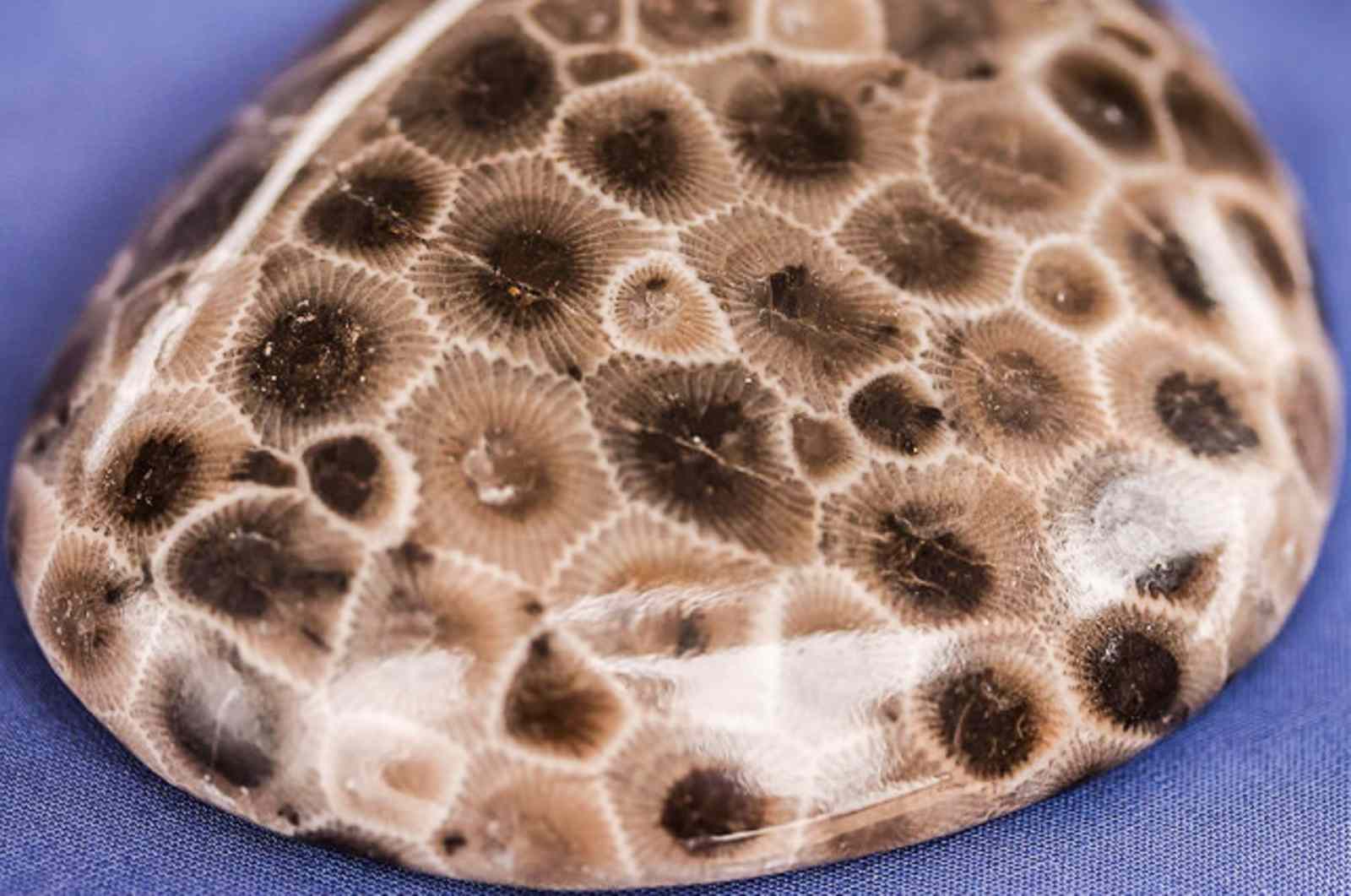 A Brief History of Lake Michigan
The formation of Lake Michigan began approximately 1.2 billion years ago. A mid-continental rift was caused by the separation of two tectonic plates, creating a divet in the earth that was later shaped by retreating glaciers.
As with all of the Great Lakes, Michigan has had its share of shipwrecks. There are many wrecks that still lie beneath the waves. In fact, there is a preserve, the Straits of Mackinac Underwater Preserve, that contains 12 shipwrecks for exploration.
Lake Michigan has a strong history in the shipping industry, and to this day there are nearly four dozen lighthouses that dot the shores of the Lake Michigan coast and its islands.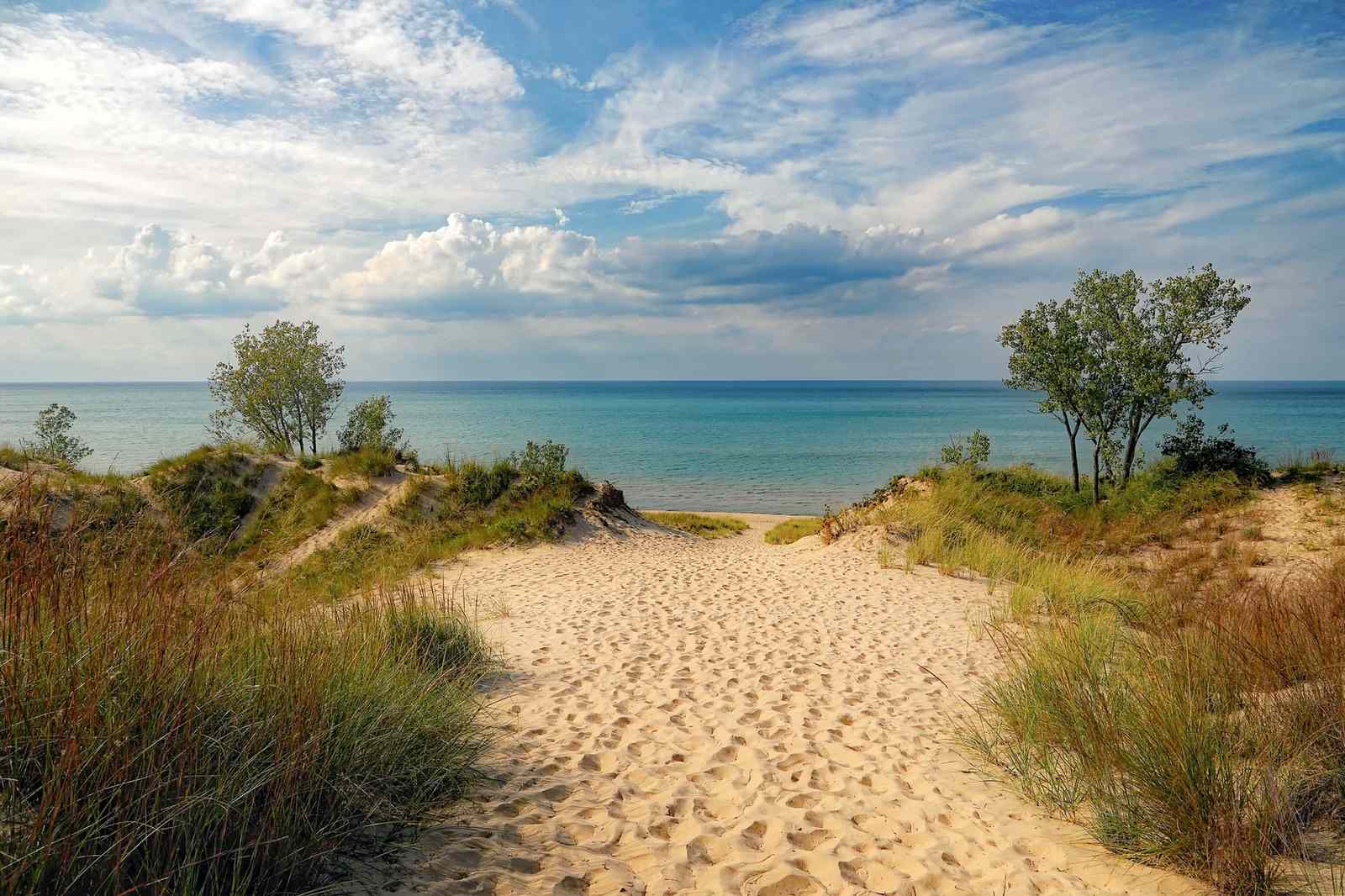 Did You Know?
Lake Michigan contains 735 islands!
Appreciating Lake Michigan
Extensive beaches, towering sand dunes, vibrant cultural attractions, and crystal blue waters await you in the Lake Michigan watershed. Chicago is a very popular tourist destination. Take a tour along Lake Shore Drive, stroll down the Navy Pier, and immerse yourself in the fun, jazzy atmosphere of this bustling city. If you are looking to get away from the big cities, Sleeping Bear Dunes National Lakeshore is a must-see. Here you will find massive sandy beaches, towering sand dunes, and breathtaking views of the sparkling Lake Michigan.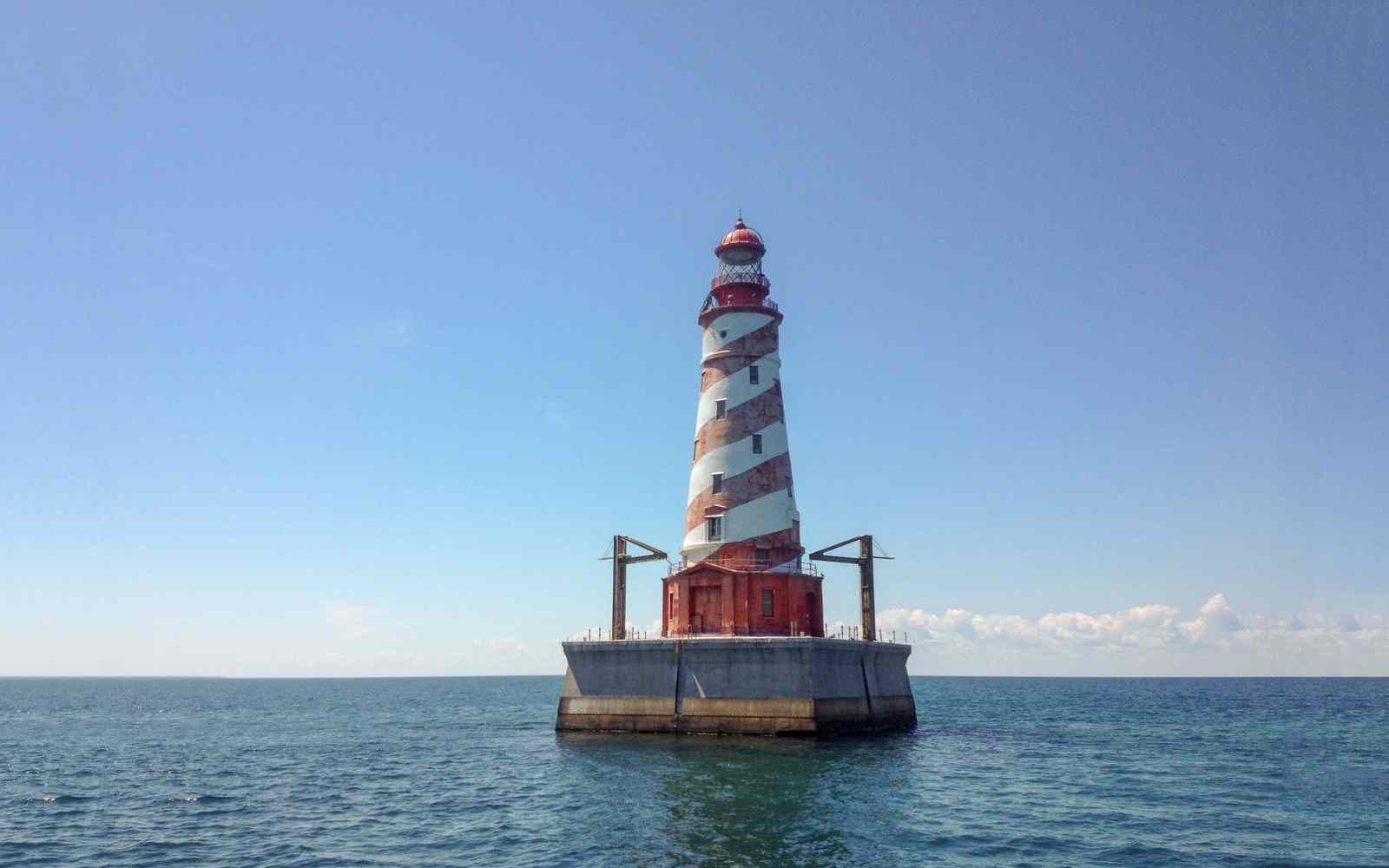 Protecting Lake Michigan
Like all of the Great Lakes, Michigan is at risk from invasive species, climate change, pollution, and habitat destruction. The lake has seen increased environmental stressors (like contamination and loss of habitat), especially in the southern areas due to urbanization and development. Lake Michigan actually had one of the largest lake trout fisheries in the world until the mid-1900s, at which point it suffered a collapse due to overfishing and invasive species.
The 1970s saw a ban on the use of phosphate detergents from many of the surrounding industries in an attempt to reduce polluting run-off in the lake. In the same decade, the federal Clean Water Act was implemented to help restore water quality. Water conditions have significantly improved over the last two decades, and Michigan has returned to its clear blue state. But there is still work to do.
Lake Michigan provides drinking water, recreation, transport, energy, food, and homes to over 12 million people and millions of other wildlife species. It is still at risk from invasive species, resource extraction, run-off from the surrounding industries, and other pollutants. We must work to appreciate and protect this beautiful resource. The first step to protecting this lively, varied, crystal, blue, and American lake is to experience firsthand all that Lake Michigan has to offer.