Kingston's waterfront on Lake Ontario is an example of what's possible when people care about and advocate for their waters—when grassroots activism leads to large-scale change.
Residents along with groups like Water Access Group and Lake Ontario Waterkeeper have worked to prosecute landfill operators, report sewage spills, and organize mass swims that have led to real-time sewage monitoring and Canada's first urban deep water swimming pier, the Gord Edgar Downie Pier. In 2020, Swim Drink Fish (the charity behind Great Lakes Guide) launched the Kingston Hub, a community based recreational water monitoring program.
Swim Drink Fish has been working to reconnect people to water in Kingston since 2001. This year, as well as next, Calliope Collective is creating, curating, and testing art installations, which will become part of a major water-based, parade style event HYDRA: A Story on Water at Douglas Fluhrer Park in Kingston to inspire people to recognize and reflect on their connection to water.
We spoke to Tricia Knowles, the Artistic Director and Cultural Producer behind HYDRA to learn more about this exciting event coming soon to Lake Ontario.
What was your inspiration for HYDRA?
Josh Lyons (Multi-Media Artist, Filmmaker, and Calliope Collective co-founder) and I were heavily moved and inspired by the floating Bosch Parade in the Netherlands, which is an on-the-water art spectacle with theatre and music inspired by the works of Jheronimus Bosch. We're both also huge advocates for water access. So we thought, "How can we make a huge spectacle like that manifest in Kingston on Lake Ontario?"
Some of our previous events have encouraged people to reexamine their relationship to the land and connect their internal cycles to the cycles of the seasons in nature. With HYDRA, we are working towards creating a magnificent spectacle on the water like the Bosch Parade, but with a message of our connection to water.
Through the floating art installations that we selected to test this year, we explore the indigenous and boat building history of where the park is located, ecology, and pollution in the area (former tannery lands). With themes of the spirituality of water and its healing attributes, the installation recognizes how much we as a species rely on water for nourishment, hydration, physical and emotional healing—as medicine—and also that we need to give some of that back to the water so it too can heal.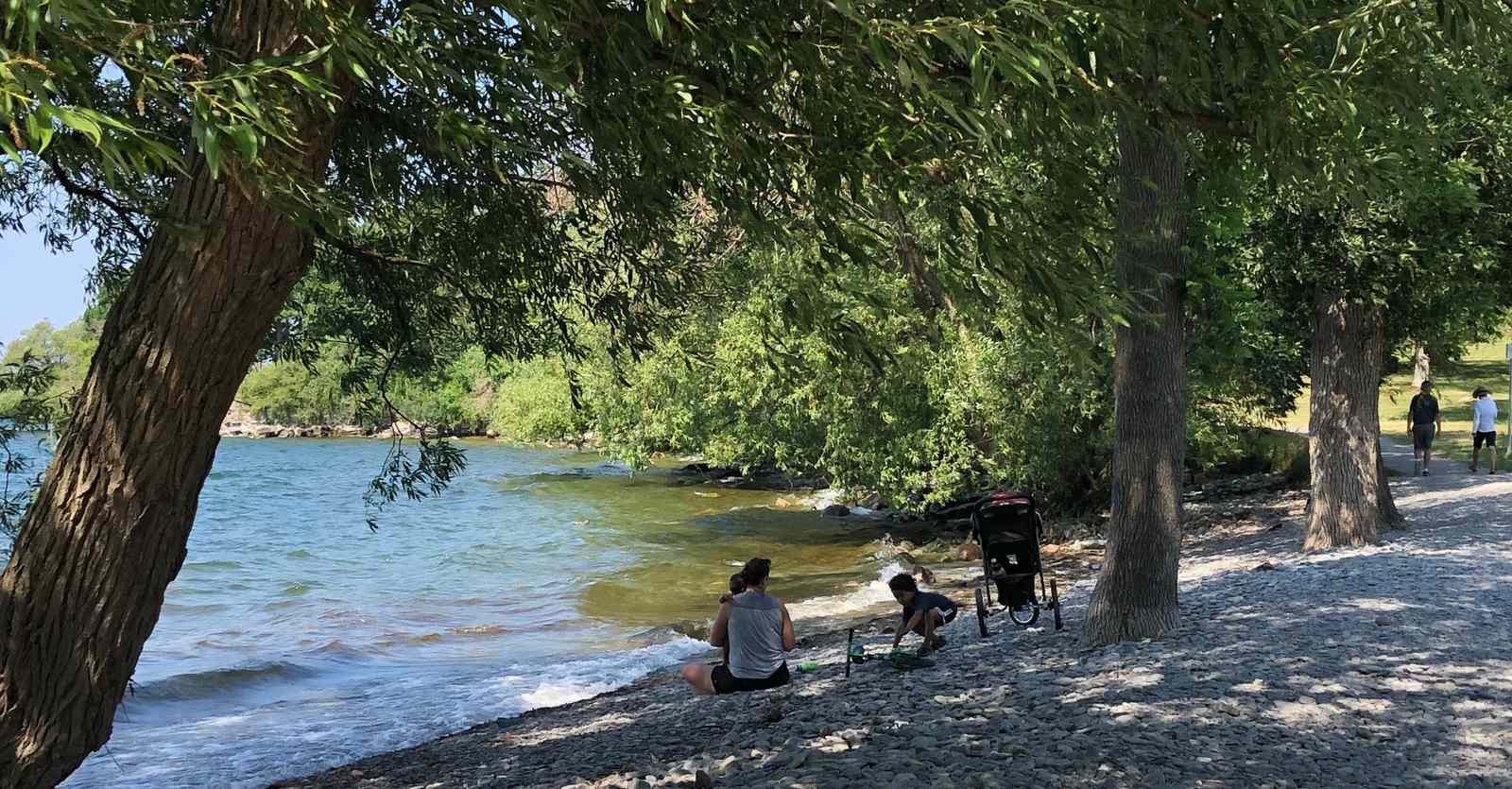 Can you tell us about some of the floating installations that will be featured?
Unfortunately, the Covid-19 stay at home order means that not all of the installations will be ready this year. That said, there are a handful of exciting installations that are ready to be sailed! We will film the installations for a digital presentation so that viewers can get a sense of what's to come when the event fully happens in person.
Since HYDRA is in digital form this year, it will feature original music written and composed by Teilhard Frost to tell our story in motion, with few words. The hope is to later develop a poetic story in workshops over the next year which can be presented for the full public event later on. You won't hear the full collection of poetry this year, but you will meet our storyteller… a magnificent freshwater creature, appearing in giant puppet form thanks to the creative mind of Artist Clelia Scala and co-creator Todd Minicola.
To highlight the history of the area, The Friends of Kingston Inner Harbour's Boat Yard Project will present their traditional birch bark canoe to the public for the first time. Professional artists Krista Dalby and Nella Casson from The Department of Illumination in Picton are working with recycled materials in an installation called "Plastic Bites Back."
The highlight of this year is an installation called "Community Afloat," which sailed on June 4th and is now in the Inner Harbour. As you might have guessed from the name, this was a community endeavour that represents keeping our heads above water (haha, get it?) during the pandemic.
The installation is kind of a 'together, apart' creation—that idea of creating something collaboratively while we're apart, and in doing so, bringing the community together. We went into the community and reached out to schools with a lesson plan that encouraged people to think about connection to water. What ties us all together? What kind of relationship do we have with the Lake here in Kingston? They then translated their answers into visual representation on canvas or denim flags to be used in the art piece "Community Afloat."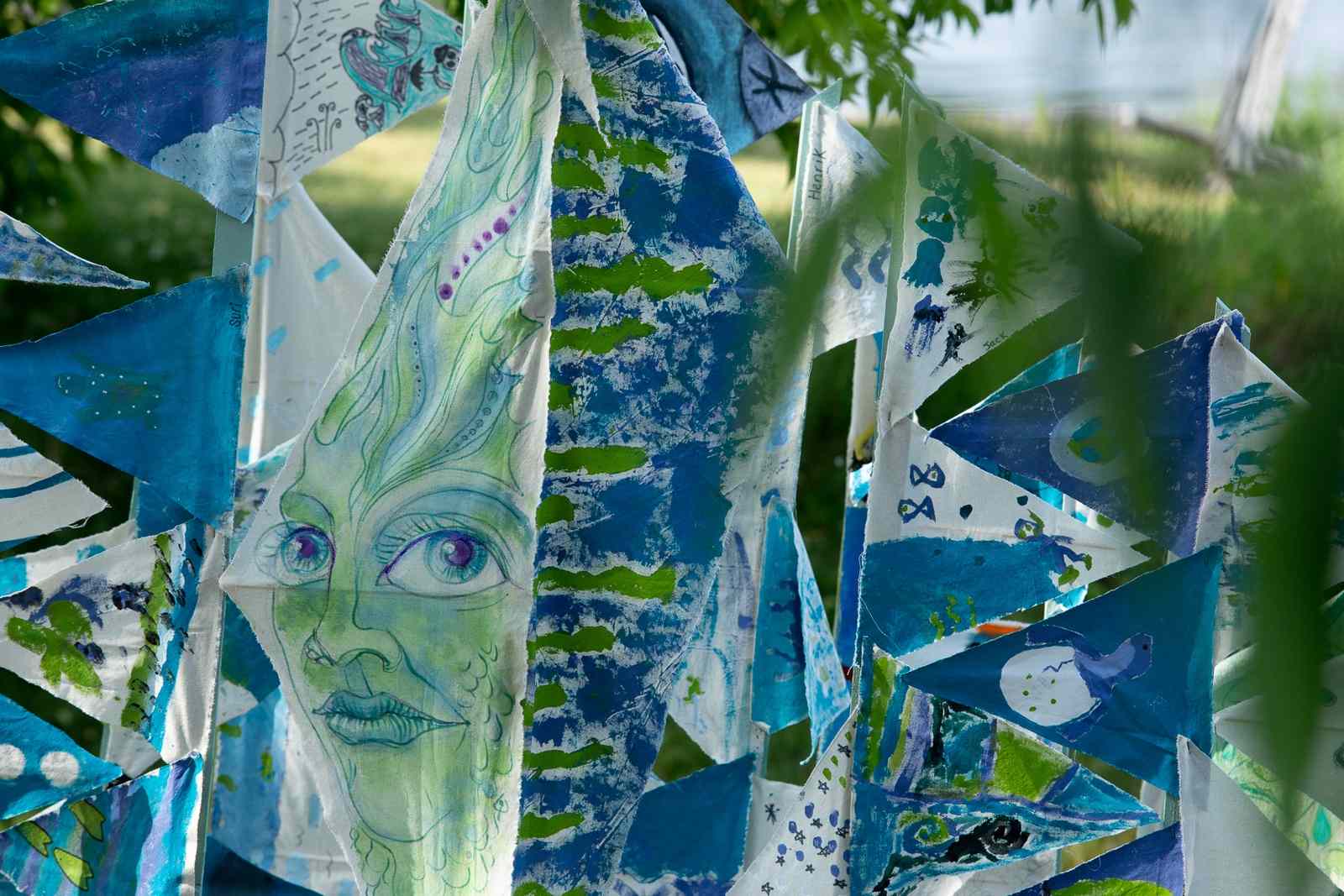 Why is it important to examine our relationship with water, in Kingston, the Great Lakes, and beyond?
This year is the 10th anniversary of Kingston becoming a blue community—a feat made possible by people examining their connection and relationship to water. This was possible because the community wanted it!
In Kingston in 2013, hundreds of people raised awareness for better access and waterfront planning in Kingston during the Shoreline Shuffle, created by David McDonald (Water Access Group's founder). The word installation "Dear Kingston" curated by Su Sheedy was presented during the Shoreline Shuffle and the temporary sculptures that were set up along the Kingston shoreline represented the needs of each area. It made a huge impact in that it got people thinking, and acting to make a change to water access in Kingston.
Due in part to the Shoreline Shuffle, Kingston created the Waterfront Masterplan to improve water access in the city and renew waterfront spaces.
Water access is crucial. Not just access to the lake to swim, like the Gord Edgar Downie Pier (which is a tremendous improvement), but also access to drinking water. It breaks my heart that there is a reserve down the highway that still has to boil their water. We have so much to learn about protecting our water, and we need to take action to restore what we've lost and protect what we still have.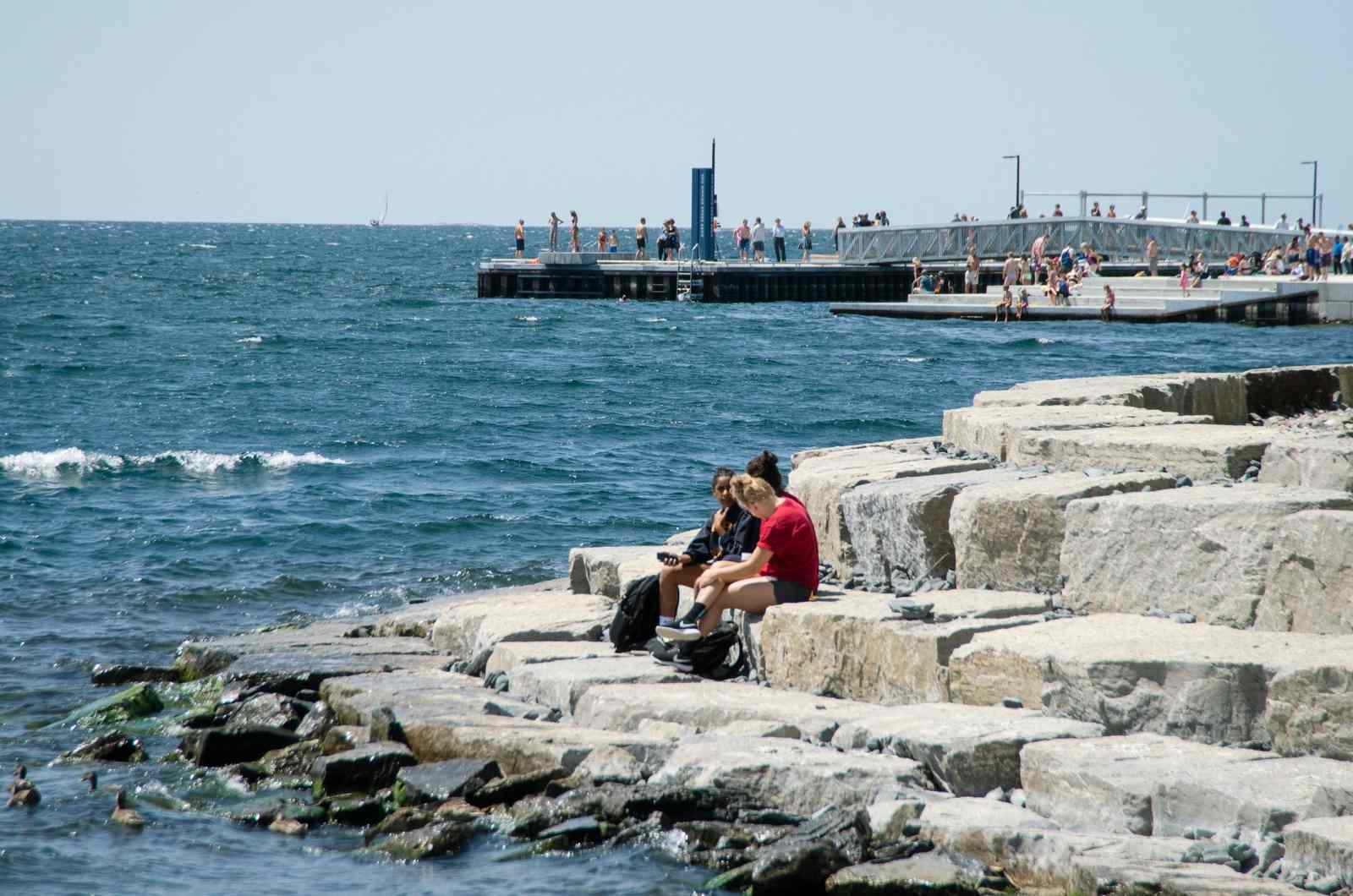 People have been fighting for our planet for so many years, and some things are only just starting to get more attention. The next generation is (rightly) worried about the future.
I think, for a lot of people, the pandemic has helped us discover what is and isn't important. It's promising that nature became a priority and its benefits are being recognized as important, especially when it comes to our mental health. Witnessing people reconnecting with their environment highlights a need for environmental education.
Do you see a relationship between art and activism/advocacy?
Absolutely. Artists can challenge people's way of thinking, and inform and engage people in conversation they may not have had otherwise. Artists think differently – an artist's brain is structurally so they are literally looking at issues through a different lens. I love that an artist can communicate information and present their message in a way that allows others to see from a new or unique perspective. Art is such a powerful tool for activism. It opens our minds and hearts to receiving; it gets the attention of people who otherwise may not be paying attention to an issue.
We hope that folks who see the Community Afloat installation, and eventually the full HYDRA presentation, will want to read more about what the installations are saying, and what they represent. Art has the power to move us from a place of emotion, to a place of action.
What do you want people to take away from HYDRA?
Beyond what I've already mentioned, my hope is that folks will see the opportunities that are possible in Kingston artistically, and that artists will continue to collaborate with one another. I hope that HYDRA encourages people to pause and think about the water when they're in it, on it, beside it and take just a moment to consider their connection to it. To not take this magnificent lake for granted.
The more people that take the time to consider their relationship to the earth—to the land, the sky, and the water, they are going to care about it. They'll want to protect it.
Community AFLOAT is a community created installation, part of the Calliope Collective presentation HYDRA: A Story on Water – made possible through funding from Canadian Heritage, City of Kingston Arts Fund, Ontario Arts Council and a generous donation from Atkinson Home Hardware in Hartington.
---